Drink and drugs play major role in traffic accidents

Deputy Prime Minister of the Government and Chairman of the National Traffic Safety Committee Truong Hoa Binh on Wednesday said alcohol and drugs are to blame for many serious traffic accidents this year.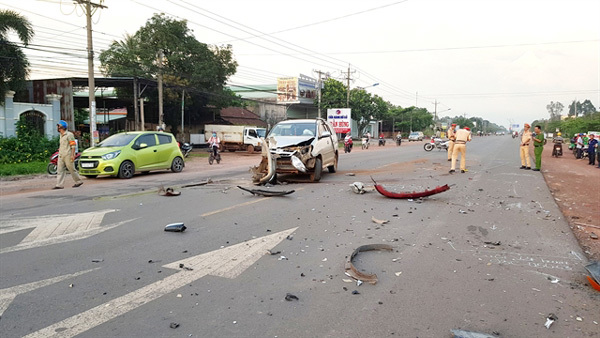 An accident happened last Friday in the southern province of Binh Phuoc between a pick-up truck and a seven-seater car, injuring three people in the two vehicles. In the first nine months of the year, there were 12,600 traffic accidents nationwide, killing more than 5,600 people, and injuring more than 9,600 people. VNA/VNS Photo Dau Tat Thanh
Speaking at a national online conference on traffic safety held by the National Traffic Safety Committee, Binh said although with the help of the entire political system traffic accidents had reduced in terms of incidents, deaths and injuries, the situation was still a problem.
In addition, violations of transport business conditions and overloading still occur in many places, and traffic congestion in large cities is on the rise, he said.
The deputy PM asked relevant authorities to analyse weaknesses in the transport sector and identify shortcomings in order to improve road safety.
Khuat Viet Hung, deputy head of National Traffic Safety Committee, said in the first nine months of the year, there were 12,600 traffic accidents nationwide, killing more than 5,600 people, and injuring more than 9,600 people. Compared to the same period in 2018, the number of traffic accidents decreased by nearly 600, the number of deaths fell by 353, the number of injured people dropped by 700.
In 7,319 accidents that were studied, more than 22 per cent of drivers were violating lanes and road sections; nearly 2 per cent of drivers used alcohol; more than 35 per cent were caused by violations of road sign regulations, drivers with no valid licence, vehicle safety, traffic works and other causes, he said.
To reduce accidents in the last months of the year, Hung said the National Traffic Safety Committee will direct all levels and branches to amend and supplement legal documents; improve infrastructure, strictly manage the quality of infrastructure maintenance; enhance the quality of training and testing of vehicles.
"Patrolling and handling of violations need to be done substantially," Hung suggested.
"The authorities need to strictly handle acts of driving under the influence of alcohol and drugs, violations of helmet wearing regulations, not wearing seat belts when riding in cars and using phones when driving."
Women's roles
On the same day, a forum held in the central city of Da Nang looked at the important role of women's associations in improving traffic safety.
Nguyen Trong Thai, Chief of the Office of the National Traffic Safety Committee said projects that encourage children to wear helmets and make sure vendors don't encroach on busy roads are examples of the fine work carried out by local woman's associations.
Thai said the forum helped enhance the role women of the region play in reducing road accidents.
"Such activities will help build public awareness on traffic safety," he said.
Participants discussed the current situation on traffic accidents, consequences of people drinking alcohol and driving, and brought out solutions to minimise accidents such as expanding community-based clubs, contests and seminars on educating traffic safety.
In the past, the Vietnam Women's Union has regularly organised workshops, forums, and contests related to traffic safety. These have contributed in educating people about responsibilities of road users, said a representative of the union at the forum.
Thai said the committee has determined that cracking down on drink driving is key to reducing accidents.
The forum was told that drink driving has increased at an alarming rate, accounting for up to 20 per cent of all accidents nationwide.
VNS