Drug Administration tells provinces, cities to stock up on dengue drugs

The Drug Administration of Viet Nam has called on province and city health departments around the country to ensure they stock enough dengue fever medicines.
 Dengue fever surges in HCM City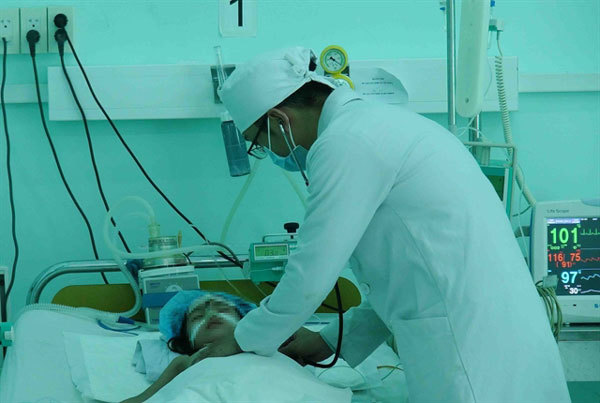 A patient with severe dengue fever being treated at Hospital for Tropical Diseases in Khanh Hoa Province. VNA/VNS Phan Sau
It is the dengue fever season and the disease has broken out in many provinces and cities, and the departments should keep drug manufacturers, distributors and importers in their locality apprised about their plans to stock drugs, it said.
They should also ensure adequate stocks of chemicals for disinfection and other medicines for preventive activities, it said.
They should report to the Ministry of Health in case they lack dengue drugs, it said.
Hospitals should have plans in place for buying more drugs and update the status of dengue outbreaks to their local health department, it added.
As of July 17 more than 80,000 people had contracted the disease this year, thrice last year's number.
One person each has died in the provinces of Binh Phuoc, Binh Thuan, Khanh Hoa, Quang Binh, and Tien Giang, and HCM City.
Vaccine
A research team at the HCM City Pasteur Institute said it had done field trials on a dengue fever vaccine and is waiting for the ministry's Independent Ethics Committee to approve and issue a licence for commercial production.
Assoc Prof Dr Tran Ngoc Huu, former head of the HCM City Pasteur Institute and leader of the research team, said the global research to discover the vaccine, dengvaxia, was funded by Sanofi Pasteur, the vaccines division of the multinational pharmaceutical company Sanofi.
In Vietnam it was tested on 2,336 children aged two to 14 in Tien Giang Province's My Tho City and An Giang Province's Long Xuyen City, and all of them were safe and did not suffer from any side effects, he said.
In 2011-17 two major studies were done in 10 countries, including Indonesia, Malaysia, the Philippines, Thailand, and Vietnam in Southeast Asia.
At the end of last year the European Commission granted marketing authorisation for the vaccine, which is approved for use on individuals aged nine to 16 with laboratory-confirmed previous dengue infection and living in endemic areas.
In May the U.S. Food and Drug Administration approved the vaccine for prevention of dengue caused by serotypes 1 – 4 of the virus.
VNS