Drug smugglers turning to sea transportation

Maritime smuggling is becoming more common among heroin traffickers according to an expert.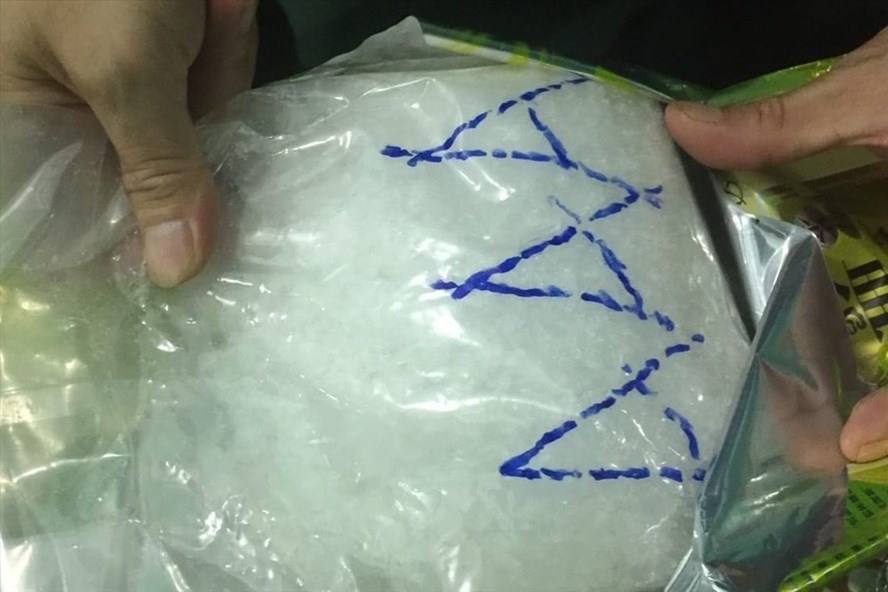 A package of methamphetamine seized by the police
Dr. Do Canh Thin, a criminology expert said that due to high profits and hard punishments, drug smugglers are always seeking new ways of transportation and maritime routes are proving one of the best ways.
"With this way they can carry a large amount of drugs and easily destroy or hide the evidence," he explained. "Meanwhile, with air transportation, they can just carry a limited amount and is easily caught by the modern screening devices at airport customs."
Thin cited a report from the Ministry of Public Security which showed that from the end of 2018 to April 2019, local authorities seized hundreds of kilos of cocaine and methamphetamine hid in containers among various goods which were heading to Vietnam by sea.
According to the report, on July 24, 2018, police checked the Liberian ship Maersk Shenzen, which departed from Trinidad Port to Cai Mep - Thi Vai Port in Ba Ria-Vung Tau Province, and found 100 cakes of heroin and 115 kilos of cocaine in a container carrying scrap metal.
On February 17, police in Ha Tinh Province detained a Lao man who was carrying nearly 280 kilos of methamphetamine from the Thailand, Laos, and Myanmar Golden Triangle. He and 13 others were arrested while about to transport 300 kilos of methamphetamine on a cargo ship abroad.
In another case, police in Tien Giang Province on May 6 found 119 kilos of cocaine hid in a fish powder container which was being shipped from Peru to Vietnam.
And police in some central provinces have recently found dozens of plastic bags and cans containing heroin at local coast.
On November 30, a man in Quang Nam Province found a plastic can which contained many white packages. It was later confirmed by local authorities to be heroin. Other locals also brought some packages containing heroin to the police after finding them on the beach. The border guards collected a total of 25 packages.
Phong Hai Border Station in Thua Thien-Hue Province reported on December 1 that they also received eight packages, weigh 7.8kg, which were then confirmed to be methamphetamine. It was found by a local who was collecting scrap on a beach.
On December 2, the border guards in Quang Tri Province confirmed that they had received a plastic can that contained 7 packages of methamphetamine, weighing 7 kilos. The can was found on a beach by a local man. The packages contain Chinese and English characters which look similar to the packages found in Quang Nam Province.
The Ministry of Public Security have sent a team to the areas to investigate the findings.
Commenting about the findings, Dr Thin said that the drugs might come from a boat and there might be three possibilities.
"The first possibility is that the boat overturned or sunk and the packages were discharged," he said. "The second is that the smugglers tried to throw away evidence when being chased or found. And the third one is that the smugglers intended to float the packages from point A to point B but their plan failed."
HCM City police bust drug smuggling ring
Police in HCM City have raided a large heroin smuggling ring and seized over 446 heroin packages.
On December 5, the Anti-drug and Criminal Investigation Police Department (C04) under the Ministry of Public Security confirmed the case. The police raided a warehouse in HCM City and seized 446 heroin worth over USD6m. They detained two Taiwanese leaders as well as many suspects.
The police found the warehouse after an expanded investigation in March.
At 8.30 pm on March 27, the police in HCM City pulled over a truck going from Thu Duc to An Suong District on National Highway 22. The driver tried to bribe the police but was refused. Two other men on the truck tried to run away after that but were quickly arrested.
After checking the truck, the police found five carton boxes that contained more than 300 kilos of heroin. The drug was packed in nearly 900 packages. The police also arrested two Taiwanese men and involved suspects.
After working with the authorities in Taiwan, the police have seized 1,341 heroin packages and arrested dozens of Taiwanese and Vietnamese suspects.
Lao Dong/Nguoilaodong/Dtinews

Police in some central provinces have found dozens of plastic bags containing a substance suspected to be heroin at local coast.  

Police in the northern border province of Lang Son have arrested a suspect allegedly trafficking 60 bricks (about 21 kilogrammes) of heroin.