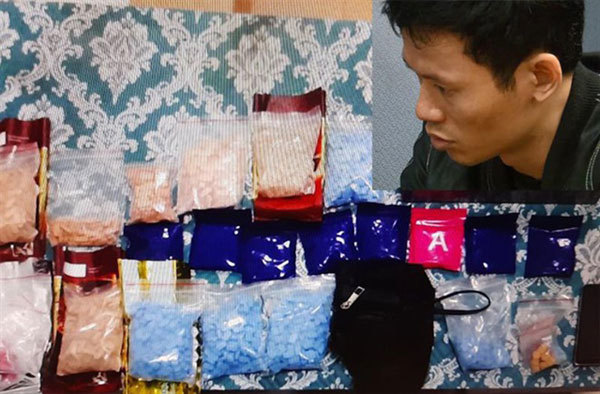 Nguyen Xuan Quy, 38, the leader of the drug trafficking ring at the National Psychiatic Hospital No 1 where the man was receiving treatment. Photo courtesy of Hanoi Police
According to police, a mentally ill man ran the ring from National Psychiatric Hospital No 1.
The ringleader has been identified as Nguyen Xuan Quy, 38, who resides in Hanoi's Thanh Tri District.
Police investigations stated that Quy was sent to the hospital for treatment in November 2018.
He repeatedly left the hospital during treatment. In January this year, Quy was arrested by the police of Hai Ba Trung District on charges of illegally possessing drugs but was returned to the hospital due to his mental illness.
The investigation revealed that after a long time at the hospital, he formed close relationships with a number of hospital staff and was free to come and go as he pleased.
Quy renovated a treatment room into a soundproof room and installed large speakers and laser lights to use as a place to take and sell drugs.
As well as Quy and his friends, some hospital staff were also offered drugs in the room.
He sold drugs at the hospital by telling his customers to pretend to be caregivers.
To avoid being detected, Quy hired Nguyen Trung Nguyen and Nguyen Cong Thuong to disguise themselves as delivery drivers and stand at the hospital gate as lookouts. They also delivered drugs to customers.
On March 20, the Police Department for Investigation of Drug-related Crimes raided the hospital room, arresting Quy and five accomplices, including the two lookouts.
The police seized more than 6kg of drugs of various kinds, including ecstasy, methamphetamine and ketamine.
The investigation agency also arrested Nguyen Anh Vu, a technician from the rehabilitation and traditional medicine at the hospital, to investigate him for not denouncing the crime. Vu was found to be positive for drugs after a quick test.
All the suspects reportedly admitted their crimes.
The investigation is ongoing.
In related news, the Ministry of Health has requested the National Psychiatric Hospital No1 to work with law enforcement regarding the incident.
The ministry also asked the hospital to strengthen security and order at the hospital. The management of patients during treatment at the hospital should be reviewed, it said. 
Drugs stashed in cat food seized at Tan Son Nhat Airport
The drugs haul is valued at approximately VND4 billion


Customs officers operating at Tan Son Nhat International Airport in Ho Chi Minh City have successfully discovered a huge quantity of drugs carefully hidden within cat food boxes.
The drugs, mainly Ketamine, were stashed in bags of cat food belonging to a Vietnamese man hailing from Binh Thuan province, local police said on March 31.
The bags were sealed carefully and were poised to be exported to Taiwan (China).
Customs officers stated that the luggage, weighing 424kg in total, was declared to contain clothes, cosmetics, and food.
As on-duty officers carried out customs procedures, they noticed plenty of suspicious signs and decided to open the package in order to examine the contents, upon which they discovered the Ketamine.
The discovery of the drugs haul estimated at approximately VND4 billion in value has prompted local police to launch a further investigation into the case.
This is the first time the customs officers have witnessed this type of stashing trick by drug traffickers.
The past two weeks has seen customs officers detect six cases of drug trafficking via air routes, seizing various drugs weight a total of 12.7kg.
VNS/VOV

The Hanoi City People's Court on August 3 handed down jail sentences to a Vietnamese and a Scot on charges of trafficking drugs.

Ho Chi Minh City police have coordinated with the Ministry of Public Security to raid three major drug trafficking networks between Cambodia and Vietnam, seizing 217 kg of drugs of all kinds.