Duo exhibition showcases new works by young artists

Two young artists Tammy Nguyen and Pham Ha Ninh, both of whom studied art in the US, will showcase their latest paintings at the exhibition Necessary Fictions at the Factory Contemporary Arts Centre.A1.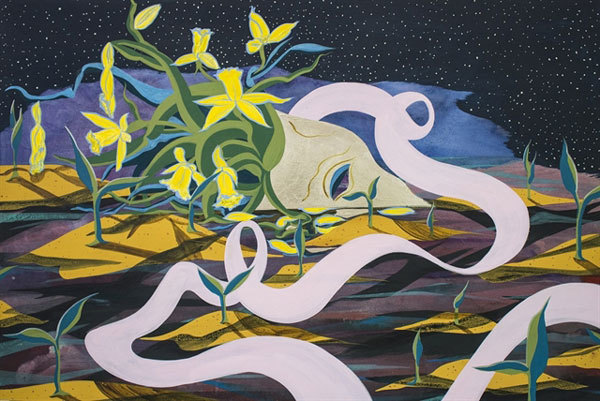 Why Can't I Touch You? by New York-based multimedia artist Tammy Nguyen. Photo courtesy of the organiser
The exhibition is curated by Zoe Butt, artistic director of the Factory Contemporary Arts Centre, and Bill Nguyen, curatorial assistant of the centre.
In the exhibition, the artists explore the role of cartography and myth through art language to unveil two distinct surreal worlds.
The New York-based multimedia artist Tammy introduces 12 paintings in watercolour, vinyl paint, and metal leaf on paper stretched over wood panels.
She uses symbolic images like eyeballs made from leaves crying for air, or flora under duress from human beings to denote the aftermath of human greed.
Tammy, born in 1984 in San Francisco, received a BFA from Cooper Union in New York in 2007.
She received a Fulbright scholarship to study lacquer painting in Vietnam a year later, and then earned an MFA from Yale University in 2013.
Her art works have been exhibited at the Rubin Museum and Bronx Museum in New York, and the HCM City Fine Arts Museum.
Her works have also been kept at Yale University, the Philadelphia Museum of Art, MIT Library, the Seattle Art Museum, the Walker Art Center Library, and the Museum of Modern Art Library in the US.
Tammy is the founder of Passenger Pigeon Press, an independent press that joins the work of scientists, journalists, creative writers, and artists to create politically nuanced and cross-disciplinary projects.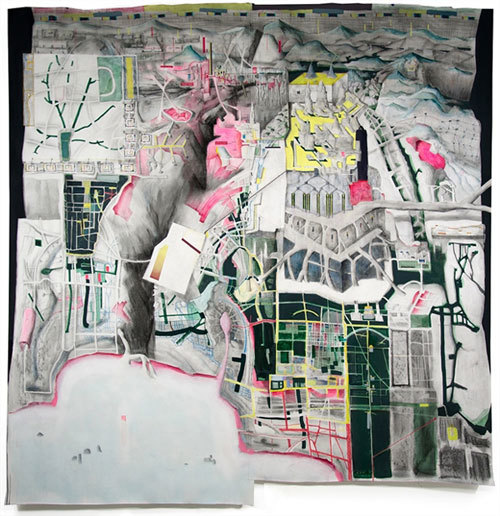 B5 [Wax Fortress] by Hanoi-based artist Pham Ha Ninh. Photo courtesy of the organiser
The Hanoi-based Ninh, who works primarily in drawing and sculpture, is presenting 11 paintings in granite, acrylic and masking tape on bristol paper.
The paintings are part of his on-going painting series My Land beginning in 2017, which brings viewers into Ninh's private territory on a dream voyage across sea, castles, villages and farms, scenes from sci-fi films, or places on futuristic planets.
Ninh, 28, a graduate of the Viet Nam University of Fine Arts, earned an MFA from the Pennsylvania Academy of the Fine Arts (PAFA) in the US.
He won the Silver Medal for Young Talents of Vietnamese Fine Arts Universities in 2015 and the 2018 Murray Dessner Memorial Graduate Travel Prize, PAFA's first travel prize at the graduate level.
His works have been shown in New York and Philadelphia, and Hanoi and HCM City.
The exhibition remains open until October 27. The venue is at 15 Nguyen U Di Street in District 2.
VNS