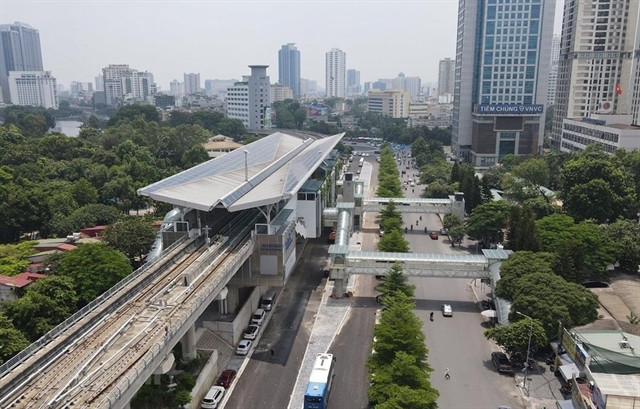 An elevated station of Nhổn-Hà Nội Station Urban Railway. — VNA/VNS Photo
The eight stations are named according to the geographical locations that the route passes through, including Nhổn, Minh Khai, Phú Diễn, Cầu Diễn, Lê Đức Thọ, the Vietnam National University, Hanoi, Chùa Hà, and Cầu Giấy, said Lê Trung Hiếu, MRB's vice director.
Not only meeting functional and technical requirements, each elevated station is also designed with its own image to promote and honour the culture of the capital city of Hà Nội, Hiếu said.
"This is not only a public transport project to serve the people, but also a highlight of the architectural landscape for the western area of ​​the city," he said.
Currently, the project has completed three bidding packages for the construction of the elevated section, elevated stations, and depot technical infrastructure, Hiếu said.
Progress of the remaining five bidding packages are almost complete for architectural works of depot area; design and installation of railway system No 1 with rolling stock, depot equipment, signal and information system and power supply for the elevated section; design and installation of railway system 2 including environmental control system, elevators and escalators, fire protection and drainage system; design, supply and installation of railway system No 3 for the entire line and in depot (including third rail); and ticketing system.
Training for operation, evaluation and safety reporting has been carried out in order to proceed to a trial operation before official operation, Hiếu said.
At present, the removal of all protective corrugated iron fences during construction at the construction sites has also been carried out.
The Nhổn-Hà Nội Station urban railway's elevated section is located on the road median, supported by 572 U-shaped beams made of pre-stressed reinforced concrete with a length of 25m, a width of 5.2m and a weight of up to 157 tonnes.
The custom-designed U-beams offer many outstanding features such as minimising impact on visibility, anti-noise, anti-derailment walls, optimising weight and easily controlling quality during the casting process at the factory.
The less angular design also contributes to aesthetics, and ensures a high level of safety for both staff and passengers.
Passengers can access the elevated stations by four entrances from the sidewalk. The system of stairs, escalators and elevators is convenient for people with disabilities, the elderly, pregnant women and children.
Each elevated station has a height of about 22.5m, a width of about 24m, and is located 8m from the road surface by three floors.
The ground floor, where passengers access the station, is installed with a system of instructions for passengers and a safety control system for operation.
The ticketing system is installed in the transfer floor of the station.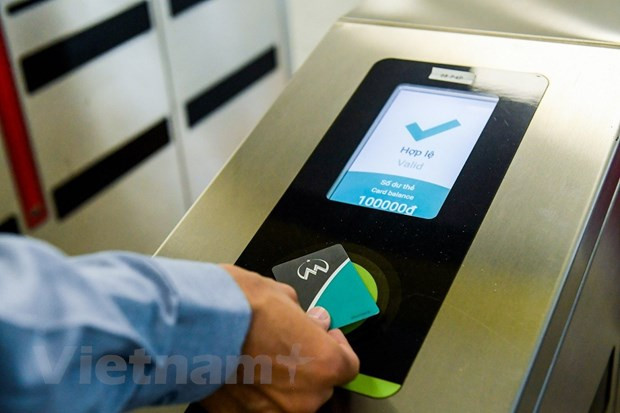 Automatic ticket reading machine installed in the station. — VNA/VNS Photo
The ticketing system is designed according to European standards. The equipment, including automatic ticket vending machines (TVMs), door system, card printing machines and hand-held ticketing devices, are imported from France.
The roof of the stations has a V-shaped structure with a relatively large slope to be able to "self-clean" when it rains. The large slope makes maintenance simpler, prevents water deposition, and protects the roof from seepage and leakage.
The roof's glass is heat-blocking and UV-resistant to ensure the supply of natural light during the day, and to protect the health (skin) of passengers when waiting, boarding and disembarking on the platform. — VNS