Elephant tusks enter Vietnam in scrap containers
Vietnam a hotspot for elephant-tusk trafficking
Elephant tusks now sold on social media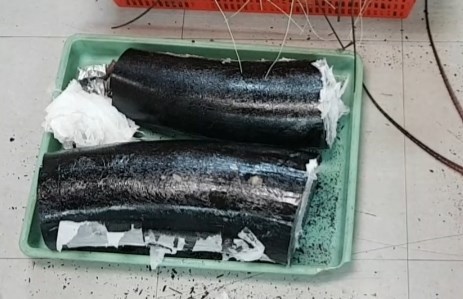 The black-painted elephant tusks
After collecting information, customs officials examined luggage of the man and discovered two elephant tusks, weighing 10 kg. The tusks were painted black, covered with aluminium foil and hidden in a box containing lobsters and dried fish.
The detained is a 37-year-old man, residing in Ha Tinh province.
The Institute of Tropical Biology of the Vietnam Academy of Science and Technology concluded that the tusks are of African bush elephants, scientifically known as Loxodonta Africana.
The animal is considered as threatened with extinction in the Convention on International Trade in Endangered Species of Wild Fauna and Flora (CITES).
Customs officials at Tan Son Nhat airport are working with authorised agencies to further investigate the case.
According to the Education for Nature-Vietnam (ENV), 521 endangered wildlife animals were saved in Vietnam in 2018 thanks to the engagement of people and law enforcement agencies. Meanwhile, up to 1,666 wildlife-related violations were also detected, of which 64 percent involved illegally in advertising and trading endangered animals and products made from them.-VNA