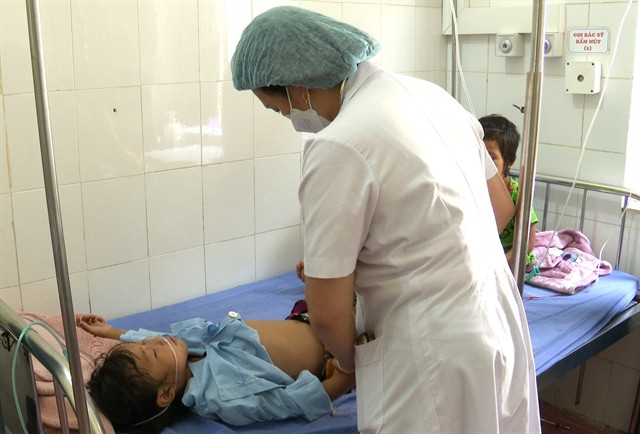 Children treated at Đồng Văn District's General Hospital. — VNA/VNS Photos Minh Tâm
Eleven children aged three to 12 years old living in the northern province of Hà Giang suffered from poison after eating a local fruit.
All of them are from ethnic minority groups of Chua Só and Hồng Ngài hamlets in Đồng Văn District.
They picked the fruit, scientifically known as Capparis versicolor Griff, while cutting grass for cattle feed in the forest on July 31.
After eating the fruit, all of the children showed signs of dizziness, headache, stomach ache and nausea. They were rushed to Đồng Văn District's General Hospital.
Dr Vũ Văn Đại, the hospital's deputy director, said after emergency treatment and intensive care, six of the children were in a stable condition on Tuesday.
Five others were diagnosed with multi-organ failure and transferred to Hà Giang Province's General Hospital.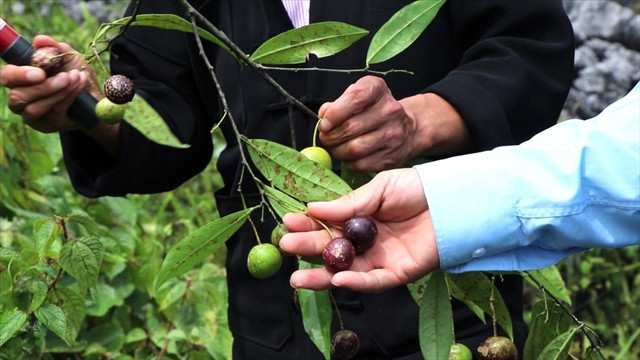 The ripe fruit has an eye-catching colour of purple, so children like to pick them to eat.
According to Hà Giang Province's Food Safety and Hygiene Division, Capparis versicolor Griff is a type of climbing plant and often grows in rocky areas.
Its bark is light green with sharp and tough spines.
The leaves are dark green and as big as two adult fingers, about 11-12 cm long.
Its fruit has round shape and is as big as a chicken egg. The young fruit has light green colour and turns purple, slightly soft when it's ripe.
Capparis versicolor Griff is an extremely poisonous fruit and might cause respiratory failure, cardiovascular collapse, leading to death for consumers.
As there has not been drug, treatment is mostly based on the symptoms.
In order to avoid unfortunate poisoning cases, the provincial Food Safety and Hygiene Division recommends local people, especially children, absolutely not eat strange plants, tubers and fruits growing in the forest.
Those who develop symptoms of poisoning must be immediately taken to the nearest medical facility for timely treatment.
In Đồng Văn District, Capparis versicolor Griff grows in the communes of Tả Lủng, Tả Phìn, Lũng Táo, Ma Lé and Đồng Văn Town.
The fruit blooming season is in June, July, and August every year when students take summer break. There is an increasing number of poisoning cases in this period, mostly among children aged between 5 and 12. — VNS