Embezzlers jailed for 103 years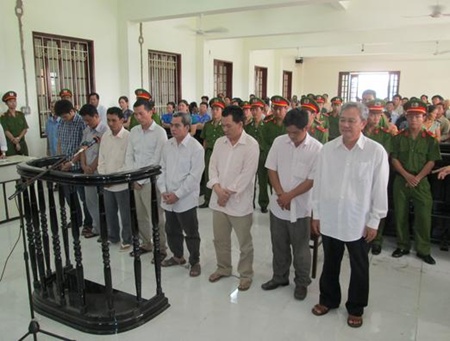 Eight people were sentenced to a total of 103 years in prison in southern Vinh Long Province's court yesterday for embezzlement involving the making and repair of cultural and historical relics.
Among the offenders were Nguyen To Tranh, former director of Culture, Sports and Tourism Department, his two subordinates, Bui Huu Tri and Tran Le Dong, and his son-in-law Phan Dang Khoi. The other five were private enterprise executives who paid bribes to officials to become departmental contractors.
The longest custodial sentence of 30 years was handed down to Bui Huu Tri for embezzling VND239 million (US$11,000) from the State budget and taking more than VND2 billion ($96,000) of bribes from local enterprises.
Phan Dang Khoi was sentenced to 30 years' imprisonment for three offences, including embezzlement, bribery, and making corrupt use of his position.
Nguyen To Tranh was given three years in prison for his irresponsility while the private enterprises executives were sentenced to from five to 17 years.
Singapore ship to compensate Vietnamese boat collision victims
The Singapore Cargo ship, the Sima Sapphire, will compensate each of the families of the victims who died in a collision off Vung Tau City in the southern province of Ba Ria-Vung Tau on September 16 with US$4,000 each.
Fishermen who were rescued in the accident will receive US$500 each, said Le Thanh Liem, a representative of the Singapore Cargo ship, in a meeting with functional departments of Tien Giang Province, the owner of the Vietnamese fishing boat and the collision victims on September 26.
The Sima Sapphire was departing from Cat Lai Port in Ho Chi Minh City for Malaysia when it collided with a fishing boat from the Mekong Delta Province of Tien Giang, about 50 nautical miles south of Vung Tau. The fishing boat turned upside down and all fishermen fell into the sea. The Singapore ship crew managed to save eight fishermen and fished out the body of one, soon after the calamity.
Rescue workers are continuing to search for the remains of five others missing, who could still be stuck inside the cabin.
New regulation may force thousands of guesthouses to close
The Ministry of Construction has announced a revised draft of the Housing Law, which includes a regulation to ban the use of residential homes as guesthouses.
According to the draft, houses are also banned from being served as a place for gas business, karaoke services, inflammable material storage or other prohibited activities in line with laws. If the regulation is approved thousands of guesthouses nationwide may be forced to close.
Meanwhile, individuals and organisations would be required to conform to stipulated designs and areas.
Two years ago, the ministry also issued a document which does not allow the use apartments as offices. This faced strong public opposition, including opposition from experts who said it would be difficult to enforce.
The ministry then requested localities not to allow people to use their accommodation houses for business purposes. Nonetheless, experts said, the Housing Law 2005 does not include any regulation banning this, except for the prohibition of using the houses for illegal activities.
The Ministry of Construction has also proposed establishing a home savings bank, which would operate under as a joint stock company. The bank would provide capital for households and individuals who have deposits in the bank in order to enable them to purchase new houses or upgrade their existing homes.
Steel producers call for waste treatment solutions
Ten steel producers in Ba Ria-Vung Tau Province have called for help from local authorities to treat the rising amount of hazardous waste from their production.
Ba Ria-Vung Tau Province is considered the centre for steel producers with total capacity reach 4 million tonnes of steel per year but many of steel factories are facing troubles with hazardous waste treatment.
The South Korean firm, Posco SS-Vina, is predicted to discharge 70,000 tonnes of waste per year and has yet able to find a solution for their problem. Authorities of Ba Ria-Vung Tau was asked to help them find a company that could deal with those waste so Posco SS-Vina can start their operation in October, 2014.
In the meantime, heads of Fuco Steel Corporation said Vietnam Mineral Exploitation, Processing, Import-Export JSC is responsible for dealing with their steel dust. However, the company's storage is almost full of steel dust yet no one has come to deal with it. If their operation is continued, they will violate regulations because the amount of steel dust will breach the safety level.
Meanwhile, the Southern Steel Company has had to shoulder about 10,000 tonnes of waste for the past year even though they signed contract with Vietnam Mineral Exploiting, Processing, Import-Export JSC along with four other steel companies in the area.
However, the Ministry of Natural Resources and Environment has not yet granted permission to Vietnam Mineral Exploiting, Processing, Import-Export JSC for dealing with hazardous waste. The local Department of Industry and Trade said that not only do the companies will have to face difficulties, the province will face threats to their environment if they fail to attract waste recycling companies.
On September 15, over 100 households from Hac Dich and My Xuan communes came together in demanded Dong Tien Steel Companies to stop discharging its wastes. Five days earlier, management agencies found out that the company's waste treatment system often suffered from technical problems and a huge amount of steel dust was improperly kept.
Bac Lieu Committee for Catholic Solidarity holds third congress
The third congress of the southern province of Bac Lieu's Committee for Catholic Solidarity for the 2013-2018 tenure opened on September 26, drawing 280 priests and followers.
In the spirit of "living the gospel in the heart of the nation to serve people's welfare," the congress set the new tenure targets for the provincial Committee for Catholic Solidarity, including upholding the traditional solidarity of ethnic groups and religions in the province.
The committee will also match the Catholics' patriotic emulation campaign with the provincial movement, contributing to the national industrialisation and modernisation.
It will also encourage followers to uphold the spirit of mutual support, actively join charitable activities as well as fight social evils, protect national security, and build cultural lifestyle.
During the previous tenure, the committee encouraged Catholics followers to contribute 2.4 billion VND (115,000 USD) to offering scholarships, textbooks and notebooks to local disadvantaged students.
It collaborated with nurses and doctors from Ho Chi Minh City to provide free medical check-ups and medicines for the poor.
The committee also donated 2.2 billion VND to poor people inside and outside the province.
Monk helps return tortoises back to nature
A number of poached tortoises weighing 30 kilograms were released back into the wild at the Tram Chim National Park in the Mekong Delta province of Dong Thap on September 26.
The release was thanks to Venerable Thich Thien Quy, head of Tam Thanh Pagoda in Phu Cuong commune, Tam Nong district and his followers, who bought the tortoises from hunters and merchants in Tam Nong market.
The activity has contributed to the regional preservation of tortoises, which are at risk of extinction.
New drive raises students' awareness of wildlife protection
The third season of an SOS travelling exhibition themed "Asian Elephants" to call for the protection of wildlife and Asian elephants in particular was launched at the Dong Khoi Junior High School in Ho Chi Minh City, on September 26.
The activity is jointly organised by the Wildlife At Risk (WAR), the Department of Education and Training, and the Forest Protection Department of HCM City.
An estimated 30,000 students in the city's Tan Phu, Tan Binh, Binh Tan and Go Vap districts will have the chance to see the exhibition during the 2013 – 2014 school year.
First held in December 2011, the exhibition has so far travelled to 48 secondary schools across HCM City and received a positive response from 30,000 students and teachers.
WAR Director Nguyen Vu Khoi said that in the past time, his organisation has coordinated with relevant agencies to deal with many law violations relating to wild animals reported by students and local people, which reflects the effectiveness of education on wildlife protection.
Statistics from WAR show that up to 28 wild and 10 domesticated elephants died in Vietnam during the past four years. Many of them were killed for their skin, meat, tusks and tail hairs.
The population of wild Asian elephants in the country was estimated at between 75 – 130 individuals in 2010.
Science – Technology Media Week opens in Hanoi
The first-ever Science and Technology Media Week officially kicked off in Hanoi on September 26.
The highlight of the week is the Science and Technology Media Exhibition featuring 20 booths representing 16 science and technology media units under the Ministry of Science and Technology, along with central press agencies such as Vietnam News Agency, the Newspaper of Industry and Trade, People's Representative Newspaper and Dat Viet (Vietnam Land) Newspaper. The booths display media works on scientific and technological activities.
A wide variety of other activities are also held during the week including seminars on science and technology media and an exchange entitled 'Students with Science and Technology'.
The two-day event contributes to raising public awareness of the importance of science and technology, particularly science and technology media in the socio-economic development as well as enhancing the responsibility of managers, scientists and students in communicating scientific and technological activities, according to the Minister of Science and Technology Nguyen Quan.
Green power in Hanoi
The plant is located in Hanoi's Soc Son district and is being developed by the Urban Environment Company and Hitachi Zosen with support from Japan's New Energy and Industrial Technology Development Organisation (NEDO) at a total investment of $22.5 million. NEDO is the sole fund provider for the project.
This will be Vietnam's first waste-to-power generation plant and NEDO's first overseas power generation project and it will serve as an example to be followed by cities and provinces nationwide.
It is scheduled to go on-line at the end of 2014 and will treat 75 tonnes of industrial waste daily, 30 per cent of Hanoi's total. The plant will use Japanese technologies and the energy produced will power up to 4,500 households and the neighbouring industrial park.
Deputy Minister of the Ministry of Natural Resources and Environment Tran Hong Ha said the project was a meaningful early step toward sustainable development.
He also said he hoped the pilot would catch on and become an effective, though small, part of the nation's power network.
The project comes as concerns mount over power shortages due to rapid urbanisation.
In Southeast Asian countries, there is a mass surplus of industrial waste and disposal areas are few and far between. Generating power from this waste is likely to be popular throughout the region as power demand rises and innovative solutions are needed to avoid environmental destruction. Countries likely to catch on quick are Indonesia, Malaysia and Vietnam, noted NEDO's website.
Vietnam is calling for investments in waste treatment technology, and is showing particular interest in waste-to-power. But due to the government's power price cap and a poor regulatory framework, few have made it past the proposal stage.
Last year, Australia's Trisum International released that it would pour $400 million to build the wast-to-power in Ho Chi Minh City. Meanwhile, the America's $140 million International Energy and Environment Company which got the license for a waste-to-energy project five years ago still stay on paper.
HCM City to build one more steel overpass
The HCMC government has asked the Department of Transport to study the possibility of building a steel overpass at the Go Vap Intersection which has been hit by chronic traffic congestion.
Bui Xuan Cuong, deputy director of the department, talked about the project after a meeting with the city's leaders on Tuesday. Under a plan presented by Cuong's department, the Y-shaped flyover has one main route running along Nguyen Oanh and Nguyen Kiem streets and one auxiliary route stretching along Pham Ngu Lao Street.
The planned overpass will have a width of 11.7 meters designed for four lanes, with each route being six meters wide for two lanes. It has a total length of 238 meters and costs an estimated VND354 billion.
The project is expected to be completed after about seven months of construction. According to the transport department, the flyover would help reduce congestion at this area by up to 75-80%.
The city has opened five steel flyovers to traffic, helping reduce traffic congestion in the intersections where they are located. Another Y-shaped overpass at the Cay Go Roundabout in District 11 is set for completion late this month.
Illegal gold exploiters arrested in Ha Tinh
Border guards in central Ha Tinh Province arrested 25 illegal gold exploiters at the province's border area.
Commander Nguyen Van Sam from Cau Treo Border Post said on Wednesday that three tents set up by the exploiters were dismantled and many machines and tools used for sifting gold were seized.
Local residents spotted them illegally exploiting gold at Khe Tro area bordering the provincial communes of Huong Tho and Huong Dien and notified guards.
Cervical cancer checks begin in poor provinces
A cervical cancer screening programme will be provided to 2.5-3 million women in five provinces of Phu Yen, Thanh Hoa, Yen Bai, Nghe An and Thai Binh, where 17-36 per cent of the population lives below the poverty line.
Cervical cancer claims the lives of 5,000 women in Viet Nam annually.
The US$6.9 million project is the second phase of a co-operation programme implemented by the German Development Co-operation (GIZ) and the Ministry of Health's Administration for Medical Services.
Vietnamese language teaching course for OV teachers
Deputy Foreign Affairs Minister Nguyen Thanh Son emphasized the importance of Vietnamese language teaching and learning to the overseas Vietnamese community, at the September 26 opening ceremony for an OV teacher training course in Hanoi.
The new Vietnamese language pedagogy course, conducted by the State Committee for Overseas Vietnamese Affairs and the Ministry of Education and Training, will train 14 teachers currently running Vietnamese lessons in the Czech Republic, Germany, France, Laos, Thailand, and Taiwan.
Son said with more than four million Vietnamese people living in over 100 countries and territories around the world, Vietnamese language instruction is increasingly significant in both cultural and long-term strategic terms.
The training will help participants hone skills in teaching Vietnamese in a variety of contexts and update methodologies using modern course materials.
Trainees will also observe and participate in some classes at local schools and join a press seminar on improving Vietnamese learning and teaching in OV communities.
They are scheduled to tour select Vietnamese education research centres and enjoy the natural and human vistas of Hanoi, Ha Long, Ninh Binh, and Sapa.
In addition to its immediate professional relevancy, the course will also educate trainees about Vietnamese history, traditions, and cultural identity, introduce the developments of the Doi Moi (Renewal) process, and situate the Vietnamese language in the context of the nation's industrialisation, modernisation, and international integration.
Medical courses dwindle in quality amid enrolment surge
Many private and provincial-level universities have raised enrolment quotas in their medical and public health programmes, resulting in low-quality education, officials have said.
Deputy Minister of Health Le Quang Cuong said in a statement sent to the Ministry of Education and Training that the quality of the medical workforce had been badly affected by non-medical universities' poor management.
Many schools permitted to provide training in health sciences have failed to meet requirements on lecturers and facilities, Cuong said.
The number of graduates in nursing and pharmacy has exceeded recruitment demand because of this boom in enrollment at universities.
The Ministry of Health has asked the Ministry of Education and Training to issue warnings about the surplus workforce in nursing and pharmacy in career-orientation programmes for high school students.
It has also recommended that the MoET conduct an inter-ministry inspection of medical schools as well as educational institutions.
Enrolment at these universities increased rapidly over the last few years, according to a report on the medical workforce issued by the Ministry of Health.
Last year, there was a two-fold increase in enrolment compared to the figure in 2007 and a four-fold rise compared to 2003, the report showed.
This year, many private universities accepted students who had scored near or equal to the lowest permitted grades on university entrance examinations for the health sciences.
Hong Bang University in HCM City, for example, accepted a grade of 14, equal to the lowest grade, for students taking Group B university tests that include maths, chemistry and biology.
The test is required for a bachelor's degree programme in nursing and medicine.
Tay Do University in Can Tho City also accepted students with low grades for bachelor's degree programmes in pharmacy and nursing.
"The school will shut down if it fails to attract students," said Phan Van Thom, acting rector of the Tay Do University.
Last year, the school met only 40 per cent of the enrolment target although it accepted students with grades equal to the minimum grades, Thom said.
According to a report from the Ministry of Education and Training, the number of applications in health sciences for the university entrance examinations this year rose by 1.7 per cent compared to last year's figure.
Viet Nam has 49 medical colleges and universities and 17 universities with interdisciplinary majors that provide courses on health sciences. Private universities and provincial universities account for 14.
HCMC hospital installs water treatment system
A standard waste water treatment system made with Japanese technology was put into operation at HCM City Paediatric Hospital No 2 yesterday.
With a total capital of VND64 billion (US$3 million), the system was installed by the AIC Group, an advanced information technology & building automation company.
It will help collect and treat 1,200cu.m of waste water per day, said Ha Manh Tuan, the hospital's head.
Huynh Cong Hung, head of the Committee for Cultural and Social Affairs under the People's Council, said this system had contributed to environmental protection in the city.
It also would help the city reach its target of having a water treatment system by 2015, Hung said.
Public hospitals in the city should take the lead in installing a standard waste water treatment system, he said.
According to Dang Quang My, deputy head of the Health Department's management committee for investment projects, 34 hospitals under the supervision of the departments have installed the standard waste water treatment system.
Twenty-three hospitals in districts and 34 private hospitals in the city also have the system, My said.
HCM City has been commended as the leader in the country for installing the system at health clinics in communes and wards, he added.
The latest figures of the Department of Natural Resources and Environment showed that in 2012 nearly 20,000cu.m of waste water was discharged from hospitals without treatment.
Ha Noi trade hotspots inspected for fire risk
Ha Noi's Fire Fighting and Prevention Police began a 12-day random inspection last Saturday to monitor security-guards working night shifts in the 10 largest local markets and trade centres.
The inspection, which was ordered by the director of the police, Major General Nguyen Duc Nghi, will run until October 2.
The move follows a massive blaze at a four-storey trade centre in northern Hai Duong Province on September 15 causing VND500 billion (US$23.5 million) of damage.
Police from Hai Duong Province on Wednesday moved to a further investigation into the case.
Hoan Kiem District's Dong Xuan Market was the first to be randomly inspected last Saturday night.
Senior Lieutenant Colonel To Manh Thang said that inspectors ordered security guards on duty to test fire-fighting equipment.
The inspectors discovered goods were blocking emergency exits, he said.
And several plugs and electric wires were substandard, which could start electrical fires, he said.
Tran Ngoc Minh, head of the market's security guard team said that they would deal with shortcomings in the coming time.
Meanwhile, the market's management board has fined 300 small traders for blocking access to fire-fighting equipment during the first six month of this year.
The fines range between VND200,000 and 700,000 ($9.4-33), an official from the board management said.
Official statistic showed three blazes had occurred in markets in Ninh Hiep, Troi and Voi since early this year, however the blazes inflicted only minor damage.
The city has more than 400 markets with a total area of 1.5 million of squares metres.
Foreign NGOs meet in Hanoi
Representatives from more than 200 international non-governmental organisations (INGOs) convened their regular meeting in Hanoi on September 26.
Participants were briefed on INGO activities during the first eight months of this year and some new regulations governing INGO operations in Vietnam.
They discussed the People's Aid Coordinating Committee (PACCOM)'s administrative procedure tools, the national programme promoting INGO assistance over the 2013–2017 period, and plans for the third Vietnam-INGO international partnership meeting.
The Committee for Foreign NGO Affairs told INGO representatives of its desire to strengthen information exchanges and pledged to foster the best possible administrative conditions for INGO operations. The Committee wants to expand its cooperation with INGO and improve the efficiency of INGOs' Vietnamese projects.
Defendant jailed for anti-State propaganda
A defendant in northern Dien Bien province was sentenced on September 26 to three years' imprisonment and three years of probation after serving his jail term for "conducting propaganda against the State of the Socialist Republic of Vietnam".
The sentence for Giang A Chu was pursuant to Point C, Clause 1, Article 88 of the Criminal Code, the provincial People's Court said.
The verdict of the Dien Bien People's Procuracy said that in May 2010, Chu, born in 1989, joined a reactionary organisation led by Trang A Cho with the aim of setting up a "Mong Kingdom".
Chu kept a document compiled by Cho with contents against the Socialist Republic of Vietnam.
After legal proceedings were started against him on February 20, 2012, Chu fled away and on May 23, 2013, he brought his family to China, where he was arrested and handed back to Vietnam.
Hanoi strengthens ties with Ile-de-France
Hanoi Mayor Nguyen The Thao and Vice President of the Regional Council of Ile-de-France, Roberto Romeo have pledged to strengthen bilateral ties in the coming years.
At a recent working session during Prime Minister Nguyen Tan Dung's visit to France, the two leaders reviewed cooperative programs and identified specific areas of cooperation.
According to their memorandum of understanding (MoU), a meeting of the joint committee will be held in 2014 to mark the 25th anniversary of diplomatic ties between the two localities.
The MoU is focused on urban planning, tourism promotion, heritage preservation, public transport development, water supply, solid waste management and environmental protection.
The economic ties between Hanoi and Ile-de-France region will be strengthened by closer cooperation in Hanoi's modernisation and development projects.
As of November 2013, Ile-de-France will send a group of experts to work on the IMV project to support Ile-de-France businesses in promoting trade in Hanoi.
The two sides agreed to implement their plan to preserve the heritage value and raise the role and position of the capital city.
French experts will also help Hanoi build a bus lane below the No3 ring road as part of the public transport network and improve the management of urban railway and bus services.
In addition, the two sides will organise cultural events and business meetings to mark the 40th anniversary of diplomatic ties between the two countries.
Vietnam, Laos coordinate in search for martyr remains
Vietnam, Laos have agreed on a joint plan to search for and repatriate remains of volunteers and experts who died during the past struggle as on schedule.
The agreement was reached at the signing of a memorandum of understanding in Vienkham district on September 26 by the special working commissions of Vientiane, Xiengkhouang and Nghe An provinces.
Leaders of the three provinces showed strong determination to repatriate around 90 sets of remains of Vietnamese martyrs in Vientiane and Xieng Khouang during the 2013-2014 dry season.
They said they have encouraged local people to give a helping hand to the working groups.
Since 1984, the three commissions have gathered and repatriated more than 12,000 sets of remains.
Pink-eye disease put under tightened control
The Preventive Medicine Department under the Health Ministry on September 26 asked relevant agencies and departments to closely monitor the development of pink-eye disease (conjunctivitis) that has been spreading rapidly in many localities.
Accordingly, the Pasteur Institute and municipal and provincial health departments were asked to tighten their inspection on disease hotbeds, especially in kindergartens and schools.
Attention should be paid to educational activities, particularly keeping personal hygiene, in order to prevent the disease from spreading out, the department said.
Local health departments were urged to stand ready to provide medicines, facilities and timely assistance to localities and units in dealing with outbreaks.
Meanwhile, the Pasteur Institute needs to keep a close watch on and increase technical support to localities in handling the disease, the department added.
Over the past few days, eye hospitals in Hanoi have received an increasing number of patients suffering from pink-eye disease.
The Hanoi Eye Hospital and the Eye Hospital in Ha Dong district reported nearly 1,200 cases over the past ten days.
To prevent the disease spreading, medical stations and schools in Hanoi have taken part in communications campaigns. Many schools warned students and their parents to apply preventive measures, while allowing infected students to stay at home to avoid spreading the disease.
Experts said that it is necessary to keep personal hygiene and wear glasses to protect eyes.
People should clean their eyes with salt water regularly and wear glasses or masks when they're outside, said deputy director of the Hanoi Eye Hospital Trinh Thi Bich Ngoc.
Regarding reports about a shortage of medicine to treat the disease, the Hanoi Department of Health said that the city still had enough medicine for patients.
In addition, the department has requested local hospitals and clinics to consult, examine and treat patients as quickly as possible.
Besides Hanoi, the disease is also spreading in the central province of Nghe An and the southern provinces of Tra Vinh and Soc Trang.
Seminar discusses cervical cancer diagnosis
The Ministry of Health and the German Development Cooperation (GIZ) on September 26 held a seminar to share experience and discuss screening methods for the early diagnosis of cervical cancer in Vietnam.
The event, themed "Cervical cancer screening", is part of the project Strengthening Provincial Health Systems funded by the German Ministry for Economic Cooperation and Development (BMZ).
At the seminar, Deputy Minister of Health Nguyen Thi Xuyen said cervical cancer can be prevented and diagnosed early but is still one of the most common diseases among Vietnamese women.
Statistics in 2010 showed that more than 5,000 women were diagnosed to have cervical cancer in Vietnam. On average, the number of new cases every year is 12,000, with around 2,500-5,600 fatalities.
Experts focused their discussion on Human Papillomavirus (HPV) test, anti-cervical cancer activities in GIZ project's targeted provinces, different screening methods in Vietnam, as well as Thailand's experience in the field.
They said the best way to prevent this disease is early screening. Currently, there are three methods being applied, including Papanicolaou screening (PAP Smer), visual test using acetic acid, and HPV test.
All the three methods are encouraged in Vietnam, especially the test using acetic acid.
German businesses provide vocational training skills
More than 100 German businesses are willing to work with Vietnamese vocational training centres to offer internships to Vietnamese students.
The German Embassy revealed the information at a conference on German development cooperation in Hanoi on September 26.
It said the German Federal Ministry for Economic Cooperation and Development (BMZ) will finance a range of vocational training projects in Vietnam, with a focus on DeveloPPP - an initiative guiding German business investment in developing nations.
DeveloPPP extends enterprises financial and professional skill support. Businesses must cover half of the specified project's costs to be eligible for assistance, and the BMZ will offer each enterprise a maximum of EUR200,000.
Projects can last for up to three years and relate to a range of occupations. In Vietnam, many vocational training centres can offer students internships with German businesses receiving BMZ support.
German Ambassador to Vietnam Jutta Gisela Frasch expressed hopes the BMZ scheme will create numerous new opportunities for vocational training cooperation between Vietnam and Germany.
Practical experience, especially in factories, is essential to preparing students for employment after graduation. Vietnamese vocational training centres are working with businesses on fine-tuning their curricula to business demands.
Frasch said this fine-tuning is bound to improve Vietnam's competitiveness in the ASEAN labour market.
Hau Giang's rural areas get facelift
Over 12.2 trillion VND (581 million USD) was spent on building new rural areas in 54 communes across the Mekong Delta province of Hau Giang from 2010 to 2012, giving them a facelift and advancing locals' material and spiritual lives.
According to the Steering Committee of the National Target Programme on Building New Rural Areas of the province, the money was sourced from the State budget, bank credits and businesses, among others.
Priorities were given to such fields as transport, irrigation works, cultural facilities, medical stations, housing, water for household consumption, production assistance, science-technology transfer, and vocational training.
In 2012, the province's economic growth stood at 14.13 percent while the total value of the agro-forestry-fisheries production reached 4.8 trillion VND (228.7 million USD).
Up to 1,853km of asphalt and concrete roads and 1,530 bridges with a total length of 30.8km were also built from 2009 to 2013.
More career opportunities for Vietnamese students in UK
VietPro (Vietnamese professionals in the UK) has signed an agreement with the Vietnam education and intellectual trade company (VTCorp) to strengthen joint efforts to help Vietnamese students in the UK in setting up their own career.
Under the one-year agreement, VietPro and VTCorp will not only act as consultants but also be co-sponsors and co-hosts of Prospect V 2013, which provides experience and job application skills for students, in London and Newcastle.
The agreement marks Vietpro's crucial step to become closer to overseas Vietnamese students and link them to young Vietnamese intellectuals in the UK , said Vietpro Chairman Vo Hien.
Through this effort, Vietpro wants to help build the image of active and enthusiastic Vietnamese youngsters in the eyes of British people while expanding its assistance to the overseas students in other sectors and localities, Hien further said.
The agreement, the first of its kind VietPro signed in the education field, is hoped to bring practical benefits to all overseas Vietnamese students in the European country, added the chairman.
To make it come true, the two sides will strengthen cooperation in organising VietPro's programmes such as Drop-in Session, Student Investment Challenge and Prospect.
Founded in 2010 with the support of the Vietnamese Embassy in the UK and Northern Ireland, VietPro has seen robust development with its members increasing from 60 intellectuals to 400 last year, who got linked with 5,000 overseas students across the UK.
Source: VEF/VNA/VNS/VOV/SGT/SGGP/Dantri