Vietnamese teenagers were at risk of social exclusion in later life because of the threat of video game addiction, a doctor has warned.
75% of Vietnamese students under-12 use social media, not aware of risks: survey
Games addiction vaults to top of Vietnam's social worry list 
According to the head of a hospital department dedicated to stress-related disorders, some youngsters had even tried to take their own lives because they were so ill-prepared for adulthood.
This week the World Health Organisation voted to recognise video gaming as an official addiction with the new classifications coming into effect in 2022.
Dr Duong Minh Tam, Director of the Department of Stress-related Disorders at Bach Mai Hospital said he had seen many patients who complained they felt isolated and were not prepared for adult life.
This, he claimed, was because many spend their teenage years glued to computer screens playing video games – essentially living in a fantasy world far from reality.
"We have got patients who spend all day playing video games and not studying," he said.
"Normally the ones engaged in video games are the smart ones. Those with below-average intelligence can't play, it has to be the smart ones.
"But those smart people, after spending all their intellectual ability on video games, when they reach a certain age all of a sudden they want to have a normal life and get a job to support their parents."
It is then, according to Dr Tam, reality hits home and they find themselves stressed out over their future prospects.
"They realise they don't have anything," he added.
"No knowledge, no connections, no social understanding, not even reasoning ability. Nothing.
"That's when they start to loathe themselves, feel sad, discomfort and are stuck. And they go to hospitals hoping doctors will solve their problems, but that's not easy.
"So there have been a lot of suicide attempts related to these issues."
Video gaming is a booming global business and more and more computer cafes are opening up all across Vietnam.
One member of staff at a venue in Hanoi admitted it was sometimes impossible to measure the number of players they had because so many young gamers played there each week.
He said often the 98 machines available for customers were all being used.
But one student hit back – claiming there was a flip side to playing games that gave people the opportunity to make new friends online from around the world.
Ngo Phat Trieu is a student at the National Economics University in Hanoi.
He said playing games was nothing more than a hobby for him and his friends.
"We play video games not because we are addicted to them or because we have a huge passion for them," he said.
"It is just because we want to sit with friends and enjoy the time playing. Playing games for us is a way of hanging out with friends.
"Apart from its negative effects, playing games has its positive side. It allows us to connect with other gamers from different servers, like the ones in the US or China.
"And for students like us, we can learn English from them."
But it is not all about playing for fun as some gamers in Vietnam play to earn money by live streaming themselves online.
Le Hoang Anh from the Regis Gaming Centre said a number of his customers, particularly women, had fans who made donations to watch them play.
"The benefit of live streaming is to advertise a certain cybergame, and gamers can earn money for themselves. They live stream themselves playing mostly to make money. It's a job like any other job.
"The amount of money they make depends on donations from those that watch them play, as well as sponsors and investors.
"Streamers play both to have fun and generate income to provide for their families."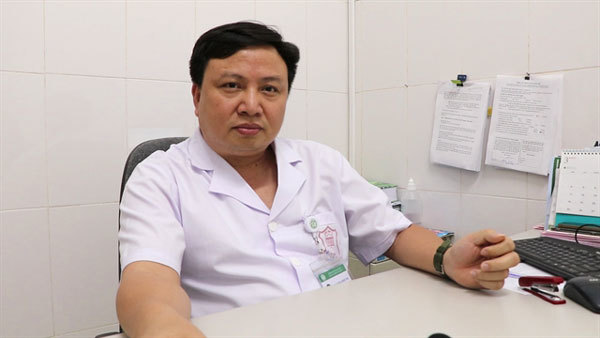 Dr Duong Minh Tam, director of the Department of Stress-Related Disorders at Bach Mai Hospital


CASE STUDY
One 21-year-old man living in Hanoi admitted to himself he had a problem. After hours spent each day playing video games he finally decided enough was enough.
The third year university student has agreed to share his story, on the condition we withhold his identity.
"I used to play video games for five hours per day during summer because I didn't have any new friends at that time while the old friends back home were busying studying. I played for about three hours in the morning and two hours in the evening.
"After three hours of playing, I felt quite tired and my eyes hurt. I just wanted to take a rest because this gaming stuff affects my health badly.
"In the past, I used to feel frustrated without video games until I realised how harmful they were. I've been trying to decrease the playing time ever since.
"Due to the addiction, my grades fell significantly; many of my relationships were broken; and my memory got worse and worse. Those were the signs for a need to change.
"I think that playing games too much depends on your environment. For an introvert like me who spends most of the time at home, without video games, I could become autistic. Playing games is my way of making friends.
"I have friends now, and they are really good friends who have helped me a lot. Gaming isn't an indispensable part of my life anymore.
"My friends are the most important thing for me at the moment. So my advice is we all stand up sometimes and look around. You might discover new things you will never know with your eyes in front of a computer screen."

Video gaming facts
More than 150 million Americans play video games, and 64 per cent of American households are home to at least one person who plays video games regularly.
The video games market is expected to be worth more than US$90 billion by 2020, from nearly $78.61 billion in 2017.
There are approximately 2.2 billion gamers in the world. Of the estimated 7.6 billion people living on Earth, as of July 2018. That means almost a third of people on this planet are gamers.
Three of the top five video gaming countries are in Asia. They are China (1st), Japan (3rd), South Korea (4th).
76 per cent of gamers prefer to play games on mobile devices while 62 per cent prefer playing on PC/Mac. (Applause, 2016)
Health experts say if parents are concerned their children may be suffering from gaming addiction, they should look out some tell-tale signs that include:
* Feelings of restlessness and/or irritability when unable to play
* Preoccupation with thoughts of previous online activity or anticipation of a gaming session
* Lying to friends or family members regarding the amount of time spent playing
* Isolation from others to spend more time gaming
* Migraines due to intense concentration or eye strain
* Poor personal hygiene
Bao Hoa, Hoang Ho, Paul Kennedy
VNS