End of Tet holiday marked by high traffic congestion around major cities
In a bid to avoid the congestion, many people opted to return on Wednesday afternoon or Thursday morning.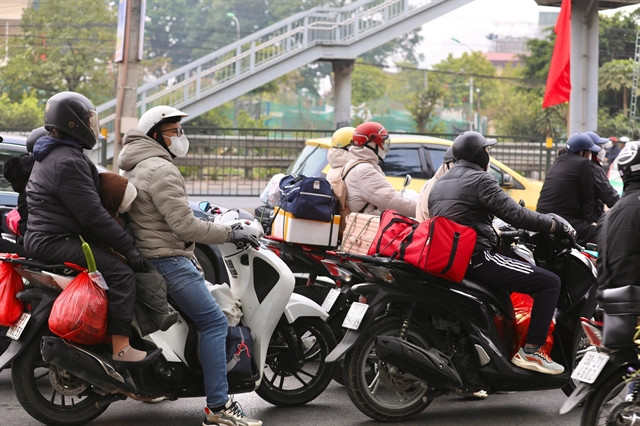 People return to Hà Nội at the end of the week-long Tết holiday as work resumes Friday. — VNA/VNS Photo Hoàng Hiếu
In a bid to avoid the congestion, many people opted to return on Wednesday afternoon or Thursday morning.
In Hà Nội, vehicles crowded Ngọc Hồi, Giải Phóng, National Route 1A, Ring Road No 3 and Thanh Trì Bridge.
There were also traffic jams on roads surrounding the capital city's two major coach stations, Nước Ngầm and Giáp Bát.
Lieutenant Colonel Nguyễn Anh Tuấn, deputy head of the Traffic Police Team No 14, said that the unit would deploy personnel and coordinate with other teams to regulate traffic flow and prevent traffic jams.
Traffic police will also be present at gateways to the capital city to handle congestion and accidents.
Major Phạm Văn Chiến, head of the Traffic Police Team No 6, said that along Phạm Văn Đồng and Phạm Hùng roads and the area around Mỹ Đình Coach Station, patrol teams had been deployed to handle violations related to minimum speed limits and illegal passenger drop off, which lead to further congestion.
Hà Nội's Traffic Police Department has directed its teams to coordinate with district and town police forces to ensure smooth traffic movement and security. Plans have been prepared that will be in effect until Sunday this week.
In the southern region, heavy traffic jams were recorded in the area of Rạch Miễu Bridge, which connects the western part of the region with the eastern area and HCM City.
Bến Tre and Tiền Giang provincial police forces worked together to alleviate the situation. Toll collection was also temporarily halted at times to ease the flow.
The increased travel demand has also been affecting airports. Approximately 144,000 passengers landed in HCM City's Tân Sơn Nhất International Airport on 931 flights on Thursday, the highest figures since the vacation began last week.
A Tân Sơn Nhất airport representative said: "The airport's operations centre has been working on a flexible, evenly-arranged flight schedule so that passengers can quickly receive their luggage, improving the arrival terminal's efficiency and ensuring service quality."
Most flights recorded over 90 per cent seat occupancy, with some fully booked.
Increased passengers were also observed in Đà Nẵng, Cam Ranh, Chu Lai and Vinh airports on the last two days of the week-long holiday.
More vessels have been mobilised to the temporary ferry terminal of Rạch Liễu to meet increasing demand over the holiday season.
The Directorate for Roads of Việt Nam has also put a short-term ban on tri-axle trucks and heavier vehicles on Rạch Miễu Bridge and National Route 60 from 3pm to7 pm, starting from January 11 to 31. — VNS