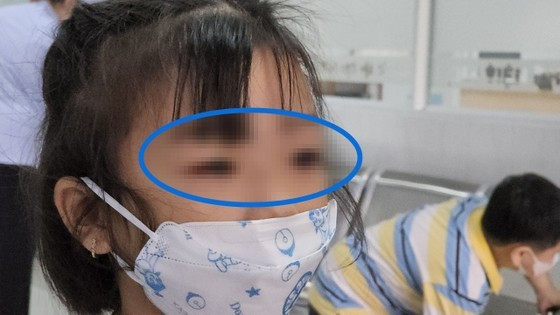 A pink eye patient
The presence of the two viruses was found out in 37 out of 39 pink eye patient samples, accounting for 95 percent of total infectious patients.
Of these, the enterovirus dominated with 86 percent while the previous common virus adenovirus accounted for 14 percent.
The conclusion is based on a quick report on the research results implemented by the Hospital for Tropical Diseases in collaboration with the Oxford University Clinical Research Unit (OUCRU).
Accordingly, 39 pink eye patients including adults and children who come from 13 districts in Ho Chi Minh City, Binh Duong, Ba Ria- Vung Tau, Long An and Tien Giang provinces with a median age of 19.7 years were taken their samples for testing at the Eye Hospital on September 7. Right after, the samples were sent to the laboratory of the unit for research in emerging infectious diseases to screen for individual or symptom-associated viruses like adenovirus, enterovirus, metapneumovirus and parainfluenza virus via Polymerase Chain Reaction (PCR) technique.
The results showed that no cases were positive for metapneumovirus or parainfluenza virus as well as symptom-associated viruses between enterovirus and adenovirus.
Currently, the research team continues to analyze and sequence the genomes to accurately identify the serotype and genotype of the enteroviruses and adenoviruses causing pink eye.
Source: SGGP