Entertainment and cultural events of the week (December 5-11)
Upcoming entertainment and cultural events in Vietnam's major cities on December 5-11.
Serie de Formas de Arte Moderno en la Naturaleza: 01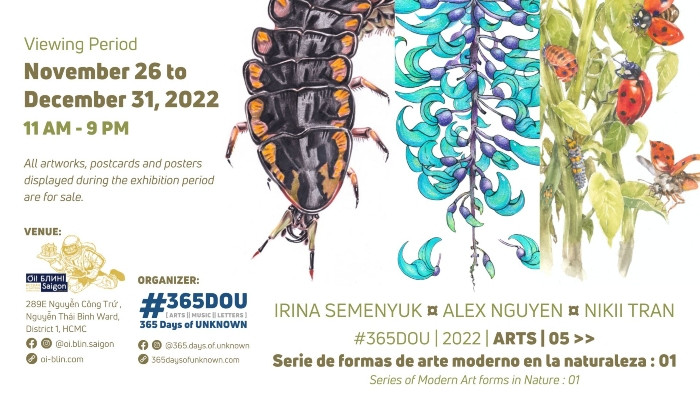 26 Nov – 31 Dec 2022
Ơi Blin Saigon
289E, Nguyễn Công Trứ, Nguyễn Thái Bình Ward, District 1, HCMC
LInspired by Kunstformen der Natur (Art forms of Nature) of Ernst Haeckel, 365 Days of UNKNOWN curated the first of the Serie de formas de arte moderno en la naturaleza (Series of Modern Art forms in Nature), an exhibition of botanical art which are well worth seeing, immerse yourself in a colorful botanical world full of giant insects, flowers, and plants created by 3 artists Irina Semenyuk, Alex Nguyen và Nikii Tran
All artworks, postcards and posters displayed during the exhibition period are for sale.
Exhibition: "Diffractions"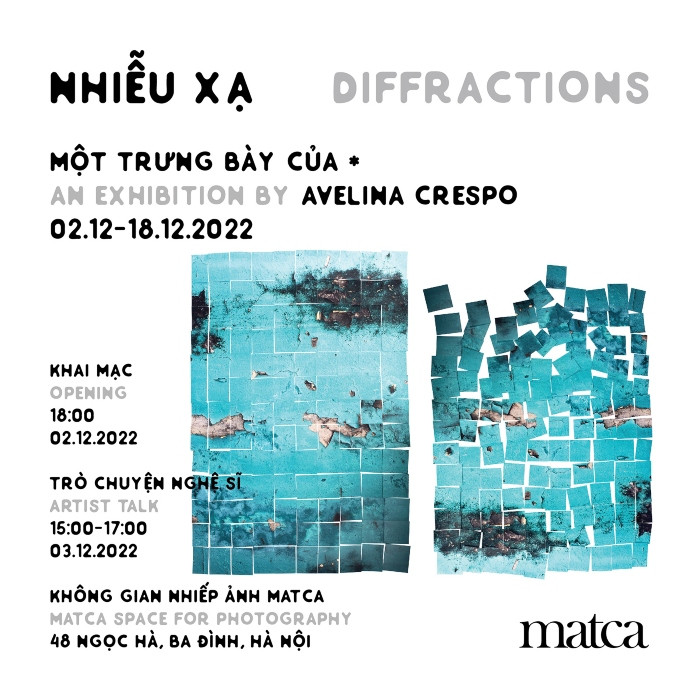 Opening: Fri 02 Dec 2022, 06 pm
Exhibition: 02 – 18 Dec 2022, 07 am – 07 pm
Artist talk: Sat 03 Dec 2022, 03 pm – 05 pm
Matca Space for Photography
48 Ngọc Hà, Ba Đình district, Hanoi
Diffractions is a new body of work by Ecuadorian photographer Avelina Crespo. This work emerges while she wanders around Hanoi, a city she has recently moved to.
Drawn to their many layers of paint, Avelina starts photographing walls. Then, she begins to photograph objects. She imagines these walls and objects symbolize a history that does not belong to her. The images presented in this series are thus metaphorical expressions and allude to an effort to understand reality from another perspective.
Avelina photographs and prints these images, which are then subjected to multiple cuts in order to be reconstructed using collage techniques. She re-photographs the results to produce the final image. The intention behind cutting the image apart is to then put it together, creating forms where the space between the parts evidences the difficulty of creating a new narrative. This draws attention to the materiality of the photographic image. It is a process that deliberately alters, interrupts, and recreates a photograph in order to generate a new way of seeing.
Avelina Crespo is an Ecuadorian photographer with extensive international experience, having lived and practiced in Ecuador, France, Peru, Brazil, Chile, the United States, Canada, and Vietnam. She received her B.A. in History from Georgetown University in Washington D.C. where she studied photography at the Corcoran School of the Arts and Design, and a Diploma in Art History from the University of British Columbia, Canada.
Her most recent exhibits took place at Carlos Caamaño Proyecto Fotográfico in Lima, Perú (2017), the MAVI Museum in Santiago de Chile (2012), the MAC in Niteroi, Brazil (2012), Back Gallery Project in Vancouver, Canada (2015), Red Ex Gallery in Quito, Ecuador (2002). Avelina has lived in Hanoi, Vietnam since 2018.
Concert VNSOxVYO: Family Concert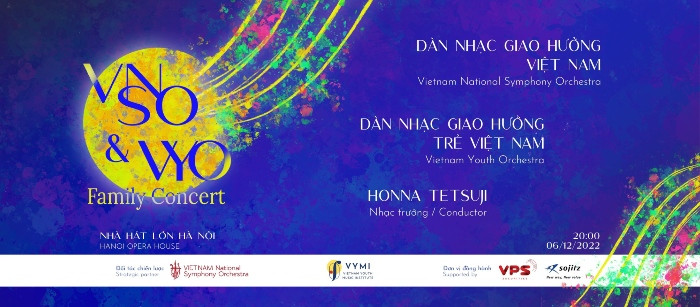 Dec 6, 08 pm
Hanoi Opera House, 1 Trang Tien Street
Performed by Vietnam National Symphony Orchestra (VNSO), Vietnam Youth Orchestra (VYO) and amateur musicians from the community under the conduct of the wonderful Maestro Honna Tetsuji.
This will be the stage where so many characters, stories with various backgrounds, professions and ages are harmonized together. Side by side, we will guide our audience into the adventure of sparkling fairy tales and enjoying the natural sceneries around the world.
No longer holding a cloud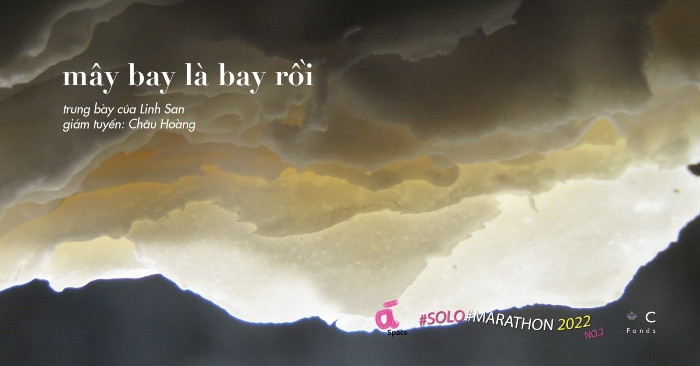 10 – 18 Dec 2022, 02 pm – 08 pm
Á Space, Alley 59 Ngô Gia Tự Street, Long Bien District
Linh San's solo show titled 'no longer holding a cloud', curated by Châu Hoàng.
'no longer holding a cloud' is the first stop that marks the more than year-long journey of Linh San working with the idea of 'matter dispersal', when for the first time, she experimented with clay, a material that requires a different handling of form-creation to her earlier practice with poetry and videos.
This mixture of soil, water and chemicals is not a material to simply create shapes; it also envelopes and cradles the years gone by, a place for memories to be incarnated and be liberated. Done with meticulous and painstaking efforts, in almost a ritualistic manner, the series of works in 'no longer holding a cloud' materializes the shapes of the feelings left inarticulate, a reflection on the absence, the remnants left behind of a fragment of life, and the path to becoming oneself through each fold and mold.
The Nutcracker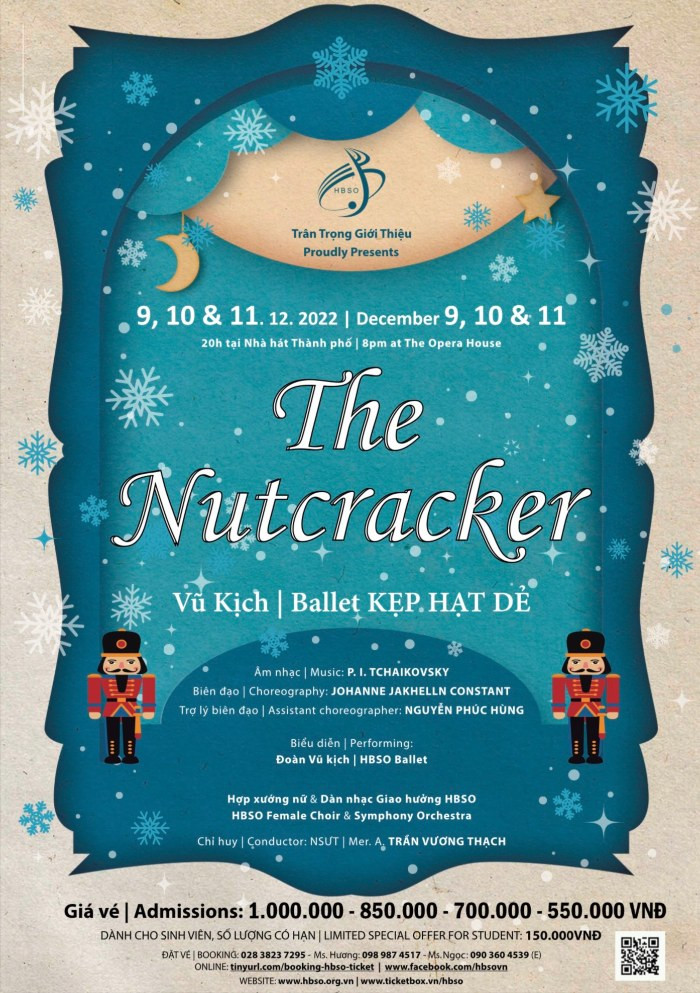 09 – 11 Dec 2022, 08 pm
Saigon Opera House
No. 7 Công trường Lam Sơn, Bến Nghé Ward, District 1, HCMC
Tchaikovsky's ballet The Nutcracker has long been associated with Christmas. It begins with a Christmas party, and ends with the daughter of the house, Clara, asleep under the Christmas tree.
All over the world Nutcracker is produced in December, anticipating Christmas. And so it is that the Ho Chi Minh City Ballet, Symphony Orchestra and Opera (HBSO) will present their ever-colourful and beautifully danced version on December 9, 10 and 11 in the HCMC Opera House.
This is one of the jewels in HBSO's crown and will be eagerly anticipated.
The story is easily told. A rich house mounts a Christmas party, but after the guests have left the young girl, Clara, falls asleep and dreams of all the kitchen implements coming to life and dancing under the tree. Chief of these implements is the Nutcracker, a small hand-held device for cracking large nuts.
Before long the Nutcracker is taking Clara on a journey through a winter wonderland and on into the company of Christmas goodies such as coffee, tea, oranges etc. The famous "pas de deux" (dance for two people) comes close to the end, which shows Clara waking up and uncertain if what she has seen is reality or a dream.
This version has been choreographed by Johanne Jakhalin Constant especially for HSBO and is nowadays an annual December feast in Saigon.
Clara will be danced by Do Hoang Khang Ninh and the Nutcracker by Meritorious Artist Ho Phi Diep.
Other prominent dancers will be Meritorious Artist Dam Duc Nhuan as Mr.Drosselmeyer, and Thach Hieu Lang as the Snow Queen.
The Nutcracker is unusual among HBSO ballets in being performed with a full orchestra, conducted in this case by the company's former artistic director Meritorious Artist Tran Vuong Thach.
A full complement of HBSO dancers will fill the other dancing roles, combining, together with sumptuous sets and brilliant lighting, to make for a splendid, memorable and altogether and extraordinary show. In addition, the Saigon Opera House is a magnificent venue in which to experience this, or indeed any other, production. It opened in 1900 with a production of Saint-Saens' opera Samson and Delilah.
Ticket prices are from 550,000 VND to 1,000,000 VND, with a student concession of 150,000 VND.
"Companion" – An Exhibition with Catherine Tomkins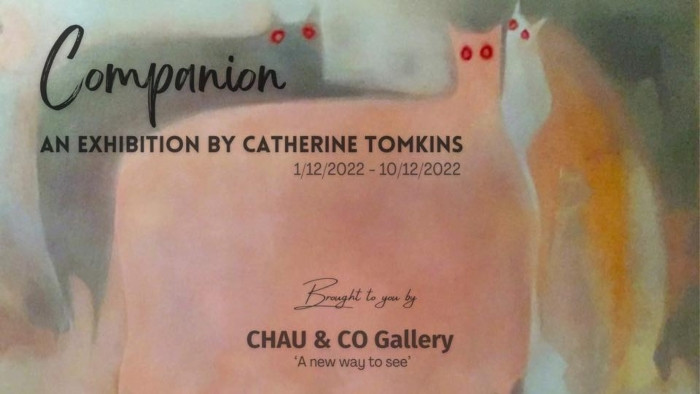 01 – 10 Dec 2022, 10:30 am – 03:30 pm
CHAU & CO Gallery, No. 11 alley 123 Nguyen Dinh Thi Street, Tay Ho District
Sticking to the top floor of an old villa on Đội Cấn street as the place to live and work in Hanoi for the past few years, it's more likely Irish painter Catherine Tomkins didn't see it coming that one day, her little room cum painting studio with a huge and elaborate altar for ancestor worship that belongs to her frequently absent Vietnamese landlord would naturally become a (surprising) source of inspiration, prompting her to reflect on ideas surrounding lineage and ancestry. But instead of diving deep (again) into the common topic of personal identity, Catherine follows her inner hunch that seeks to reconnect and hold on to a seemingly lost bond and invisible link with those who were gone, those whom she or anyone of us might have never met before in the entire universe and "this life" which has an "expiry date". They were there but are they still around, here?
Catherine Tomkins is an Irish born, Vietnam based artist. She graduated from Crawford School of Fine Art, Cork Ireland with a BA (hons) in Fine Art in 2010.
"Lachrimae" by Hoàng Dương Cầm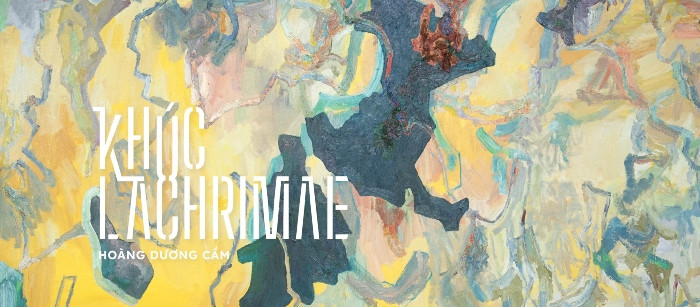 12 Nov – 10 Dec 2022
Galerie Quynh
118 Nguyễn Văn Thủ Str, Đa Kao, District 1, HCMC
The exhibition title, Lachrimae, takes inspiration from the titular song by the English composer John Dowland (1563 – 1626), who was widely known for his masterful and complex musical explorations of melancholy.
Also known as The Seven Tears, the piece comprises seven different pavanes — a type of Elizabethan processional dance, which was used to carry the couples to the front of the court [1]. In each pavane, John Dowland portrays different emotional stages of tears, which range from despair, grief, and fear to sanctity, compassion, and hope [2]. Of the famed composer's archetypical plunge into melancholy and its manifold nature, Lachrimae reflects the condition of his time: an in-between period as Europe transitioned from the end of the Renaissance and ushered in the beginning of the Baroque period.
The period was governed by melancholy — not as a category of subjective expression, but a cultural trope that is complicated by the disjunction and the interrelation between the self and the world, the contingent and the transcendent [3]. Details about the song, both musical and historical, together perfectly encapsulate the spirit of Hoang Duong Cam's seventh solo show with Galerie Quynh as the artist continues his tireless personal interrogation and rumination on distance and liminal space, as well as the slippery boundary between absurdity and fact.
Exhibitions featuring Hue's national heritage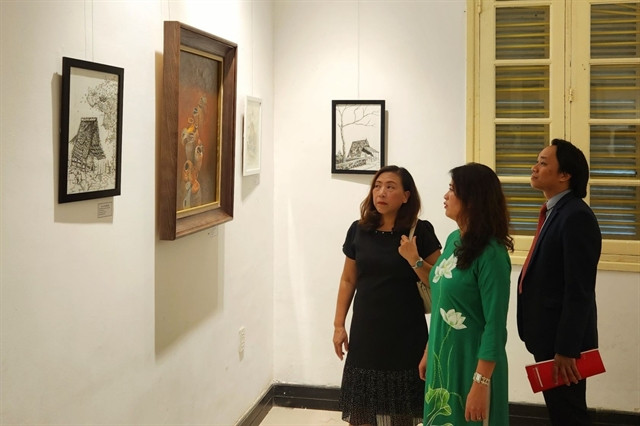 Until Dec 23,
Diem Phung Thi Art Centre, 17 Le Loi Street,
An art exhibition showcasing the charming beauty of Phuoc Tich ancient village in Hue.
The exhibition displays 38 artworks by lecturers and students of the College of Fine Arts and the College of Science, both under Hue University. Paintings created by school students of Phong Dien District, home to Phuoc Tich Village, also are on display.
All the paintings are the result of field trips to the village in October.
MAP 2022 – Exhibition: "Waiting Room"
Opening: Sun 27 Nov 2022, 10 am – 12 pm
Exhibition: Tues – Sun 27 Nov – 11 Dec 2022, 10 am – 06 pm
Weird House
The Center of Vietnamese Craft Village & Nguyen Manh Duc studio.
Hamlet 2 Bat Trang village, Gia Lam, Hanoi.
Waiting Room is the final showcase of Month of Arts practice MAP 2022. The exhibition forms part of Month of Arts Practice, abbreviated as MAP, is an annual art project of Heritage Space since 2015.
Month of Arts Practice 2022 (MAP) – the 8th season of MAP continues with the WAR theme. Through discussion and art practice during their residency in Vietnam from October to December, artists together reflect, exchange, and present their premonitions about the wars from the past to present time by different perspectives and minor histories, about unknown entanglements, unnamed truths, and uncertain future in a volatile world. The work results will be presented to the public through the final exhibition – WAITING ROOM, at "Weird House" in Bat Trang village, Hanoi.
There are 10 artists from Germany, Japan, Korea, and Vietnam participating in this project and presenting their works in the exhibition: Oscar Lebeck, Miho Shimizu, Bae Byung Wook, Ryusuke Ito, Sodam Lim, Nguyễn Minh Hoàng, Mi Fa (Lê Vũ Anh Nhi), Jo Ngô (Ngô Kỳ Duyên) & Lê Minh Châu, and Lê Tú Anh. The project also has contributions and mentoring through lectures and exchanges from experts: guest curator Haruka Iharada (居原田遥), Dr. Pamela Nguyen Corey, guest curator Gahee Park, Prof. Dr. Nora Annesley Taylor, guest curator Phương Phan, guest curator Vân Đỗ, guest curator Lee Hangjun, and guest artist Lê Nguyễn Duy Phương.
Don't Call It Art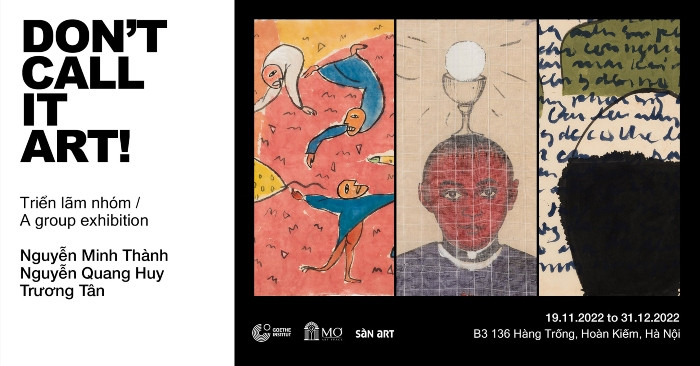 19 Nov – 31 Dec 2022
Mơ Art Space
B3 Floor, no. 136 Hang Trong Street, Hoan Kiem District
"I could not imagine then that some of these photos would become the only documentation, for example, of the first stirrings of a performance art scene in Vietnam. Now, 25 years later in Germany – as an observer or a temporary visitor at best, who gleans news about Vietnam's well-connected international art scene from daily social network chats with friends there – all these works and photos appear to me in quite a different light. They are no longer just gifts, pictures forgotten or discarded as worthless, but rather artworks that have written contemporary history. They had once been a provocative force in their time and place. Here today, this force may seem spent. But to me, now more than ever, it seems as if the artists presented in this book, with their radical stances, were far ahead of their time. Perhaps that is precisely why they fell by the wayside. They became legends before their work could become a permanent and officially recognized part of Vietnam's art."
Artists: Nguyễn Minh Thành, Nguyễn Quang Huy, Trương Tân
Featuring artwork from Veroninka Radulovic's archive
The exhibited pieces were created during the 1990s – a period of significance
"Alternate Existence/s"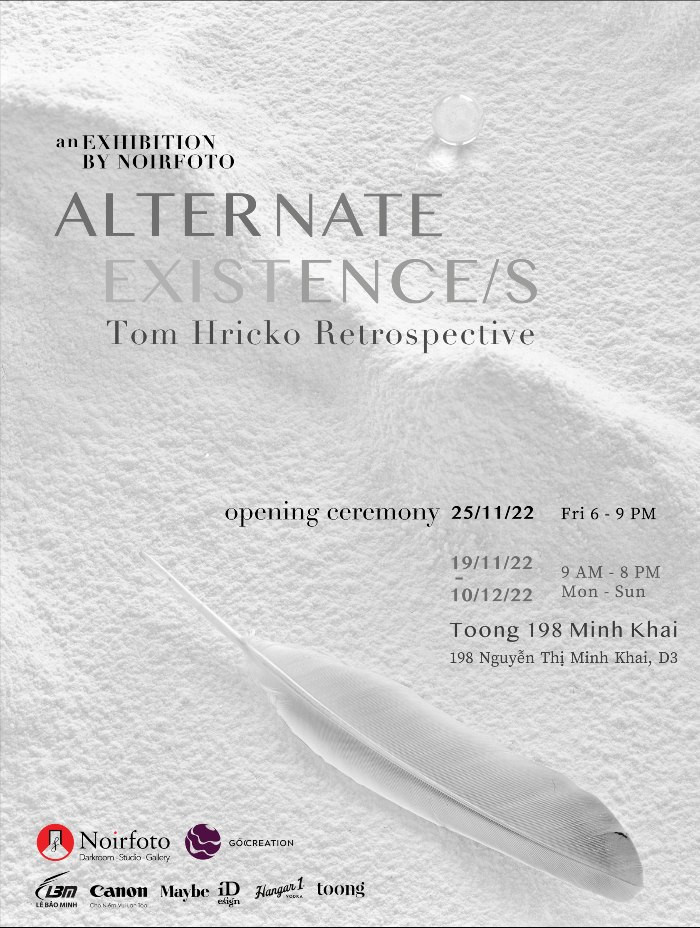 Opening: Fri 25 Dec 2022, 06 pm – 09 pm
Exhibition: 19 Nov – 10 Dec 2022, 09 am – 08 pm
TOONG
Floor 6-11-14, 198 Nguyễn Thị Minh Khai, Ward 6, District 3, HCMC
Noirfoto Darkroom-Studio-Gallery is cooperating with Gốc Creation to organize the art photography exhibition "Alternate Existence/s" at Toong 198 Minh Khai. This is a very special show, displaying a variety of photographic works and artifacts from more than 40 years of practice by the fine art photographer and educator Tom Hricko, an American who has found Vietnam as his true home.
Coming to the exhibition, the audience will see international-quality digital prints and analogue prints made with master techniques, including the largest hand-printed photograph in Vietnam with a size of up to 120 x 180 cm. The 4×5" Polaroids with tonality relationships that cannot exist in this reality make us doubt both the real and the surreal… Multiple exposure photos with delicate objects placement and lighting captured the movement of time in contemplative still image space. Synthetic landscapes take the viewers into a parallel world and everyday scenes seen through the eyes of the photographer become a veil of incredible colors, covering the portal to the unknown… are all presented in the exhibition that reflects Tom Hricko's 40 years of practice. In addition, the exhibition also features installation art and displays interesting and valuable documents about the author that also reflects the history of photography from the 70s to the present – from when there was only analogue and darkroom photography until the digital camera appeared and rapidly developed.
Documentary Exhibition: Repurposing Industrial Heritage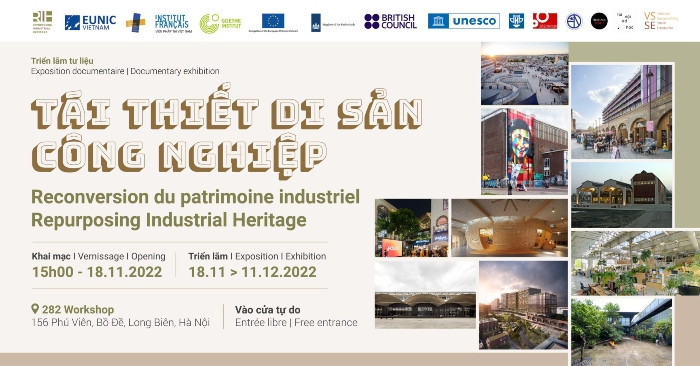 Opening: Nov 18, 03 pm
Exhibition: Nov 18 – Dec 11
282 Workshop, 156 Phu Vien, Bo De, Long Bien District
Following the series of events "Repurposing Industrial Heritage 2022 – Innovation & Sustainability", as part of the EUNIC project "Repurposing Industrial Heritage", the "Repurposing Industrial Heritage" exhibition seeks to provide perspectives on the possibilities of transforming industrial facilities by presenting examples of industrial heritage transformation in countries such as France, Germany, the Netherlands, and the United Kingdom that are at the forefront of transformation trends in Europe. As a result, it raises the question of "what future is there for industrial production facilities in Hanoi in light of the city's official decision to relocate 09 old industrial facilities with significant cultural and historical values".
Through this exhibition, we hope the community will gain an objective understanding of industrial heritage value, as well as practical and theoretical evidence for urban reconstruction based on successful transformations of industrial heritage throughout the world.
Exhibition: Illuminated Curiosities
Until Dec 2022
EMASI Nam Long
147 Street No.8, Nam Long Residential area, District 7,
EMASI Van Phuc
2 Street No.5, Van Phuc Residential City, Thu Duc District,
Nguyen Art Foundation (NAF) proudly invites you to the opening of 'Illuminated Curiosities', a group exhibition with 26 artists featuring 46 artworks from within and outside NAF's Collection. Curated by art researcher Ace Le, with the curatorial assistance from Duong Manh Hung and Tam Nguyen, the exhibition will take place simultaneously across the campuses of EMASI Nam Long and EMASI Van Phuc, over the course of six months from May to December of 2022. 'Illuminated Curiosities' is a collaborative effort between NAF and Lan Tinh Foundation.
International science film festival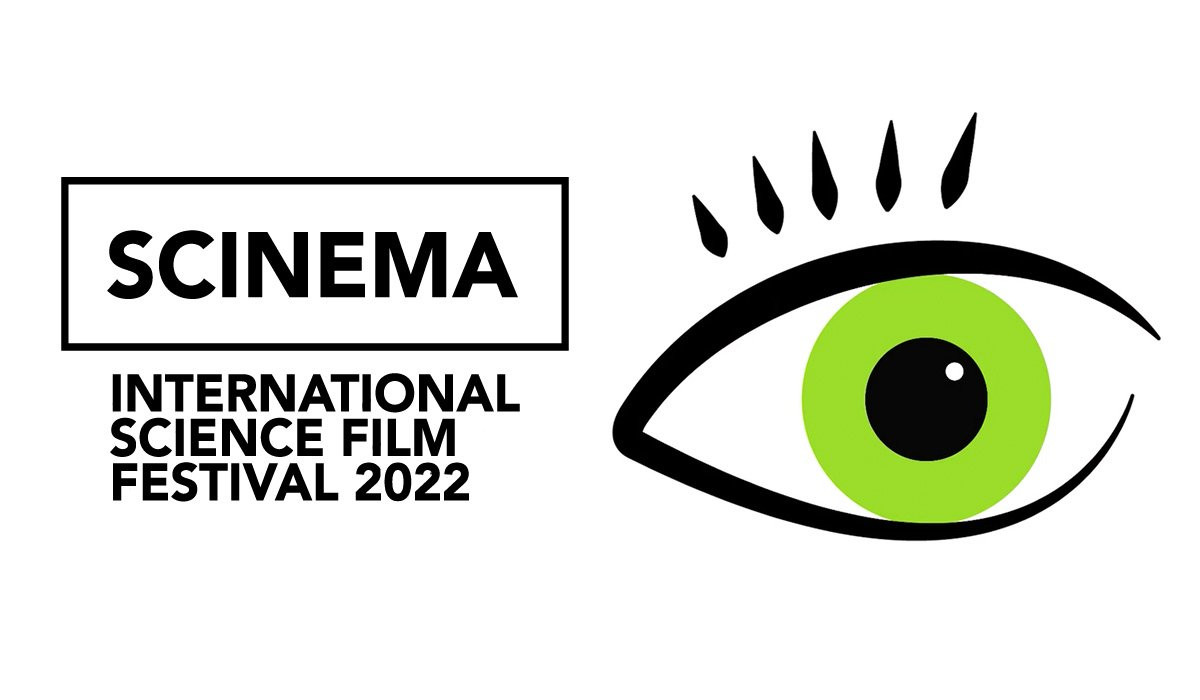 Oct 8 - Dec 31
Hanoi, Thai Nguyen, Danang, and Ho Chi Minh City
The 12th international science film festival featuring a range of scientific topics which are both accessible and entertaining to a broad audience and demonstrates that science can be fun and educational.
Some 16 science films across different categories will be screened during the festival.
Le Ha