Art Exhibition: "HOME"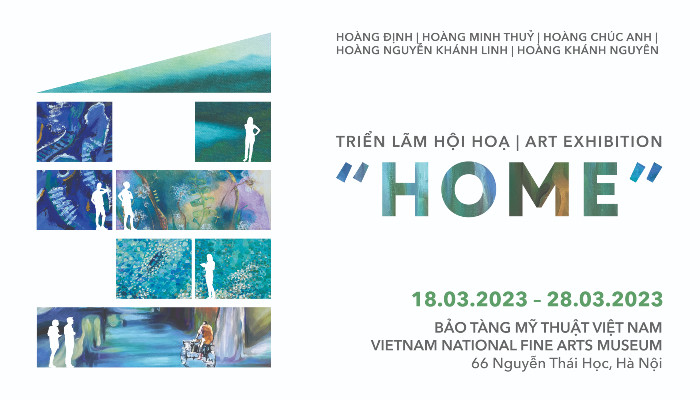 Opening: Sat 18 Mar 2023, 04 pm
Exhibition: 18 – 28 Mar 2023
Vietnam Fine Arts Museum, 66 Nguyen Thai Hoc Street
The exhibition "HOME" by artist Hoàng Định and his children Hoàng Minh Thuỷ, Hoàng Chúc Anh, Hoàng Nguyễn Khánh Linh và Hoàng Khánh Nguyên will take place from March 18, 2023, to March 28, 2023, at Vietnam Fine Arts Museum, 66 Nguyen Thai Hoc, Hanoi.
"HOME", which presents 36 artworks, is held on the occasion of Hoàng Định's 70th birthday anniversary and centers on the common creative topic of memory and family. Hoàng Định introduces 15 of his latest oil and lacquer paintings on the streets of Hanoi – the fresh and energetic "visual signals". His four children, all with artistic abilities, present 21 oil paintings of landscapes, abstractions, and portraits, with much affection, purity, and poetry.
Read with us #05 – Photobooks by women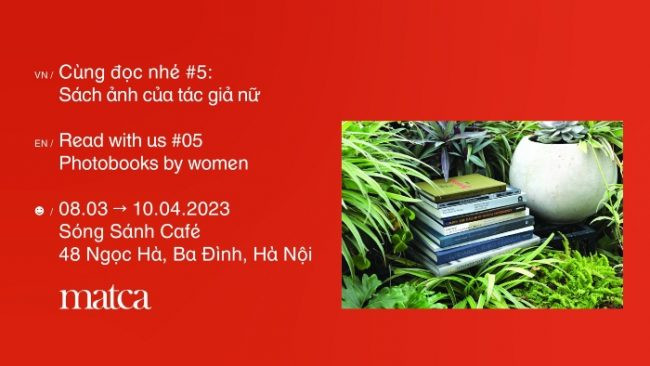 08 Mar – 10 Apr 2023, 07 am – 07 pm
Floor 02, Sóng Sánh Cafe
48 Ngọc Hà, Hà Nội
Our March showcase, curated by Nguyen Phuong Thao, highlights eight photobooks from female authors of various generations and cultural backgrounds, whose works and contributions to photography have tremendously inspired us.
In the life-long documentary project Tiny: Streetwise Revisited, Mary Ellen Mark photographed a woman nicknamed Tiny for over three decades, from a runaway youth on the streets of Seattle to a middle-aged mother of ten. The Ballad of Sexual Dependency, which Nan Goldin described as "the diary I let people read", chronicles intimate experiences in her own relationship and among her close friends against the backdrop of New York's subcultures in the early 80s, in part paving the way for the autobiographical approach in contemporary photography.
And a Pinch of Irony with a Hint of Love, a catalog from Yurie Nagashima's retrospective exhibition, shows how she has also faced social issues head-on through an intensely personal gaze, using self-portraiture and portraiture to challenge widely accepted notions of identity, family and gender in Japan. Drawing from the artist's Persian heritage, Zanjir (Amak Mahmoodian) composes poetry and imagery into a heartfelt dialogue on memories and exile. Some Kind of Heavenly Fire (Maria Lax) visualizes the enigmatic story of her hometown in Northern Finland, which used to be a hotspot for sightings of supernatural events. In Night Calls, Rebecca Norris Webb meditates on her relationship with home as she drove around town photographing at odd hours, mirroring her own father's work routines as a country doctor in Indiana.
Salt Ponds (Peng Ke) forms a collective image of fast-urbanizing cities across China through a series of poetic yet poignant landscapes. In the seminal Illuminance, Rinko Kawauchi captures the mundane yet ethereal details of everyday life, revealing the universal through the particular.
Last but not least, How We See: Photobooks by Women is an anthology dedicated to 100 photobooks by female photographers from 10 geographical regions. An initiative by 10×10 Photobooks, it seeks to prompt further discussions on inclusivity in photobook cultures. While remaining an important reference, the list was never meant to be conclusive, and much is to be filled in as we look at our own photography scene.
Exhibition "Introspection"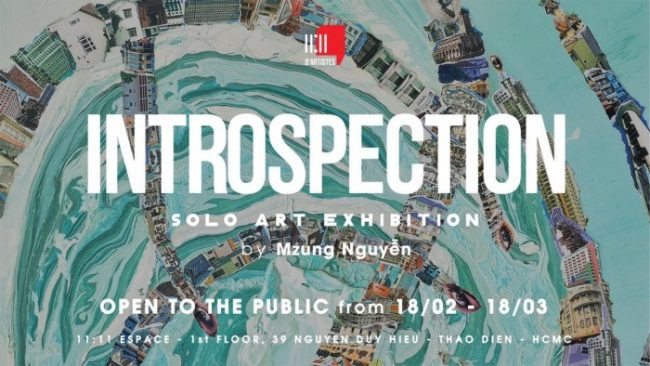 Until Mar 18, 09 am – 02 pm
11:11 Espace, 39 Nguyen Duy Hieu Street, Thu Duc District

For this February, 11:11 d'Artistes is promoting self-reflection, especially through one's own emotions and mental processes through the idea of "Introspection" with a solo exhibition from Mzung Nguyen.

Mzung Nguyen – a Vietnamese multidisciplinary artist is establishing her grounds in the Visual Art scene through her latest interdisciplinary form of art. With a background in Films and Journalism, Mzung elegantly carried her powerful message and feelings about the environment, ecological philosophies, and contemporary social issues to her artwork in this exhibition.
FantaSee – Public Art Installation by Sun Life Vietnam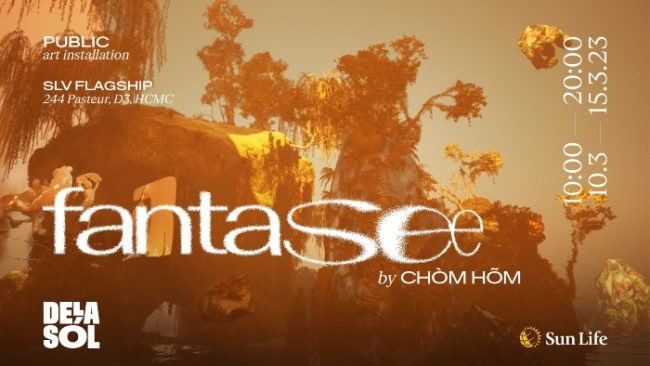 10 – 15 Mar 2023, 10 am – 08 pm
Sun Life Flagship
244 Pasteur, D.3, HCMC
FantaSee is a world of wonder, a realm beyond the physical where dreamy moving images and ambient soundscapes blend seamlessly to create an immersive experience. Through this transformative environment, we hope to encourage visitors to explore their inner selves, tranquility and discover a new sense of connection with the world around them.
Chòm hõm was founded by duo artists, Jo and Chaulichi, based in Saigon, with the objective of providing a platform for new media arts practitioners. From immersive audio-visual installations to AR, VR, code art, 3D animation, and live performances, their goal is to dedicate as many artistic experimental experiences as possible to the community and support fellow creatives. Together, they hope to build a more welcoming working environment for LGBT, non-binary, and women artists.
Exhibition "Fate"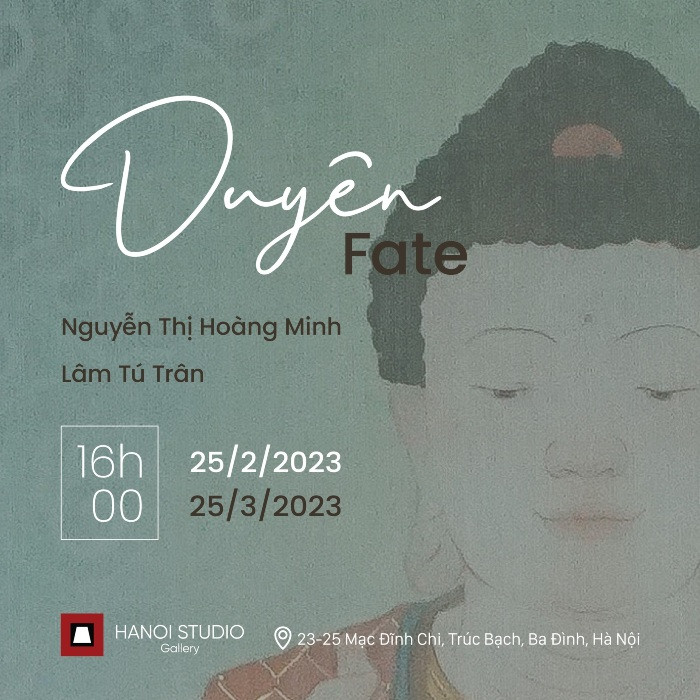 Until Mar 25, 10 am – 06:30 pm
Hanoi Studio Gallery, No. 23-25 Mac Dinh Chi Street, Ba Dinh District
From the organizer:

There is something that echoes in the voice of the painter, and her lit up face.

"I have finally been able to draw the face of Buddha.
In fact, I have been praying that he would let me draw his face.."

The way a young female painter opens her heart after countless failures, facing her own difficult challenge to draw a face from her own imagination- the face of the Buddha. A face that has been framed by concepts of ancient aesthetic and convention.

Travel down the thousands years road of history, generations of artists have been receiving their inspiration from the scared ones. We wonder, from which auspicious breeze of wind, did the female artists receive their inspiration to recreate Buddha portraits again for themselves and for their generation?
Italian Design Day 2023 in Vietnam | Photo Exhibition: Everything is Illuminated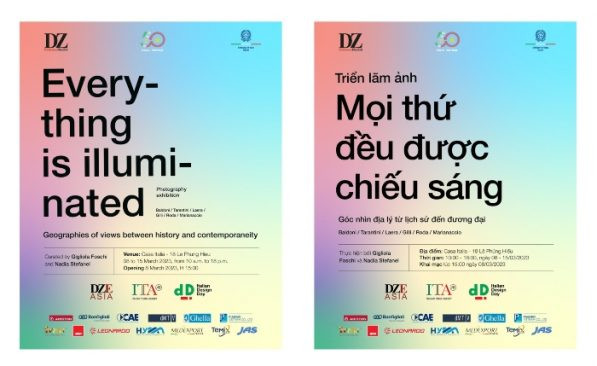 10:00 – 18:00, 08 – 15/03/2023
Casa Italia
18 Le Phung Hieu, Hanoi
The Italian Design Day is back in Vietnam with the theme "Quality that lights up. The energy of design for people and the environment".
Casa Italia will host the exhibition "Everything is illuminated. Geography of views between history and contemporaneity." Organized in collaboration with Dino Zoli Foundation, the exhibition displays twenty panels showing historical and contemporary urban sites where DZ Engineering Group intervened through innovative lighting systems.
The Hanoi University of Civil Engineering (HUCE – 55 Giai Phong, Hai Ba Trung) will host a conference on "Urban heritage lighting design" on 09 March at 09:30 am. The Italian Design Ambassador in Vietnam for 2023, Mr. Roberto Grilli, General Manager of DZ Engineering, will deliver a keynote speech. The event will be attended by Prof. Dr. Pham Duy Hoa, Rector of HUCE, Mr. Antonio Alessandro, Ambassador of Italy to Vietnam, and Mr. Christian Manhart, UNESCO Representative to Vietnam.
Solo Art Showcase: "Golden Mist"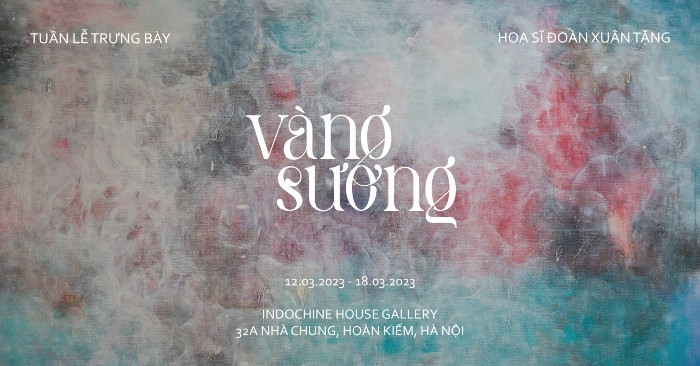 Opening: Sun 12 Mar 2023, 05 pm
Exhibition: 12 – 18/03/2023
Indochine House Gallery
32A Nhà Chung, Hoàn Kiếm, Hà Nội
What existed?
What has gone away?
How is the land's future in time to come?
When will the golden shards of light pierce through the mist?
It's been four years since the previous solo show in 2019 by painter Doan Xuan Tang. In this return, the artist's works have changed in style to express their emotions more deeply. The theme throughout his career is inspired by the nature and people of the northern mountainous region.
By painting, Doan Xuan Tang separates images such as brocade dresses, colorful traditional costumes, and silver rings to adorn the faces of the highlands in the majestic mountains. Then he talks about the inner, invisible transformation through a situation that takes place in the process of the social movement and also affects people's lives. Their normal days always pass, but with the quiet creeping into their habits, if they don't slow down to think, it will be very difficult to notice. On that route, Doan Xuan Tang plays the role of an observer, recording changes in the mountains with the mind and emotions of a person who is also standing at the heart of a constant change in the city. Unknowingly or intentionally, he takes the subject of the mountains and forests of the North and anthropomorphizes it to become a person living with much contemplation in a series of contemplative days searching for colors and finding himself in the collision between streams of information.
In terms of the expression method, he abstracts the idea of a region with its wealth of potential onto a large drawing surface to convey immensity. In terms of content, he simulates the combination of individuals and scenes and hides them under a foggy area with less overt revelation. In both respects, each new development outpaces the previous, but in the end, it all reflects the relationship between real space and mental space, as well as the mysterious and elusive. Finally, he selectively takes the reciprocity of the remote (mountain) region and the near (urban) region and vice versa.
After all, when thinking of Doan Xuan Tang with the real land as a source of infinite inspiration or Doan Xuan Tang with his life as a painter, he was constantly surrounded by a mist. To see through it, we have no choice but to slowly go through the dense fog and descend to the ground to see and find the hidden messages. The outcome the artist achieves is a process of tenaciously looking for gold in the sand, which also requires the audience to slow down to filter out the noise and pay attention to how he uses expression in each work.
Exhibition "Harmonize"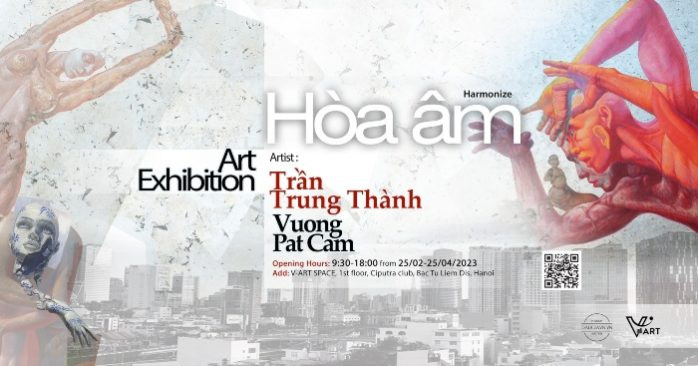 Until Apr 25, 09:30 am – 06 pm
V-Art Space, Floor 1 Ciputra Club, Bac Tu Liem District
After the success of two solo exhibitions "It" (2005) and "The Corner to See" (2014), visual artist Tran Trung Thanh remarks on another decade of hard work with the "Harmonize" exhibition. The artist's journey in search of answers to questions about history, the development of society, and the intersection of life, science, and art is recorded via more than 30 oil paintings. Accompanying the exhibition is artist Vuong Pat Cam and his impressive works about Hanoi.

Meticulous, persistent, and profound are what we can say about the process of Tran Trung Thanh creating his artworks. Since the Jeunes Regard competition for young artists in 2004, Tran Trung Thanh's painting style has become more and more bold.

Neither surrealism nor hyperrealism, Tran Trung Thanh encodes his notions of life into unique characters. Each painting presents a social issue of Vietnam or the world along with questions about history, international diplomacy, and the intersection of life – science – art.

"Harmonize" is the third solo exhibition of artist Tran Trung Thanh.

Exhibition "All Aboard"
Until Apr 1, 10 am – 07 pm
Galerie Quynh, 118 Nguyễn Văn Thủ, Đa Kao ward, D1,

An adherent of Buddhist philosophy, Nguyen Manh Hung proposes that death is a journey and karma is its luggage filled with good and bad deeds as one goes about one's daily life. Some prepare for their post-life with sophisticated funeral rituals; others fill their luggage with only good karma hoping to arrive at a place that may not exist. In his characteristically playful adaptation of everyday scenarios, Nguyen Manh Hung's latest series of work in the exhibition 'All Aboard' conjures up a highly contrasting and absurd pairing: a frenzied crowd hurriedly and narrowly holding onto a sacred gate, which leads to the unknown. While poking fun at the living's obsession with heaven — a realm that exceeds the comprehension of earthly beings, this series reminds us that death is highly personal and unique: how we live reflects our preparation for this journey. Like a command, 'All Aboard' urges us to contemplate the meaning of human existence as characterised by our own subjective understanding of what lies on the other side of the gate.
Round table: "Crossed views on French and Vietnamese cuisines"

Thurs 23 Mar 2023, 06 pm
Sofitel Saigon
17 Lê Duẩn, Bến Nghé, D.1, HCMC
Vietnam and France share their delicacies during an exceptional round table on the gastronomic exchanges of these two countries!
French and Vietnamese cuisines are considered among the best in the world. Between perfumes, traditions and know-how, when these two gastronomy meet, it is an explosion of flavors and creativity.
On the menu: discussion on the contributions and borrowings from one cuisine to another, the fusion of the two cuisines, local products, the perception of Vietnamese cuisine in France, the borrowing of French in the Vietnamese culinary vocabulary…
The round table will be moderated by an academic and renowned French and Vietnamese chefs, trained in France but working in Vietnam.
The perfect opportunity to shed light on the intimate relationship between these two cuisines and these two stories
During the round table enjoy a tasting of different dishes and attend a cooking demonstration!
Speaker:
– Didier Corlou – Master chef from France and owner of the restaurants "Sices Verticale" in Hanoi, and "Co Mai" in Hoi an
– Alain Nguyen – Gourmet chef graduated from the Ecole Supérieure de cuisine Française Ferrandi.
– Thao Na – Chef at the Lavelle Library restaurant in Ho Chi Minh City (Thao Dien)
– Doctor Tran Le Bao Chan – Professor of Literature and Head of the Translation – Interpretation sector of the French Department of the University of Pedagogy of HCMC
Exhibition 'No more, not yet'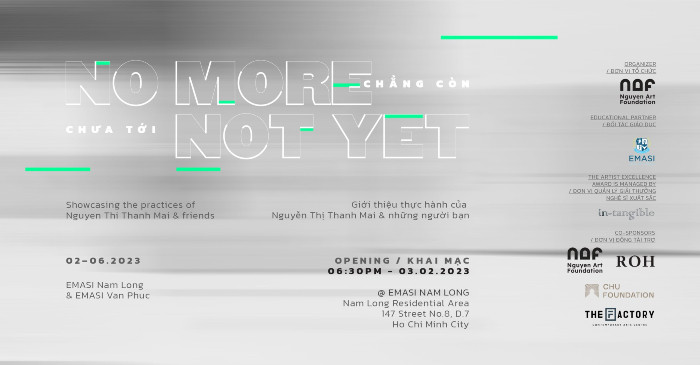 Display: Feb – June, Wed & Fri, 10 am – 04 pm
EMASI Nam Long (D.7)
Tues & Thurs, 10 am – 04 pm
EMASI Vạn Phúc (D.Thủ Đức)
*and every last Saturday of the month
Nguyen Art Foundation (NAF) proudly invites you to the opening of 'No more, not yet', an exhibition that looks back on Nguyen Thi Thanh Mai's shapeshifting artistic practice in all its multiplicity. Winner of the Artist Excellence Award (inaugural edition, initiated by The Factory Contemporary Arts Centre and managed by in-tangible institute), her work is presented here alongside nearly 20 artists whom she calls her colleagues and friends. The exhibition will be on display from February to June 2023 across the campuses of EMASI Nam Long and EMASI Van Phuc.
[Hanoi Thunder] Artist Talk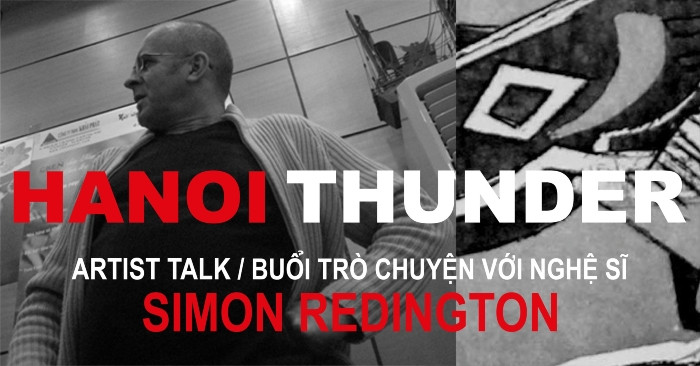 Tues 14 Mar 2023, 07 pm – 09 pm
Work Room Four
No. 31, lane 67 Tô Ngọc Vân, Hà Nội
We invite you to join us for an Artist talk, an evening of conversation between Simon Redington and our curator and founder Claire Driscoll. We will discuss the history of etching and the processes of printmaking in general as medium. You will get to know and understand more about Redington's creative backstory, his methodology and artistic practice. There will also be an explanation of the work currently on display in the exhibition.
This talk its free, but registration is required as spaces are limited. Please register using the form here. The talk will be conducted in English with Vietnamese translation.
Queer Time and Space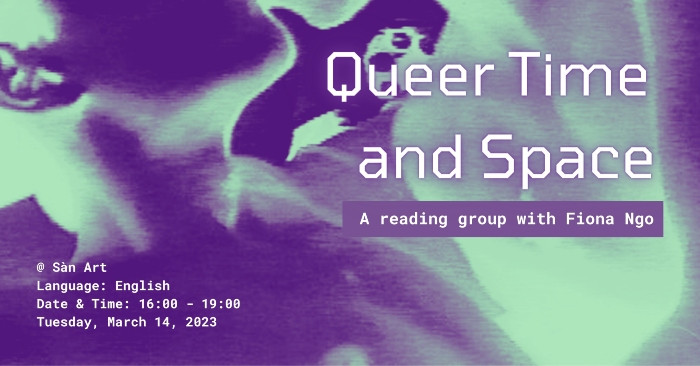 Tues 14 Mar 2023, 04 pm – 07 pm
Sàn Art
Units B6.16 and B6.17, 6th Floor, Block B Office, Millennium Masteri
Ward 6, District 4, HCMC (enter via Nguyen Huu Hao street)
Fiona Ngô will lead a discussion of the introduction to Gayatri Gopinath's Unruly Visions, the introduction to Elizabeth Freeman's Time Binds, and a screening of Nguyen Tan Hoang's short video PIRATED! (2000). We will consider conceptualizations of time, space, archives, and region and how they are linked to trauma, desire, imperialism, and transnational capital. Participants are encouraged to read Gopinath and Freeman in advance of our event.
Exhibition "Tết Art 2023″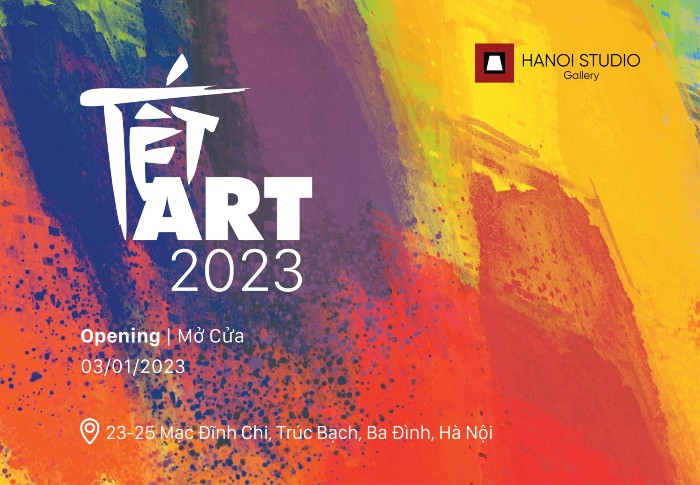 10:00 – 18:30, Until Mar 31,
Hanoi Studio Gallery, No. 23-25 Mac Dinh Chi Street, Ba Dinh District

Tết Art – an annual event that we, along with painters and sculptors, always want to bring to the public every Spring.

The nostalgic north wind, the crowded street, and the year-end hustle. The season of busyness, the "walking", the "watching", the "sightseeing", and moments of family reunion.
artVISION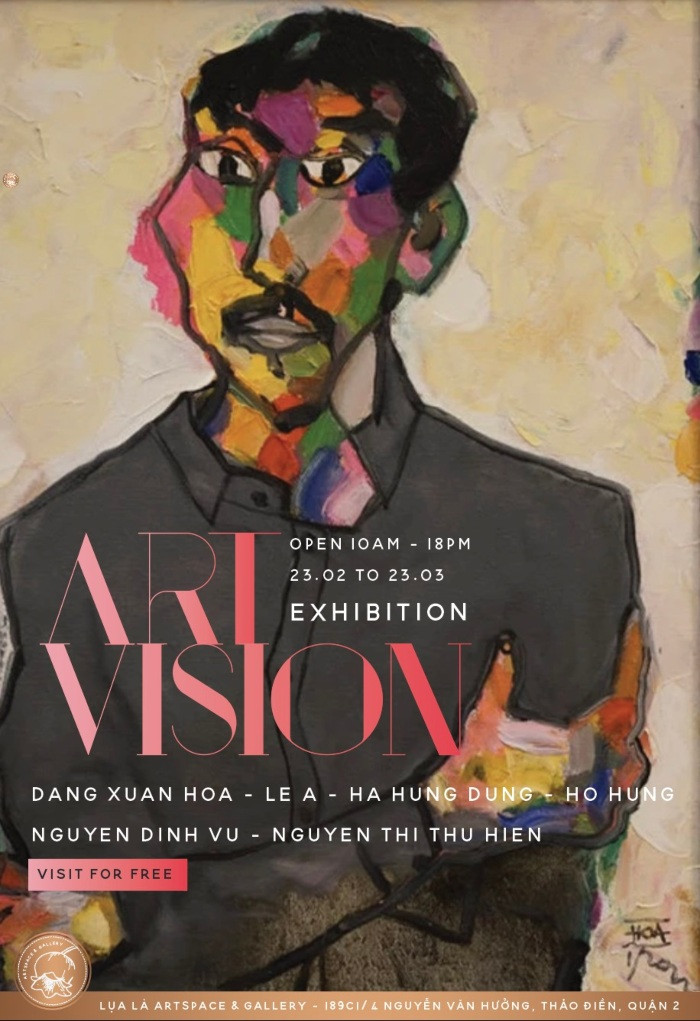 23 Feb – 23 March 2023 (except Monday), 10 am – 06 pm
Luala Art Space & Gallery
189C/4 Nguyễn Văn Hưởng str, Thảo Điền ward, D.2, HCMC
From the organizer:
Luala Art Space & Gallery pleased to announce the opening of an art exhibition featuring the works of five talented artists – Dang Xuan Hoa, Le A, Ha Hung Dung, Nguyen Dinh Vu, and Nguyen Thi Thu Hien – at Luala Art Space & Gallery.
Luala Art Space & Gallery invite everyone to join us in celebrating the artistic talents of these five individuals and to appreciate their unique styles and expressions. This exhibition is a testament to the power of art to inspire and engage people from all walks of life.
Luala Art Space & Gallery is committed to providing a platform for emerging artists and showcasing their work to a wider audience. We hope that this exhibition will be a success and inspire many others to pursue their creative passions.
Resonate State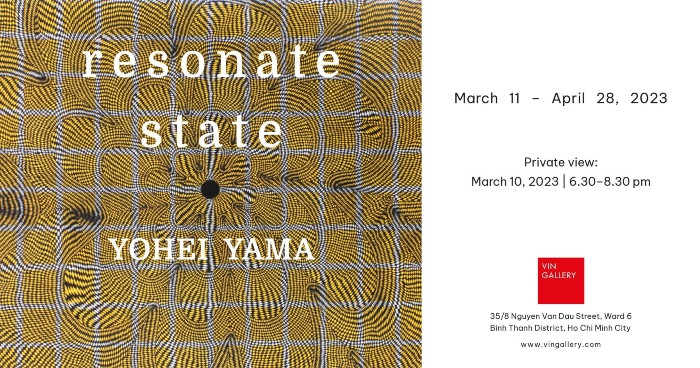 Opening: Fri 10 Mar 2023, 06:30 pm
Display: 11 Mar – 28 Apr 2023
Vin Gallery
35/8 Nguyen Van Dau, Ward 6, Binh Thanh District, HCMC
Vin Gallery proudly present you 'Resonate State', a solo show by Yohei Yama. He puts focus on the process of growing up. In 'Resonate State', Yohei Yama wanted to convey his reflection on the growing process and the energy of life.
Born in Saitama, Japan in 1977 and currently based in Ho Chi Minh City, Vietnam. Yama's works have been exhibited widely across the international platform as well as featured in Sotheby's and Christie's Hong Kong's Asian Contemporary art sector.
Yohei Yama's works consistently invite us to explore and question our surroundings, especially our relationship with nature. He puts focus on the process of growing up. In 'Resonate State', Yohei Yama wanted to convey his reflection on the growing process and the energy of life. Inspired by his daily life, seeing his own son growing up and how the flower sprouts its petals, Yohei Yama absorbed the true essence of energy in life.
Photographs by Thomas Billhardt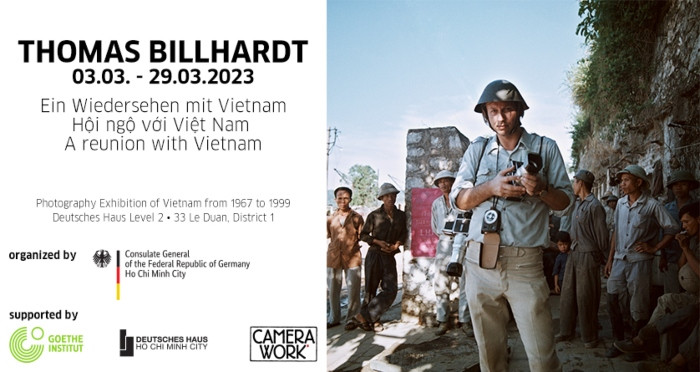 Mar 03 – 29,
Floor 2 – Deutsches Haus, 33 Le Duan District
33 Lê Duan Street, D1,


Thomas Billhardt (*1937 in Chemnitz) is considered one of the most important documentary photographers in the GDR. He was a freelance photojournalist and became world famous through publications in international magazines and through exhibitions in numerous countries. His pictures documented the horrors of the Vietnam War for the first time, especially in the faces of the children he photographed.
'More Than Human'#1: The Understories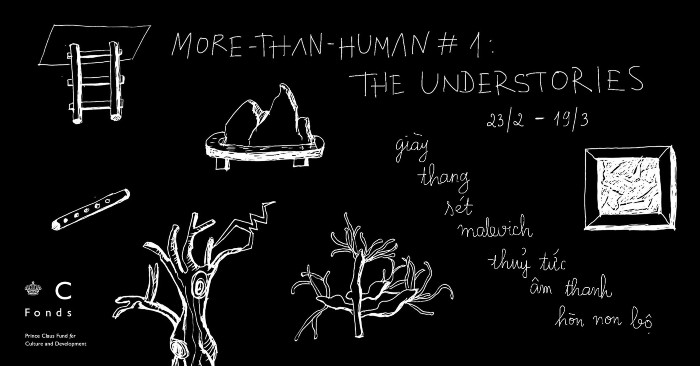 Opening: Thurs 23 Feb 2023, 06:30 pm
Open studio: Wed – Sun, 24 Feb – 19 Mar 2023, 11 am – 07 pm
The front yard of manzi art space & manzi exhibition space
14 Phan Huy Ích & no.2 ngõ Hàng Bún, Ba Đình, Hà Nội
A fleeting outline scribbled down, that outline of a Story not yet to be fully-formed just awaiting to be unveiled, but rather of the happenings to be encountered and recorded.
Throughout over three weeks, six artists (working in different disciplines: visual arts, performance art, sound & moving images) will collaborate together in a series of "symbiotic experiments", an open studio simultaneously at two different spaces.
Such complex and multivalent 'entities' are inextricably woven in the same 'habitat', this staging constructs a loose representation of an ECOSYSTEM. For three weeks' duration, 'The Understories' will transform through four 'Phases' (or we can call them 'Rhythms' as in Biology / 'Acts' as in a Play / 'Chapters' as in a Story), each lasts for 4 – 5 days. As the time passed, the performance of each artist, their body of works would be gradually formed – adjusted/ sustained- dissipated as if regulated by a general principle that's comparable to the 'interspecies collaboration / competition' practice in the natural ecosystem.
We will see, hear, and feel them – the 'beings' of 'The Understories' breathing, growing, staying alert to their surroundings, responding to stimuli: They do not only interact with each other (like with their neighboring species) but also react with internal factors of the exhibition space (their living conditions), as well as with the audience – external stimuli (or invaders of their environment); not to mention that they also respond to the flow of time.
Polish Film Week
Hanoi: 11 – 15 Mar 2023
National Cinema Center, 87 Lang Ha Street
Hue City: 15 – 19 Mar 2023
Cinestar, 25 Hai Ba Trung Street
HCMC: 18 – 22 Mar 2023
Cinestar, 135 Hai Ba Trung Street
The event is to be held by the Vietnam Cinema Department in co-ordination with the Polish Filmmakers Association and is scheduled to take place in Hanoi from March 11 to March 15 before heading to the central city of Hue from March 15 to March 19, and concluding in Ho Chi Minh City from March 18 to 22. The five films on show include Vang Khoi (Solid Gold), Chuyen Tinh Tho San Anh (Paparazzi Love), Giai dieu tinh yeu (Songs about love), Ban Sonat Dieu Ky (Sonata), and Vua Dao Tau (The Getaway King).