Exhibition: Clouds of the Highlands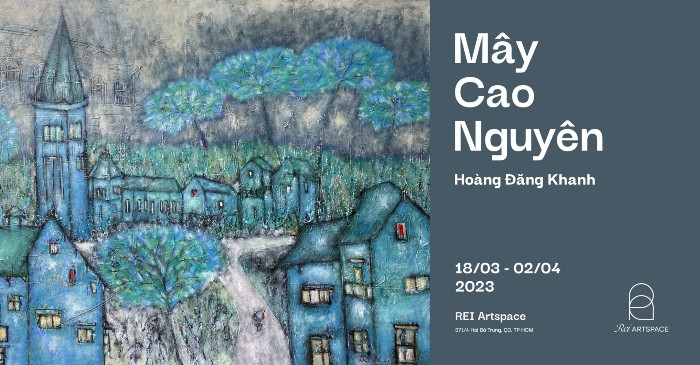 Until April 2, 09 am – 08 pm
REI Artspace, 371/4 Hai Ba Trung Street, D3,

REI Artspace is thrilled to present Hoang Dang Khanh's solo show 'Clouds of the Highlands' featuring his latest body of work which his gratitude to the city where he used to live and study, where family, friends and relatives gather.

* Entrance ticket: 50,000VNĐ/person
This is Night, This is Day, and That is Us
Opening: Tues 21 Mar 2023, 05 pm
Showcase: 21 – 27 Mar 2023
Cù Rú Bar, 02 Phạm Hồng Thái, Ward 10, Đà Lạt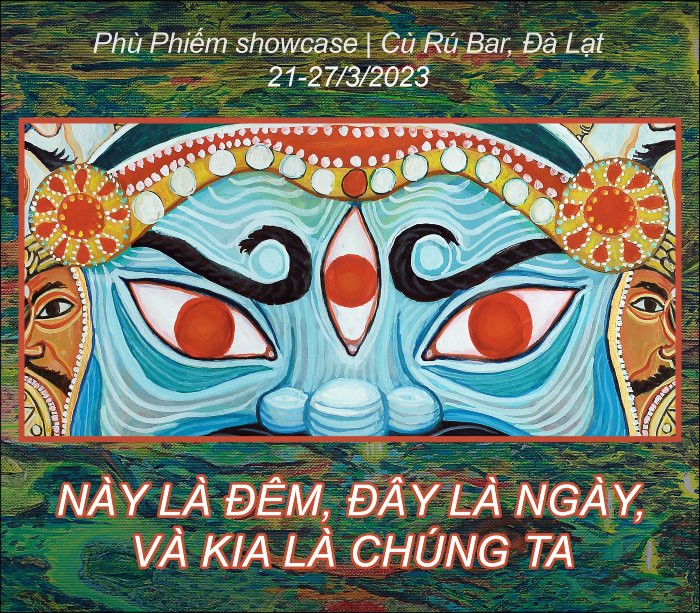 On the occasion of the Spring Equinox 2023, Phu Phiem had the opportunity to go to Da Lat at Cu Ru Bar to perform a painting exhibition. Hopefully, through the journey of discovering works, and sharing personal stories we have experienced recently, igniting a warm fire so that we can continue to warm each of us on the journey of a changing world to come.
A Night of Sergei Rachmaninov
Sun 26 Mar 2023, 08 pm
Saigon Opera House
07 Công Trường Lam Sơn, Bến Nghé, D.1, HCMC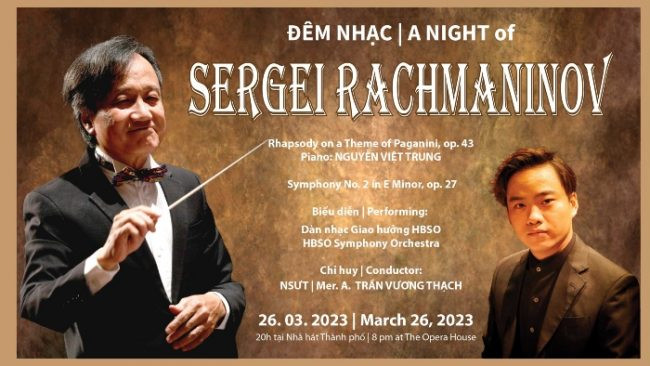 Celebrating the 150th anniversary of the birth of composer Sergei Rachmaninov (1873 – 2023), HBSO would like to invite the audience to enjoy "A night of Sergei Rachmaninov". The concert will be performed by the young talented pianist Nguyen Viet Trung, who, together with Polish pianist Joanna Marcinkowska, exploded the auditorium of the concert hall with Chopin's music in November 2022. Pianist Nguyen Viet Trung was trained at Bydgoszcz Music Academy and was one of the outstanding students of the famous pianist Dang Thai Son.
Nguyen Viet Trung won the 17th "Chopin Interpretations of the Young" competition in Konin-Żychlin (2021), the 5th prize at the Fryderyk Chopin National Piano Competition in Warsaw, Poland (2020), the Grand Prix at the Grand Prix International Chamber Music Competition in Vietnam (2019), 3rd prize at Karlovac International Piano Competition in Croatia (2019).
Opening the night was a piece of Rhapsody on the theme of Paganini, Op. 43 includes 24 variations, each with diverse musical material, telling the story of Paganini, Paganini's confrontation with the devil and tragic love that happened to a woman.
Then the Rachmaninov's famous Symphony No. 2 in E minor with 4 movements linked to the 4 seasons of the year, bringing the spirit of the romantic period, nostalgia, passion dreams, faithful beliefs of the youth, and even fanciful premonitions about the tragedy of Russia. The concert was directed and conducted by the Meritorious Artist – Conductor Tran Vuong Thach.
Exhibition: "Nhã 23″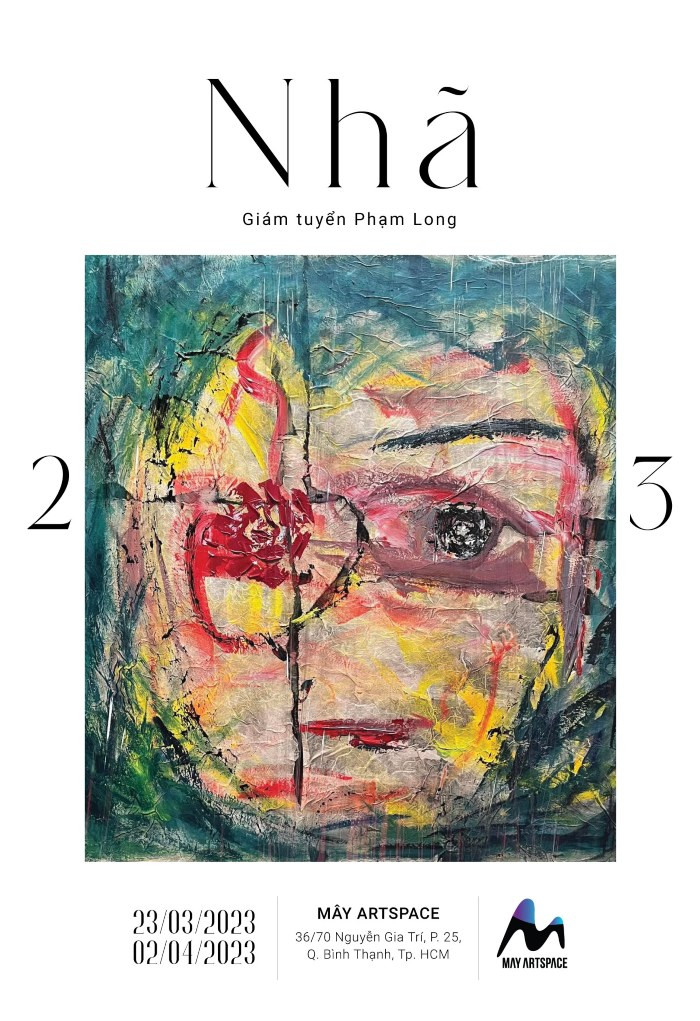 Opening: Mar 23, 06 pm
Exhibition: Mar 24 – Apr 2 , 09 am – 06 pm
Mây Artspace, 36/70 Nguyen Gia Tri Street, Binh Thanh District, HCM City
Painting, like any form of art, is not a sacred place forbidden to ordinary people. On the contrary, it must be a place that nourishes and nurtures the most ordinary things, making them flourish in a natural and naive appearance. That's why painters, after mastering professional painting knowledge and techniques, try to return to abstraction and think like children.

In 2021, Nha started painting. From the first brushstroke until now, there has always been a pure and naive spirit in Nha's work. After 2 years, we can see that on the journey of self-discovery and self-talk through painting, with life experiences of many ups and downs, peace or storms, the emotional circuit of Nha are still reflected on the paintings, which are sincere, pure and passionate.
Art exhibition: Portraits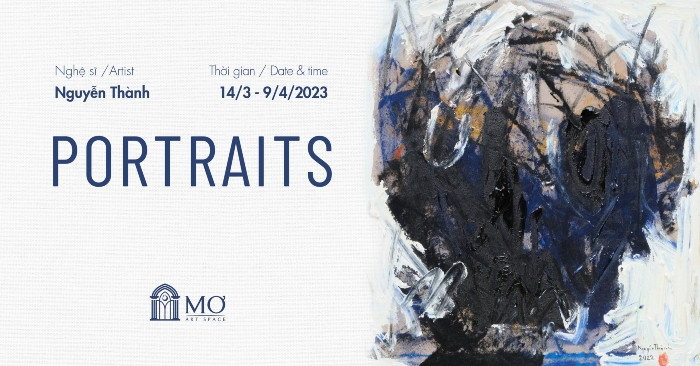 Until Apr 9, 09 am – 08 pm
Mơ Art Space, No. 136 Hang Trong Street, Hoan Kiem District
Mơ Art Space cordially invites Hanoi art lovers to visit Portraits – the solo exhibition by artist Nguyen Thanh. The project features his work over the past two years, which are mostly portraits of different sizes, colors and expressions. Nguyen Thanh's art is reminiscent of Gesturalism – an aesthetic style initiated by Willem De Kooning and praised by Georg Baselitz as an absolute freedom in artistic expression. Although Thanh's paintings do not reflect specific faces, they are abstract representations of a human's spiritual mind that is open to interpretation, like a puzzle one can always see anew every time taking a closer look.
Art Exhibition: "HOME"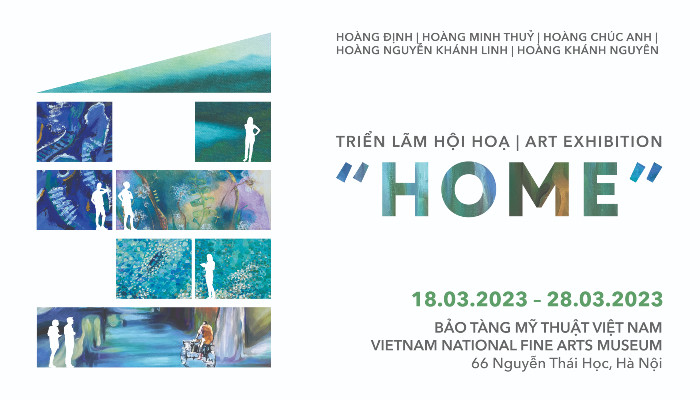 Until Mar 28,
Vietnam Fine Arts Museum, 66 Nguyen Thai Hoc Street
The exhibition "HOME" by artist Hoàng Định and his children Hoàng Minh Thuỷ, Hoàng Chúc Anh, Hoàng Nguyễn Khánh Linh và Hoàng Khánh Nguyên will take place from March 18, 2023, to March 28, 2023, at Vietnam Fine Arts Museum, 66 Nguyen Thai Hoc, Hanoi.

"HOME", which presents 36 artworks, is held on the occasion of Hoàng Định's 70th birthday anniversary and centers on the common creative topic of memory and family. Hoàng Định introduces 15 of his latest oil and lacquer paintings on the streets of Hanoi – the fresh and energetic "visual signals". His four children, all with artistic abilities, present 21 oil paintings of landscapes, abstractions, and portraits, with much affection, purity, and poetry.

Exhibition "Fate"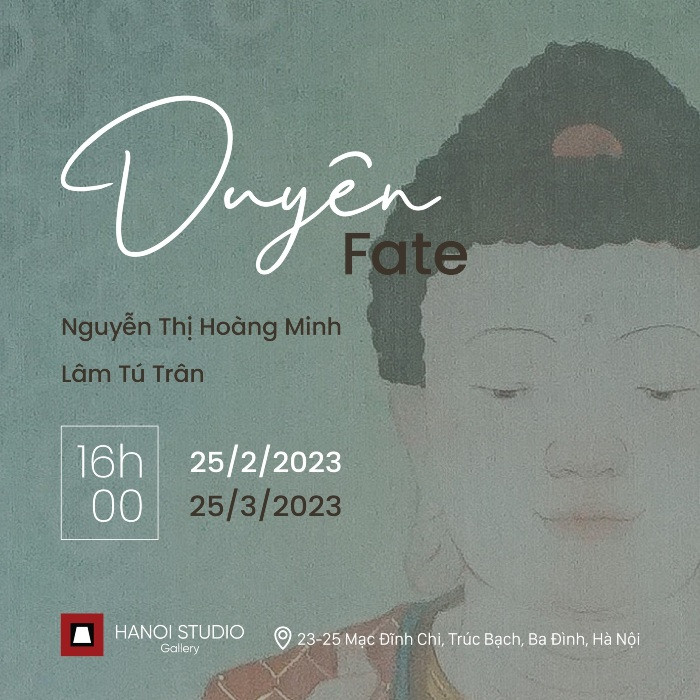 Until Mar 25, 10 am – 06:30 pm
Hanoi Studio Gallery, No. 23-25 Mac Dinh Chi Street, Ba Dinh District
There is something that echoes in the voice of the painter, and her lit up face.
"I have finally been able to draw the face of Buddha.
In fact, I have been praying that he would let me draw his face."
The way a young female painter opens her heart after countless failures, facing her own difficult challenge to draw a face from her own imagination- the face of the Buddha. A face that has been framed by concepts of ancient aesthetic and convention.
Travel down the thousands years road of history, generations of artists have been receiving their inspiration from the scared ones. We wonder, from which auspicious breeze of wind, did the female artists receive their inspiration to recreate Buddha portraits again for themselves and for their generation?
Exhibition "Harmonize"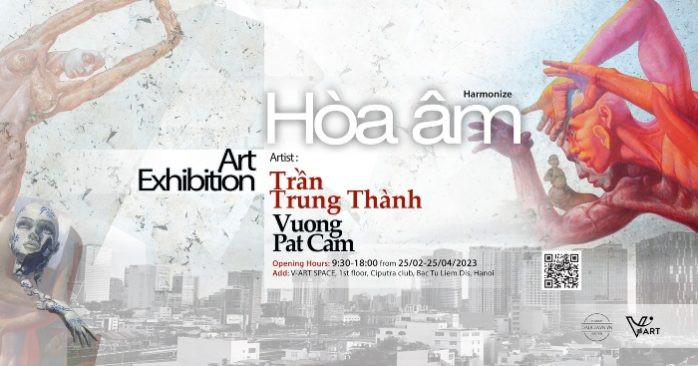 Until Apr 25, 09:30 am – 06 pm
V-Art Space, Floor 1 Ciputra Club, Bac Tu Liem District
After the success of two solo exhibitions "It" (2005) and "The Corner to See" (2014), visual artist Tran Trung Thanh remarks on another decade of hard work with the "Harmonize" exhibition. The artist's journey in search of answers to questions about history, the development of society, and the intersection of life, science, and art is recorded via more than 30 oil paintings. Accompanying the exhibition is artist Vuong Pat Cam and his impressive works about Hanoi.

Meticulous, persistent, and profound are what we can say about the process of Tran Trung Thanh creating his artworks. Since the Jeunes Regard competition for young artists in 2004, Tran Trung Thanh's painting style has become more and more bold.

Neither surrealism nor hyperrealism, Tran Trung Thanh encodes his notions of life into unique characters. Each painting presents a social issue of Vietnam or the world along with questions about history, international diplomacy, and the intersection of life – science – art.

"Harmonize" is the third solo exhibition of artist Tran Trung Thanh.

Exhibition "All Aboard"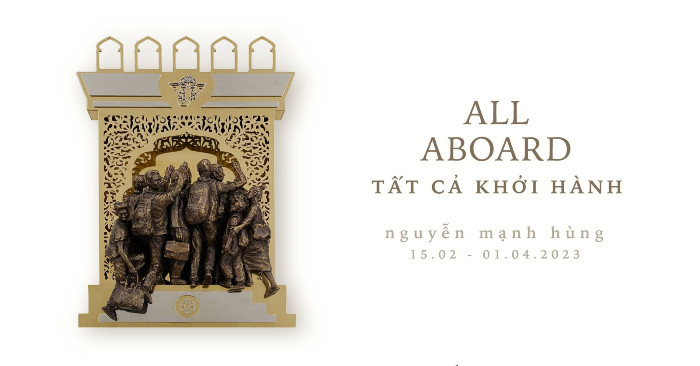 Until Apr 1, 10 am – 07 pm
Galerie Quynh, 118 Nguyễn Văn Thủ, Đa Kao ward, D1,
An adherent of Buddhist philosophy, Nguyen Manh Hung proposes that death is a journey and karma is its luggage filled with good and bad deeds as one goes about one's daily life.
Some prepare for their post-life with sophisticated funeral rituals; others fill their luggage with only good karma hoping to arrive at a place that may not exist. In his characteristically playful adaptation of everyday scenarios, Nguyen Manh Hung's latest series of work in the exhibition 'All Aboard' conjures up a highly contrasting and absurd pairing: a frenzied crowd hurriedly and narrowly holding onto a sacred gate, which leads to the unknown.
While poking fun at the living's obsession with heaven — a realm that exceeds the comprehension of earthly beings, this series reminds us that death is highly personal and unique: how we live reflects our preparation for this journey. Like a command, 'All Aboard' urges us to contemplate the meaning of human existence as characterised by our own subjective understanding of what lies on the other side of the gate.

Exhibition 'No more, not yet'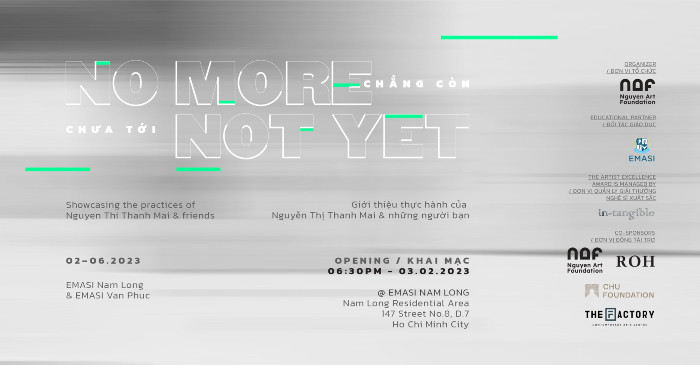 Display: Feb – June, Wed & Fri, 10 am – 04 pm
EMASI Nam Long (D.7)
Tues & Thurs, 10 am – 04 pm
EMASI Vạn Phúc (D.Thủ Đức)
*and every last Saturday of the month
Nguyen Art Foundation (NAF) proudly invites you to the opening of 'No more, not yet', an exhibition that looks back on Nguyen Thi Thanh Mai's shapeshifting artistic practice in all its multiplicity.
Winner of the Artist Excellence Award (inaugural edition, initiated by The Factory Contemporary Arts Centre and managed by in-tangible institute), her work is presented here alongside nearly 20 artists whom she calls her colleagues and friends.
The exhibition will be on display from February to June 2023 across the campuses of EMASI Nam Long and EMASI Van Phuc.

Exhibition "Tết Art 2023″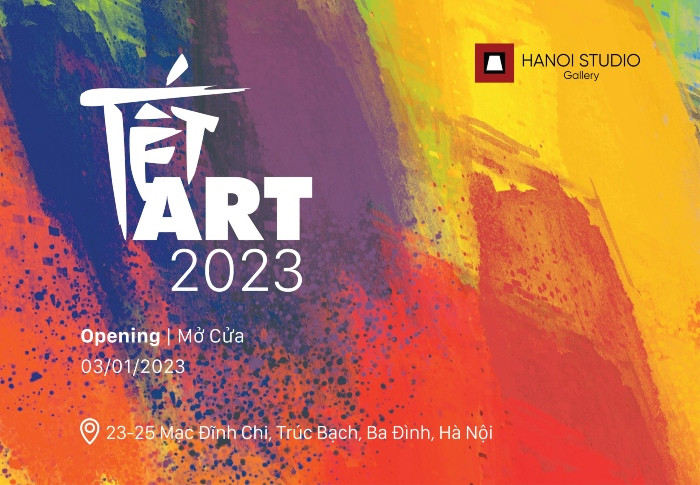 10:00 – 18:30, Until Mar 31,
Hanoi Studio Gallery, No. 23-25 Mac Dinh Chi Street, Ba Dinh District

Tết Art – an annual event that we, along with painters and sculptors, always want to bring to the public every Spring.

The nostalgic north wind, the crowded street, and the year-end hustle. The season of busyness, the "walking", the "watching", the "sightseeing", and moments of family reunion.

Photographs by Thomas Billhardt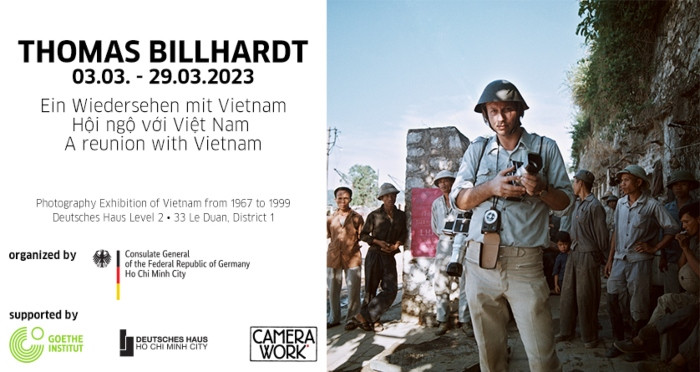 Mar 03 – 29,
Floor 2 – Deutsches Haus, 33 Le Duan District
33 Lê Duan Street, D1,

Thomas Billhardt (*1937 in Chemnitz) is considered one of the most important documentary photographers in the GDR. He was a freelance photojournalist and became world famous through publications in international magazines and through exhibitions in numerous countries. His pictures documented the horrors of the Vietnam War for the first time, especially in the faces of the children he photographed.

Five Films For Freedom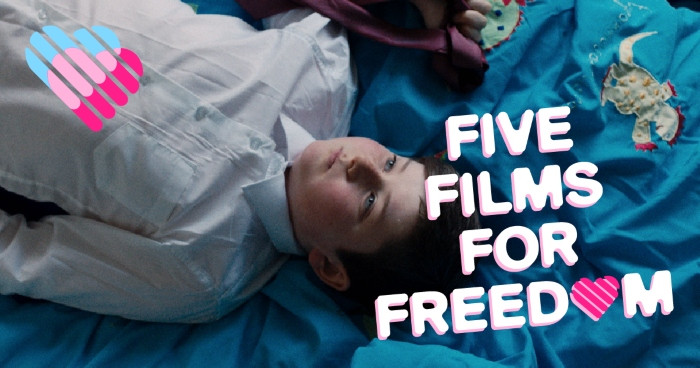 15 – 26 Mar 2023
Follow the movies:https://film.britishcouncil.org/about/work/fivefilmsforfreedom
Five Films For Freedom is an online celebration of global LGBTQIA+ stories, in support of lesbian, gay, bisexual, transgender, queer, intersex and asexual rights, in partnership with BFI Flare: London LGBTQIA+ Film Festival.

Back for its ninth year, the programme will showcase five LGBTQIA+ themed short films making them available for the world to watch online for free, over the 12 days of BFI Flare.