The Grapevine Selection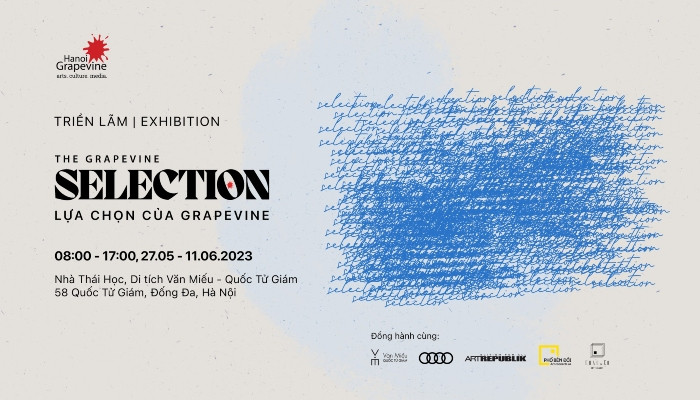 Exhibition: 27 May – 11 June 2023, 08 am – 05 pm
Thai Hoc Hall, Temple of Literature
58 Quoc Tu Giam, Dong Da, Hanoi
* The exhibition is free entry. Visitors kindly purchase entrance fee for the relic site to enter the exhibition space.
The Grapevine Selection, was initiated by Hanoi Grapevine's founder – artist Brian Ring exactly 10 years ago in 2013. The exhibition series The Grapevine Selection is an initiative within Hanoi Grapevine's mission plan, which is to promote Vietnam's arts and culture at home and abroad. With this mission, over the past decade, Hanoi Grapevine has become a trusted source of archive with a neutral role in observing and following art and cultural events taking place across the country, a prominent data source and living library that contributes to the development of the art market as well as a platform for the creative industries in Vietnam. In 2023, marking the beginning of the post-pandemic era, we officially bring back The Grapevine Selection!
In 2023, The Grapevine Selection selects works and artists in Visual arts, Sculpture and Installation with the consultancy of a board of art advisors.
The board of art advisors consists of:
– Curator, art researcher Đỗ Tường Linh
– Curator, art manager Mary Lou David
– Curator Lê Thiên Bảo
– Curator, art researcher Ace Lê
Artists participate in the exhibition in Hanoi are:
– Bùi Quốc Khánh
– Đào Tân
– Đỗ Hà Hoài
– Đỗ Trọng Quý
– Đoàn Văn Tới
– Hà Minh
– Lê Thúy
– Linh San
– Phạm Đình Tiến
– Phạm Hà Ninh
– Tôn Thất Minh Nhật
– Trần Thược
– Trịnh Cẩm Nhi
European Film Festival 2023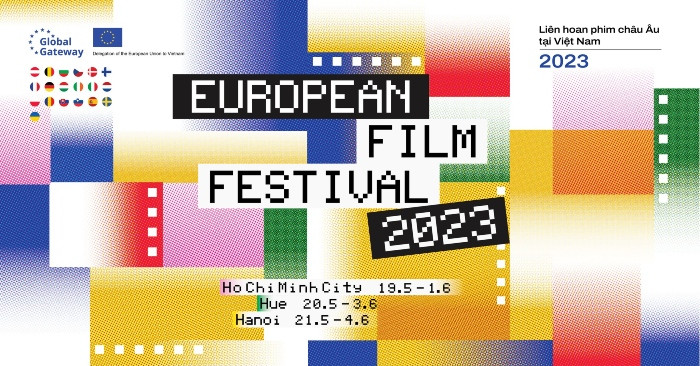 19 May – 04 June 2023
National Cinema Centre
87 Láng Hạ, Ba Đình, Hà Nội
Cinestar Quoc Thanh Cinema
271 Nguyễn Trãi, D.1, HCMC
BHD Star Cinema
Vincom Plaza, 50 Hùng Vương, Phú Nhuận, Huế
Featuring nearly 20 works of contemporary European cinema, including multiple award-winning entries, EUFF 2023 presents stories set across a range of spatial-temporal contexts. Taking as a starting point the idea of 'journeys', the festival introduces a varied host of characters – parents and children, sports figures, artists, writers, emigrants, friends, strangers – who go on journeys all over the continent to explore their identity, community and heritage, while also often having a memorable time in the process. Through their perspectives, Europe thus appears in all its kaleidoscopic beauty.
Exhibition "Teatros"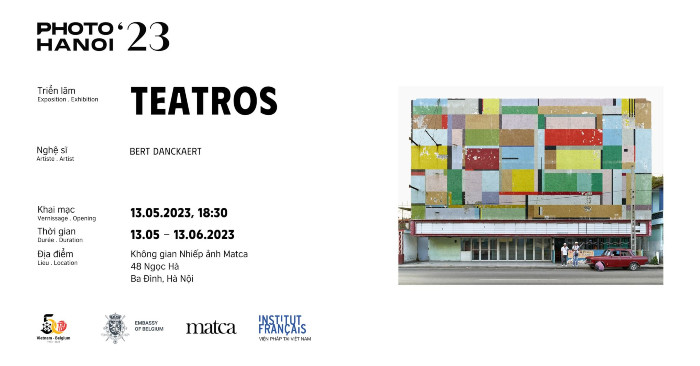 Opening: Sat 13 May 2023, 06:30 pm
Exhibition: 13 May – 13 June 2023, 07 am – 07 pm
Artist talk: Thurs 18 May 2023, 06:30 pm – 08 pm
Matca Space for Photography
48 Ngoc Ha, Ba Dinh, Hanoi
Twenty or more images of Havana cinemas make up the "Teatros" series (2018–2022). Before the revolution, Havana had at least as many movie theaters as New York or Paris, when Cuba was a vacation destination for (primarily) American tourists. Many have not been used for decades, either given a new purpose or withered away with the Cuban economy. Most structures are from the 1940s and 1950s, while some were constructed just after the revolution by the Castro government.
Most of the photographs in the series are digitally stitched and made up of several different shots. The individuals in the foreground were indeed present at those locations, though (in some cases) not simultaneously. They were photographed separately and then superimposed on each photo, questioning the veracity of the photographic moment. The photos could therefore be more suggestive of fiction and fabrication. Instead of relying on photographic luck, the photographer assumed the role of a director (CFR. cinema/theater) who determines the scenario.
The exhibition is part of a series of programs to celebrate the 50th anniversary of the establishment of diplomatic relations between Vietnam – The Kingdom of Belgium (1973 – 2023) and a part of the Photo Hanoi'23 International Photography Biennale.
Double Exhibition "Ngẫu biến"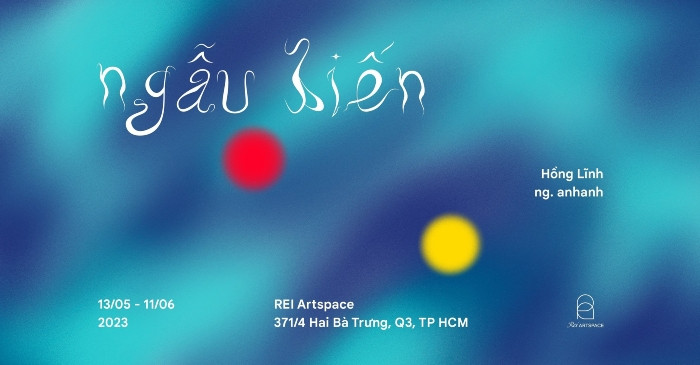 13 May – 11 June 2023, 09 am – 08 pm
REI Artspace
371/4 Hai Bà Trưng, District 3, HCMC
REI Artspace would like to present the double exhibition "Ngẫu biến" by two artists Hồng Lĩnh and ng. anhanh.
For Hồng Lĩnh, painting is a way to connect the human condition through the words and lines of poetry, which are the imprints of life, of the soul with love for the homeland. Not only drawing poems on paintings, she also composed and published poetry books imbued with human love.
ng. anhanh comes to painting whenever she wants to express or convey an extraordinary state in which language has become completely powerless.
"Ngẫu biến" – When life is full of changes, the joys and smiles of children, as well as the tears that are falling on someone's suffering face, can make the artist's heart flutter. Emotions have turned language into verses, ideas. The streaks of color, brush strokes that seem to change with each heartbeat are trembling with sadness, fresh and sparkling with happiness overflowing in the mind. Words are no longer words, poetry is no longer poetry, the language of characters is mixed with visual language, colors and lines are sublimated emotions in each work.
Exhibition "This is How I Want You to See Me Now"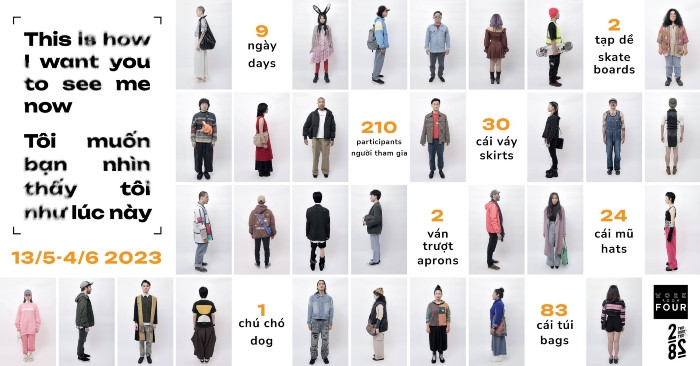 Opening: 13 May 2023, 08:30 pm – 09 pm
Exhibition: 14 May – 04 June 2023, 09:30 am – 06 pm
Work Room Four
31 Alley 67 Tô Ngọc Vân, Quảng An, Tây Hồ, Hà Nội
An art photography project about people, clothes, identity, documentation, curiosity, community and visibility.
For 9 days in April we invited participants to the Work Room Four studio to be photographed in an outfit of their choice.
Participants were asked a series of questions before we photographed them from four different angles. 210 people came to the studio to have their pictures taken and share with us their thoughts about their clothing and sartorial decision making processes.
This wasn't designed to be a project about fashion, but more a request for trust, pause and consideration, being captured and documented – frozen in a moment. Marking time whilst participating in an anthropological, archiving project and having the generosity to share with us, and subsequently you our audience – how people want to be seen.
This exhibition showcases the process and the images and answers of each one of our participants.
This photography project is designed and organised by Work Room Four in collaboration with 282 Production.
Exhibition: "Grace And Strength – Restitution Of A Photographic Residency"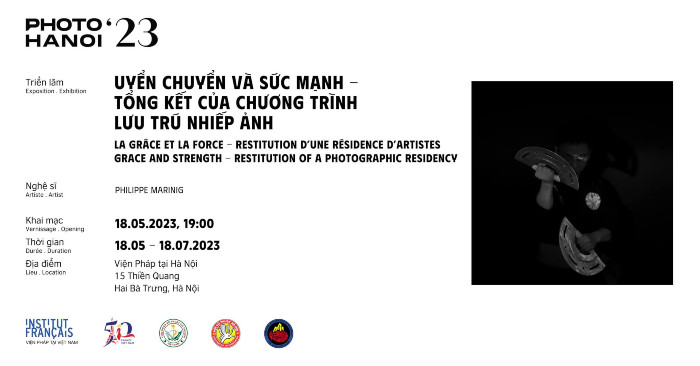 18 May – 18 July 2023
The French Institute in Hanoi
15 Thien Quang, Hai Ba Trung, Hanoi
Philippe Marinig is not a sports photographer. His matter is elsewhere. Intrigued by the formal, aesthetic and spiritual similarities of many martial arts, Marinig seeks to understand the deep links that could exist between practices that seem a priori distant. The visitor is seized by the power released by the bodies, in these choreographies crystallised by the lens of the photographer. As he progresses in the observation of the works, the feeling grows that the true force of the subjects is suggested rather than shown.
Marinig captured the grace and the strength of young Võ practitioners, as they proudly demonstrated their skills with traditional weaponry and martial postures.
This exhibition offers the visitor a stage of restitution of the work he started in 2019 and continues to pursue, in preparation for a more accomplished exhibition to come which will constitute a collection of images revealing strong and unexpected links between cultures and men that everything seems to oppose, imposing a universal reading of practices, preparatory rituals, pageantry and gestures through their spiritual and cosmogonic dimensions.
Exhibition: "A Decade Of Exposure"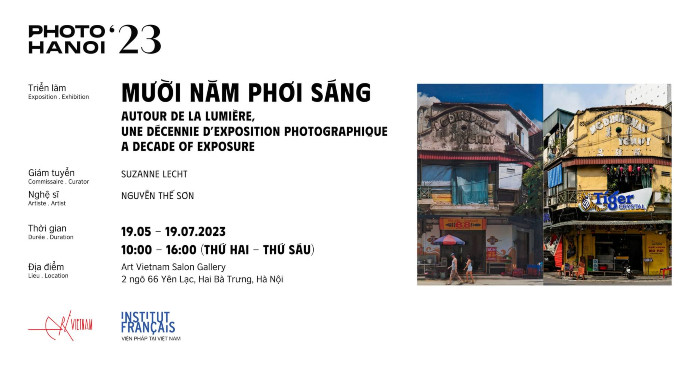 19 May – 19 July 2023
Art Vietnam Salon Gallery
2 alley 66 Yên Lạc, Hai Bà Trưng, Hà Nội
Curator: Suzanne Lecht
Artist: Nguyễn Thế Sơn
Nguyen The Son will select eight photo reliefs from his original work, "Transform" created ten years ago and respond to them with eight new ones as these structures appear today in 2022. Working with the architectural researcher Yen The, Son has studied the history and life of the inhabitants and the buildings. By examining the lives of the original inhabitants, the artist gains an insight into how the lifestyles and the building structures have changed and yet what also remains the same.
Exhibition: "While In Japan"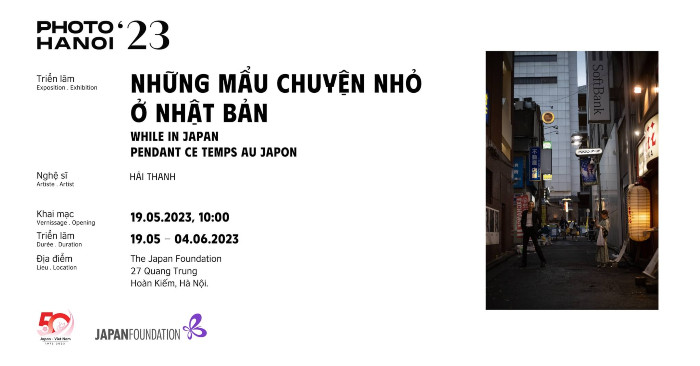 19 May – 04 June 2023
The Japan Foundation
27 Quang Trung, Tran Hung Dao, Hoan Kiem, Hanoi
Artist: Hải Thanh
The series of photographs of Japan by Hai Thanh were taken when the artist visited the country for the first time in 2016 with his family, as a way to record his personal experience and memories during his six-month stay in a country with such a rich and distinctive culture. The strong impressions of his first visit propelled him to return to Japan, to observe and learn more about the lifestyle, the urban landscapes, the people going about their orderly and logical ways of life, and the harmonies and contrasts existing side by side in everyday situations.
During his time in Japan, while having the opportunity to take photographs of several other places, the artist was most impressed by the capital city, with the unrivaled diverse and uninhibited nature of its cultural expressions. The photographs of the exhibition, hand-picked by the artist himself, give us a glimpse into his private and subjective perspective during his visits to Japan in 2016, 2018, and 2019.
French Embassy hosts AFP's "Road to 2024" photo exhibition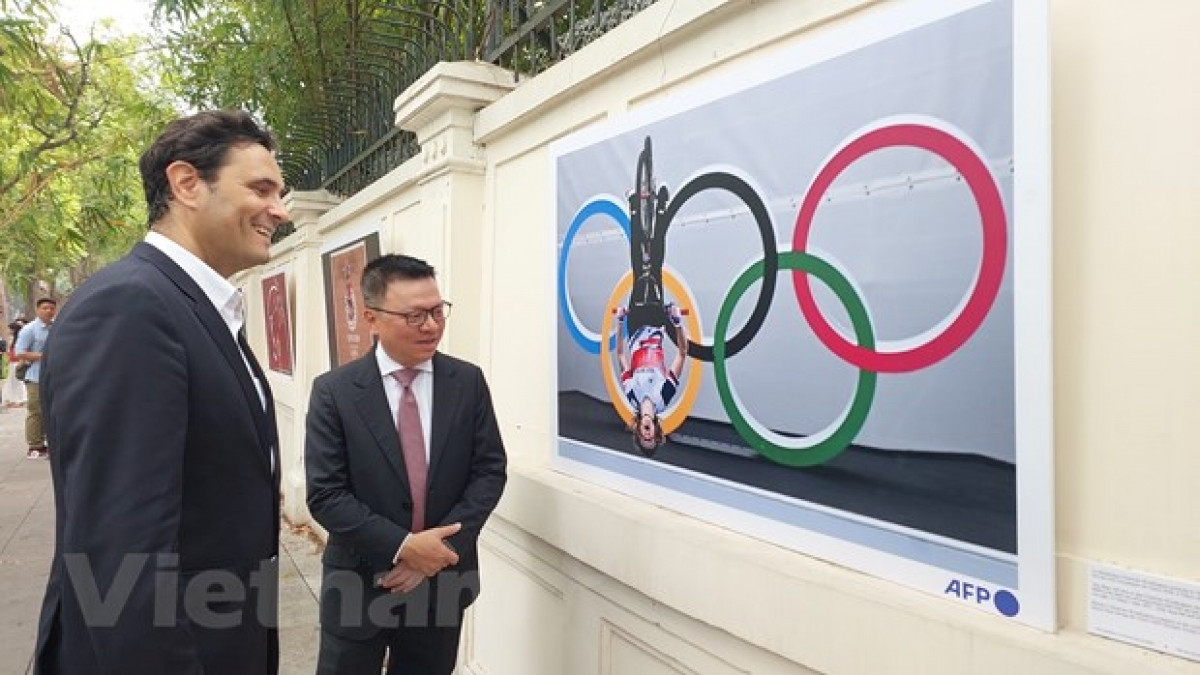 Until June 24,
Featuring 24 photographs snapped by Agence France-Presse (AFP) photographers to celebrate the 2024 Paris Olympic Games.

AFP photographers captured a range of unique images during previous Olympic competitions and events leading up to the 2024 Games which will be held in the French capital. Audiences will be able to experience and relive the most memorable moments of these major sporting events thanks to AFP's distinctive perspective, which combines a expertise, creativity, and innovation.

Exhibition "Created in Italy - An aptitude for the impossible"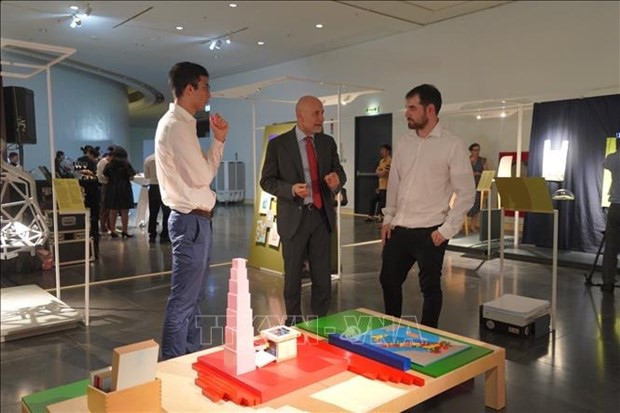 Until June 18,
The Hanoi Museum

Showcasing the journey of Italian industrial design with 31 exhibits representing the prominence of technological innovation and production.
Exhibition "Road to 2024″
May 24 – June 24
French Embassy in Vietnam, 57 Tran Hung Dao Street, Hanoi

Curator: Manan Vatsyayana

Agence France-Presse proudly presents 24 incredible photos celebrating the Games and the Olympic spirit in the "Road to 2024" exhibition.

AFP photographers captured these unique images from previous Olympic competitions and events leading to the 2024 Games in Paris. The audience will be able to experience and relive the most memorable moments of these major sporting events thanks to AFP's distinctive perspective – a blend of expertise, creativity, and innovation.

Songs of Singularity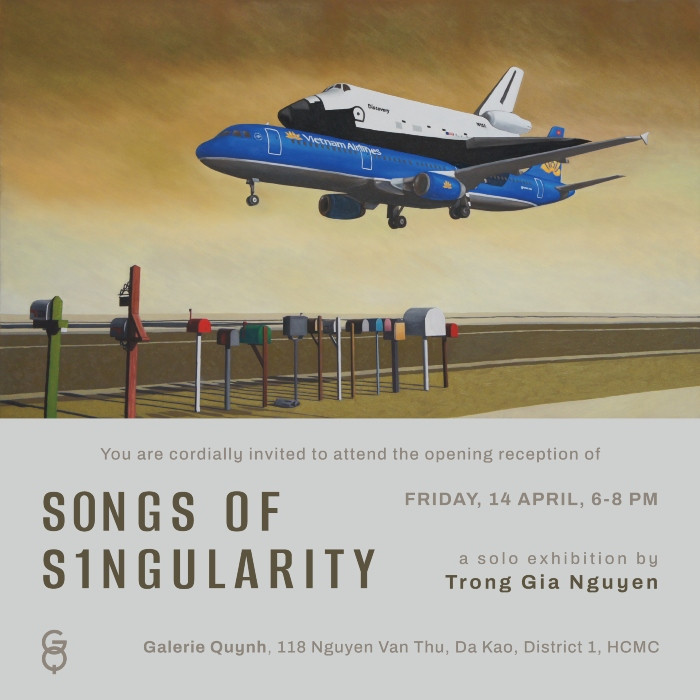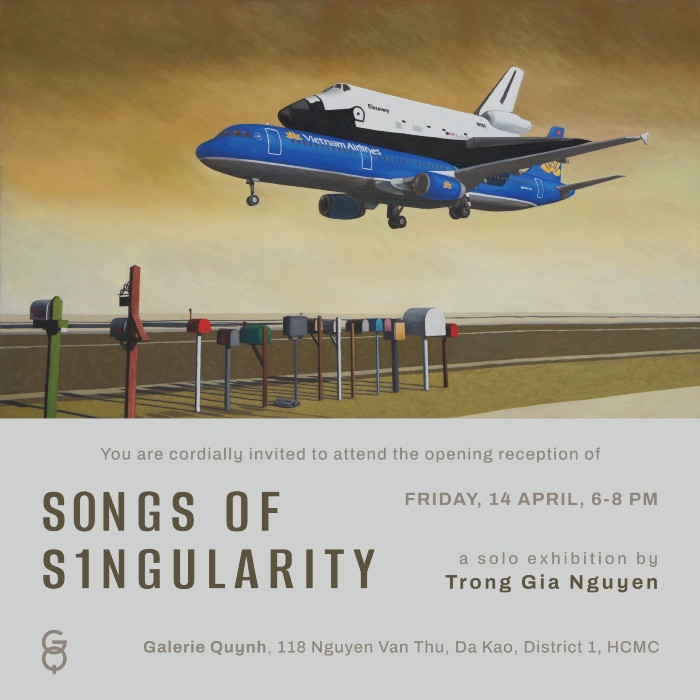 Until June 3, Tues – Sat, and by appointment, 10 am – 05 pm
Galerie Quynh, 118 Nguyen Van Thu Street, D1, HCMC
An exhibition of new work by Brussels-based artist Trong Gia Nguyen. For his third solo exhibition at the gallery, Nguyen will exhibit four distinct, but connected bodies of work that foreground ideas of conservation, accessibility, reproduction, and attribution of artworks.
Exhibition & Talkshow "Hanoi – A City in Photography"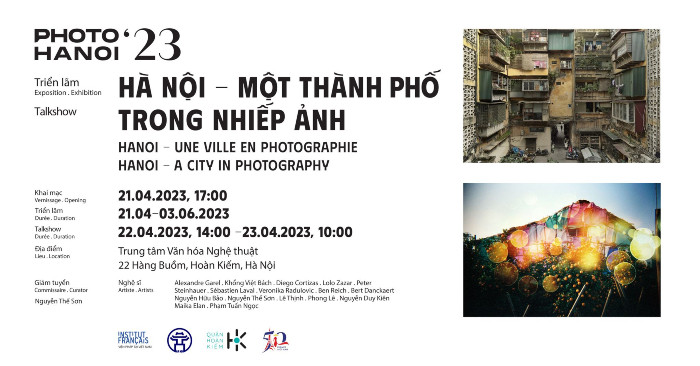 Exhibition: Until June 3, 08 am – 05 pm
Art and Culture Center 22 Hang Buom Street, Hanoi

Exhibition "Hanoi – A City in Photography" is an event in the framework of International Photography Biennale Photo Hanoi'23
Curator: Visual Artist Nguyễn Thế Sơn
Artist: Alexandre Garel, Khổng Việt Bách, Diego Cortizas, Lolo Zazar, Peter Steinhauer, Sébastien Laval, Veronika Radulovic, Ben Reich, Bert Danckaert, Nguyễn Hữu Bảo, Nguyễn Thế Sơn, Lê Thịnh, Lê Xuân Phong, Nguyễn Duy Kiên, Maika Elan, Phạm Tuấn Ngọc

Exhibition "Peculiar Interfaces"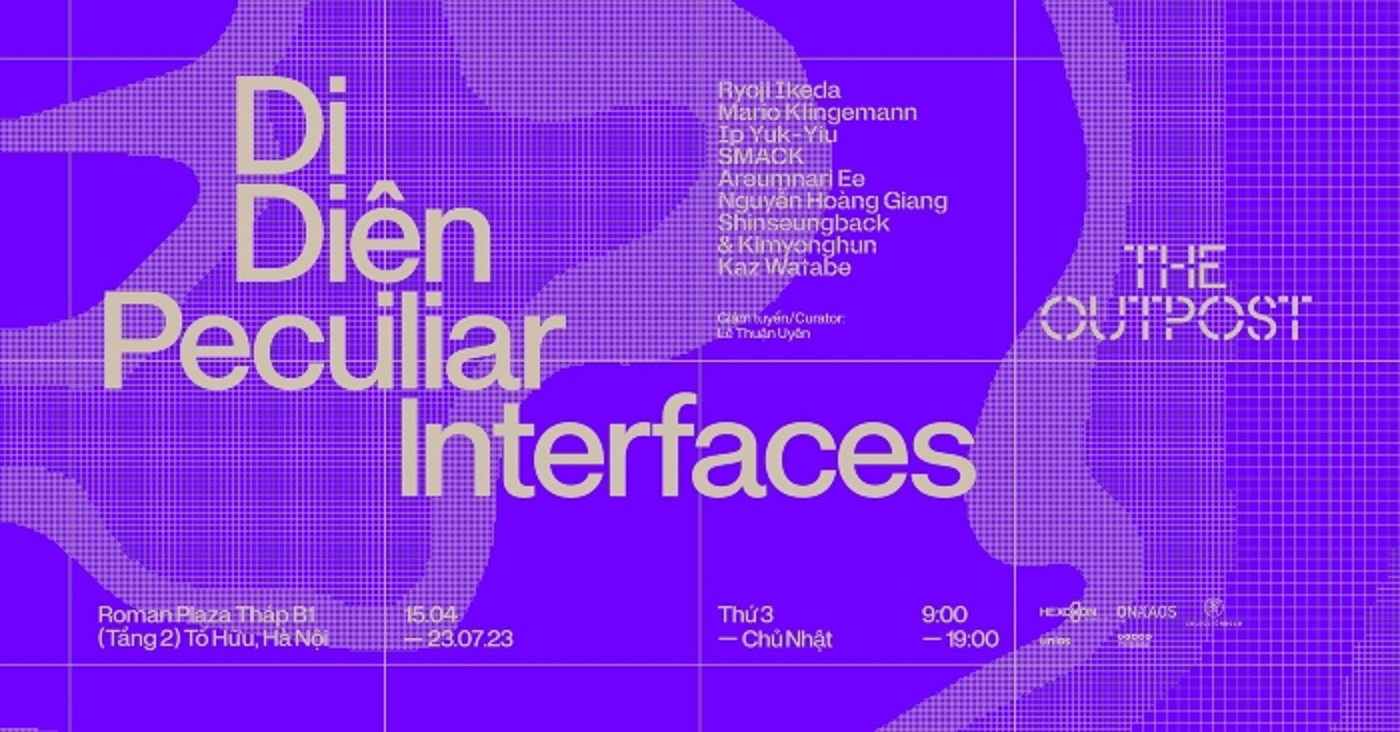 Until July 23 (off Monday), 09 am – 07 pm
The Outpost, Roman Plaza Tower B1 (Floor 2), To Huu Street, Hanoi

In realising the growth of digital media in everyday context and the lack of its discussion in the local art conversations, The Outpost seeks to introduce artworks that engage with the amplifying presence of smart machines and digital technology through our exhibition and acquisition activities. "Peculiar Interfaces" serves as an abstract to The Outpost's long-term dedication to explore and unpack how technology is impacting our relationships to one another, and to the world around us.

Exhibition 'No more, not yet'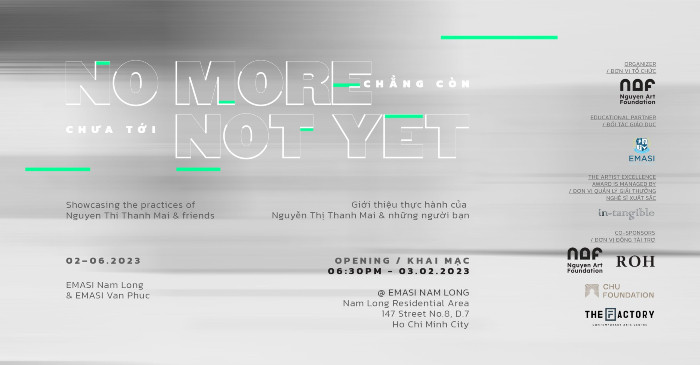 Display: Feb – June, Wed & Fri, 10 am – 04 pm
EMASI Nam Long (D.7)
Tues & Thurs, 10 am – 04 pm
EMASI Van Phuc, Thu Duc District, HCMC

Nguyen Art Foundation (NAF) proudly invites you to the opening of 'No more, not yet', an exhibition that looks back on Nguyen Thi Thanh Mai's shapeshifting artistic practice in all its multiplicity. Winner of the Artist Excellence Award (inaugural edition, initiated by The Factory Contemporary Arts Centre and managed by in-tangible institute), her work is presented here alongside nearly 20 artists whom she calls her colleagues and friends. The exhibition will be on display from February to June 2023 across the campuses of EMASI Nam Long and EMASI Van Phuc.