Find the perfect events to experience in Hanoi this weekend, from film screening, music performance to talking shops.
Opening of Palm Art space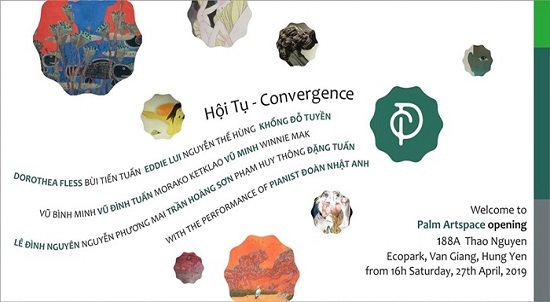 Ảnh:
You are invited to the opening of Palm artspace. An exhibition of fine arts and sculptures of 15 contemporary artists from Vietnam and abroad, including Eddie Lui, Winnie MAK, Le Dinh Nguyen, Dorothea Fleiss, Khong Do Tuyen, Vu Dinh Tuan, Bui Tien Tuan, Morakot Ketklao, Tran Hoang Son, Nguyen The Hung, Pham Huy Thong, Nguyen Phuong Mai, Vu Binh Minh, Vu Minh, Dang Tuan.
Time: Saturday, April 27 at 4:00 pm
Venue: Palm Artspace, 188 A – Thao Nguyen – Ecopark
Cathedral Concert Series No. 3: "Easter"

Maestoso is pleased to our next concert "Easter", the third concert of the Cathedral Concert Series.
In our upcoming return to this wonderful cathedral, we will bring a more joyful, intimate atmosphere with a newer and wider repertoire. The program will introduce to you some of the most famous compositions, songs which many of their tunes can be recognized easily.
Time: Saturday, April 27 at 8:30 pm
Venue: St. Joseph Cathedral Hanoi
Film Screening "Don't Burn"
"Don't burn" was produced in 2009, directed and written by People's Artist, Director Dang Nhat Minh. The film was based on the diary of the female doctor martyr Dang Thuy Tram, which she wrote from 1968 until 2 days before her death in 1970.
Selecting the facts, war contexts occurring severely described in the diary and its strange journey, the director Dang Nhat Minh and his crew made the film "Don't burn" to honor doctor Dang Thuy Tram's and the Vietnamese people's noble sacrifice for "The dream of peace and independence" of the fatherland. Also, the special journey of the diary over 35 years was also discovered in the film with lots of invaluable stories.
The movie was premiered at the International 19th Annual Fukuoka Film Festival in Japan and won the audience prize. The film was released in late April 2009 in Vietnam and showed at the ASEM international film festival in Hanoi in mid-May 2009. It also won the Golden Lotus in Vietnam Film Festival in 2009 and Golden Kite Award in Vietnam in 2010 with six different prizes.
The film is 100-minute long with English subtitles.
Time: Saturday, April 27 at 7:30 pm
Venue: Center for Assistance and Development of Movie Talents, 51 Tran Hung Dao Str (4th floor), Hanoi
Hanoitimes