Half Vietnamese, half Spanish artist Xuan Le has returned to Vietnam to participate in the 2019 Hanoi Dance Festival. His performance Vòng Lặp (Loop) has been warmly received by audiences.
Le talked about his passion for contemporary dance.
Youth Theatre to host Hanoi Dance Fest 2019
Hanoi Dance Fest enchants audience
Artist debuts new work at dance festival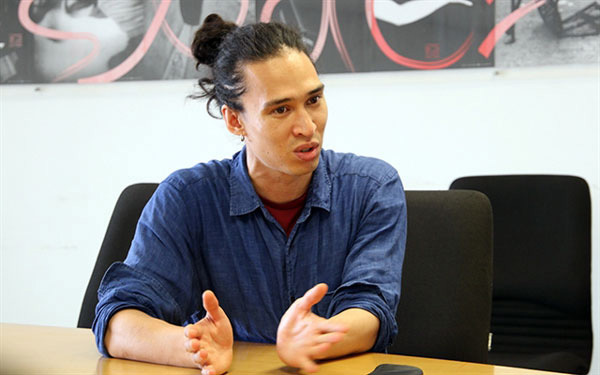 Artist Xuan Le
Loop is the first work you have choreographed. How does it feel to bring this performance to Vietnam?
This work was created in 2016 with the theme "The Root". It is about where we are born, family, the starting point of the evolution and development of each individual on this earth.
Loop is about the life cycle and the repetition of life.
My team and I are pleased to attend the Hanoi Dance Festival 2019. The feeling of being able to perform in the homeland is great, especially with a very personal topic like Loop. I feel like giving a gift to my loved ones.
Have you made any changes to the performance you brought to Vietnam?
The work is improvisational on stage so it is never fixed. It will be transformed to suit the stage conditions and interact with the audience.
I intend to make a longer work on this topic and Loop is just the beginning. I want to talk about collective and community factors.
The question I always ask in my works is where we come from, what our ancestors were like and how an individual can grow in such a complicated and conflicted life.
According to the reincarnation theory life is like a cycle. People are born and reborn.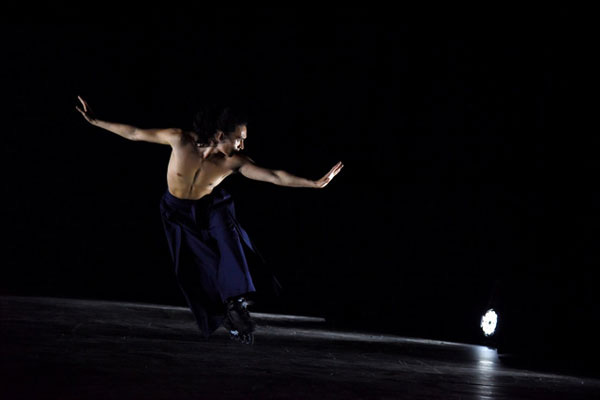 Xuan Le performs Loop at Hanoi Dance Festival 2019. Photo baodansinh.vn
Do most contemporary dance artists pursue improvisation?
Everyone has their own methods, but I want to talk about structure of the work. Improvisation is takes place within the framework and emotional flow of the work.
The choreographer gives dancers the theme and the characteristics they want to emphasise and the dancers improvise.
Audiences have enjoyed the dancing, circus acts and roller-skating in your performance. How did you settle on this combination?
I started to learn roller-skating when I was five years old. I gradually started to love it and began attending competitions.
The competitions give me the opportunity to return to Vietnam for the first time. I also placed sixth in the world roller-skating championships in 2009.
One day, when I was practising on the street, a choreographer saw me and asked me to join his show. It was the first time I had a chance to get close to dance. After that I attend dance courses and tried to figure out how to combine contemporary dance and roller-skating.
One of my most valuable experiences was working in Tuan Le's contemporary circus show. There, I met many friends from different backgrounds that continue to nurture my exploration and study of different arts.
When combining circus acts and roller-skating I aim to create a contemporary dance, not to make viewers see someone who is roller-skating. Maybe at first audiences will be distracted by the roller-skates, but then they will forget it and just be charmed by the dance.
I intend to make three works with this theme. The second will be titled Reflection and will be launched this September. I will focus on the relationship between people and the environment.
Do you have your own dance troupe?
My company can be considered a family. We are a small dance company and do not have much money so everyone must take on extra work. I also take more responsibility.
At first we only performed on small stages in Paris but gradually we have gotten the chance to perform at various festivals in other countries. VNS