Leading cueists from Vietnam, the Republic of Korea, Japan, Jordan and Lebanon are competing at the 10th Asian Carom Billiards Championship that opened in Ho Chi Minh City on April 23.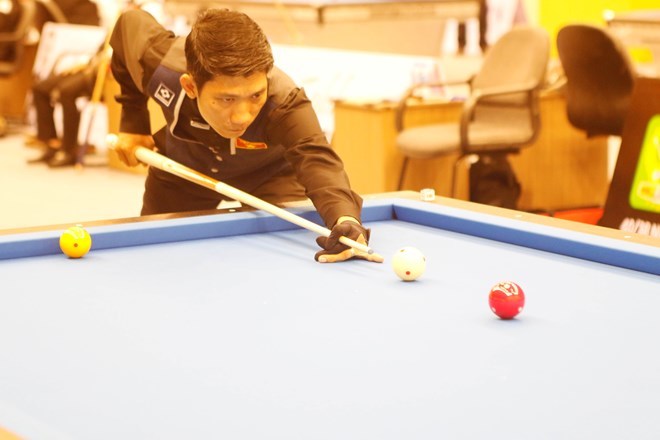 Vietnamese cueist Ngo Dinh Nai competes on the opening day of the 10th Asian Carom Billiards Championship
The tourney is held at Nguyen Du Gymnasium by the municipal Department of Culture and Sports and the Asian Carom Billiards Confederation.
One-cushion carom matches will take place on April 23 and 24. The top three winners will respectively receive cash prizes of 2,000 USD, 1,200 USD and 600 USD.
Meanwhile, 32 cueists will compete in the three-cushion category from April 24 to 27. They are divided into eight groups, and eight top players will advance to the next round.
The champion in this category will be awarded 4,000 USD while the two runners-up will receive 2,400 USD and 1,200 USD, respectively.
Vietnam sent seven cueists to the one-cushion category and 12 to the three-cushion one, including experienced players like Tran Quyet Chien (world's No. 6), Nguyen Quoc Nguyen (world's No. 12), Ngo Dinh Nai, Ma Minh Cam and Duong Anh Vu.
Coach Nguyen Viet Hoa said Vietnamese cueists have advantages in the one-cushion category, but they will face fierce competition from Korean players, including Cho Jae-ho – world's No.3, in the three-cushion category.
If they are successful at this time's tourney, Vietnamese cueists will have more momentum at the three-cushion world cup scheduled to take place in HCM City in late May, Hoa noted.-VNA