HBSO's Autumn Melodies is an annual festival in which a series of concerts takes place on almost consecutive days. This year it runs from August 17 to 25, with a total of eight concerts in all.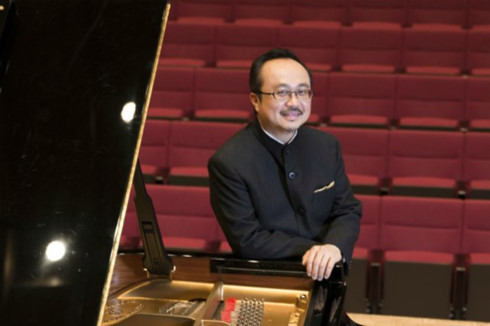 Pianist Dang Thai Son - Photo: Courtesy of HBSO
The climax will be on August 25 when the international celebrity Dang Thai Son, a Vietnamese-Canadian, will play Beethoven's Piano Concerto No:3.
Dang Thai Son leapt to international fame when he won First Prize and Gold Medal in the International Chopin Piano Competition in Warsaw in October 1980, the first pianist of Asian origins ever to do so. He subsequently began performing at celebrity concerts all over the world.
Recently it was announced that he had been chosen by Deutsche Grammophon, in partnership with the Frederick Chopin Institute, to feature on their 2-volume set of Chopin played on period instruments.
In addition, he has been named as Specially Appointed Professor of Beijing's Advanced Innovation Center for the Chinese National School of Music and China Conservatory of Music.
Reviews of his concerts have been universally enthusiastic. "Lighter than air technique" declared Los Angeles earlier this year, "the highest caliber of intellectual clarity" declared Florida, and "a master of subtle gesture, roseate coloration, and seemingly infinite dynamic control" declared Boston.
Dang Thai Son's appearance in HCMC is an immense honor to the city and to HBSO's Autumn Melodies festival. He is one of the world's great pianists.
This concert, and the festival as a whole, will end with Beethoven's Symphony No:7. The evening's two works will be conducted by the HBSO's music director Tran Vuong Thach.
The festival stretches from the assuredly classical to the unashamedly flamboyant, from Beethoven to Duke Ellington, with a contemporary dance revival added for good measure.
The opening concert features a huge array of opera and other extracts, with director David Hermann specially brought in to oversee proceedings.
This major event begins and ends with items from Mozart's Requiem, and contains in addition pieces by Wagner, Handel, Kurt Weill, Bach, Weber, and many more. The conductor will be Tran Nhat Minh.
Then there are a Tchaikovsky piano sonata (August 18), piano quintets by Dohnanyi and Dvorak (August 19), plus a quartet by Milhaud in a special evening of chamber music (August 21).
The dance evening is on August 23 when Stravinsky's Rite of Spring will be revived in the version created by the Dutch choreographer Joost Vrouenraets, assisted by Marika Meoli. Both were in HCMC for several weeks to create the contemporary dance show Café Saigon in 2018.
More details of the Autumn Melodies festival will be announced, and their nature discussed, in further articles in the Saigon Times as the festival approaches.
Ticket prices will range from VND450,000 to VND900,000 (with a special price of VND150,000 for students on presentation of a valid student card) for the opening and closing events, to VND200,000 to VND650,000 (and VND80,000 for students) for the other concerts. All events begin at 8 p.m. SGT