In celebration of Vietnam's Reunification Day (April 30) and International Labor Day (May 1), Dam Sen Park in HCMC is organizing many exciting events under the theme "Dam Sen - Converging Quintessence" from April 27 to May 1, 2019.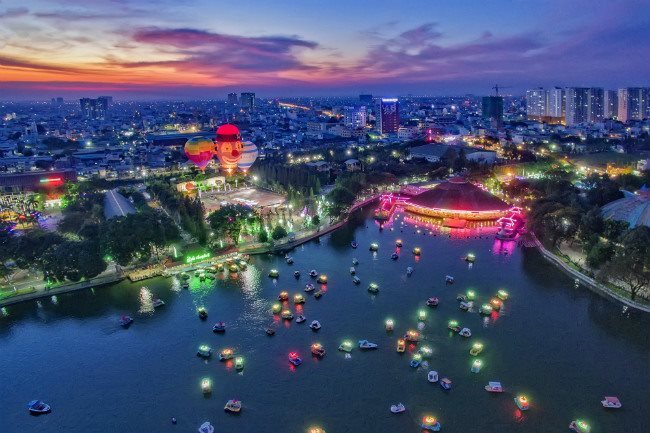 A night view of Dam Sen Park
HCMC Fitness Competition 2019
Dam Sen Park, in collaboration with the Fitness Federation under the HCMC Department of Culture and Sports, will organize a fitness competition at the park's Star Stage on April 26 and 27, drawing more than 200 contestants from HCMC and other localities.
Red-whiskered bulbul birds contest
A red-whiskered bulbul birds contest will be jointly organized by Dam Sen Park and the Vietnam Red-whiskered Bulbul Birds Club at the park's Cuisine Garden on April 28.
More than 500 contestants will bring their birds to the event, offering visitors a chance to enjoy the birds' beautiful melodies.
Dance show by cartoon characters
Children will be entertained by a dance show performed by cartoon characters at Au Lac Square on April 28, April 30 and May 1. Visitors will be invited to dance and pose for photos with the cartoon characters.
Balloon man
The balloon man will surprise guests at Au Lac Square when he sneaks into a giant balloon and dances. The balloon man will be there from April 27 to May 1.
Animal circus show
Phuong Nam Circus Troupe will organize a special circus show featuring monkeys, anacondas, dogs, parrots and other animals from April 28 to May 1.
The vedette of the show is a Sumatra orangutan who was born at the park in 2012. He can ride a bike and interact with spectators.
Mermaid and giant puppets
Tourists will have a chance to pose with a mermaid on the park's 44-meter-long invisible bridge. The bridge is made from transparent material and located beneath the Dam Sen Lake. Tourists crossing the bridge will feel like they are walking on the surface of the lake.
Visitors will also be welcomed at the gates by giant puppets from April 27 to May 1.
Vo Thanh Trang trumpet band
Vo Thanh Trang trumpet band will perform at Au Lac Square, Kids' Zone, and La Ma Square on April 27 and 29.
Founded 18 years ago, the band now consists of more than 100 young members. In June 2008, the band set a new Vietnam Guinness record for "The young trumpet band with the most public performances."
"Converging Quintessence" carnival
Dam Sen Park's employees dressed as fairy tale characters will travel around the park on April 28, April 30 and May 1.
Star Stage
Famous comedians including Hoai Linh, Tan Beo, Gia Bao, and Nam Thanh Phong will perform at Star Stage from April 28 to May 1.
Bolero and lotto shows will take place from April 28 to May 1, featuring singers Ngoc Son, Quang Linh, Che Thanh and lotto troupe Huong Nam.
House-cricket Stage
Water puppet, music for kids, drama and puppet shows will bring guests a memorable time at House-cricket Stage from April 28 to May 1.
Laser and water show
A laser and water show using state-of-the-art technology will be held at Dam Sen Lake every night from April 27 to May 1. The show features a combination of exciting music, colorful laser beams, and a giant 3D water screen.
Fireworks displays
Guests will enjoy marvelous fireworks displays at Cuu Khuc Bridge at 9 p.m. on April 30.
One of the best places to enjoy the fireworks displays is the spacious Thuy Ta Restaurant, which offers a variety of set menus suitable for family or friends gatherings.
Admission tickets cost VND120,000 per adult and VND80,000 per child.
Ordinary package tickets are priced at VND240,000 per adult and VND160,000 per child. These tickets include access to new games that use European technology like Power Surge, 9D Virtual Reality, Rune Raider, Turbo Racing and Amazing Palace.
The silver full package enables guests to take part in many more games like Dinosaur Park, Aquarium and electric cars. It costs VND360,000 per adult and VND200,000 per child. Guests are also allowed to use the priority lanes in case of overcrowding.
Dam Sen Park has announced a special promotion, which offers free admission tickets to guests visiting the park from 6 p.m. onwards on April 27. SGT