The Y.O Saigon Dance Ensemble (YSDE) will stage a dance performance titled "Mua Kieu", which achieved great success in the premiere performance last year, at the Saigon Opera House on Saturday, June 22.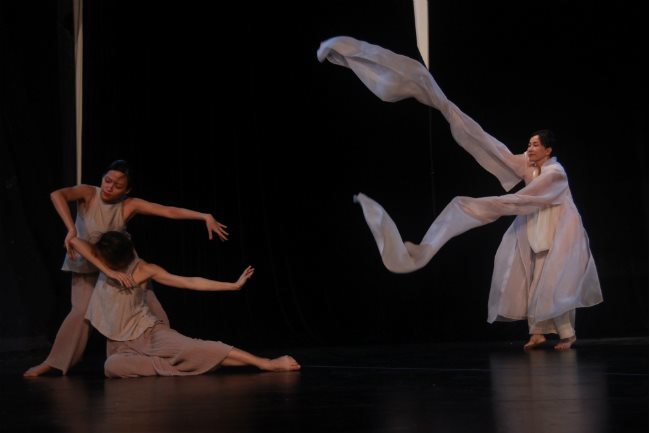 Dancers rehearse for "Mua Kieu" dance performance, which will take place at the Saigon Opera House on June 22 - PHOTO: COURTESY OF ORGANIZER
The dance performance is inspired by epic poem "Truyen Kieu" (The Tale of Kieu) written 200 years ago by Nguyen Du, which is a literary work that is loved by innumerable people because the themes of humanitarian ideology, filial piety, free love, causality and retribution are unfolded continuously.
"Mua Kieu", which will be expressed in the language of the body by YSDE Dance Company, will focus on internal conflicts and emotional expressions centered on several major characters.
In addition to the major character of Kieu, the fateful meeting between Kieu and Dam Tien, as well as the surrounding characters such as Kim Trong, Thuc Sinh and Tu Hai, will be expressed in a variety of feelings.
Critic Diem Trang described the dance performance as a "masterpiece of representing a strong spiritual line of Kieu's life by using dancing language".
"Mua Kieu" is choreographed by YSDE artistic director Yoo-Oh Chun, a Korean choreographer who has been active in recent works such as "Promise to 800", "Princess My Chau", and "Myth of Woman".
"The great love and excitement I received last year has made this encore performance more deeply meaningful. "Mua Kieu" will allow us to look back on our values that have been lost in the overflowing material civilization of modern society," said choreographer Yoo-Oh Chun.
People's Artist Thanh Hoai, Korean traditional vocalist Kwon-Soon Kang, and contemporary artist Sun-Hwang collaborate in "Mua Kieu". It is expected that a sophisticated stage will be realized in which the artistic language is blended with the traditional and modern sense. SGT
Minh Tuan