Many visitors have complained about promotional destination signs being drilled into two historically-unique towers at the Cham temple complex in Binh Dinh Province.
Stones from ancient Cham Tower found in Quang Ngai
Cham tower complex Po Klong Garai in Ninh Thuan
The most famous Cham towers in Vietnam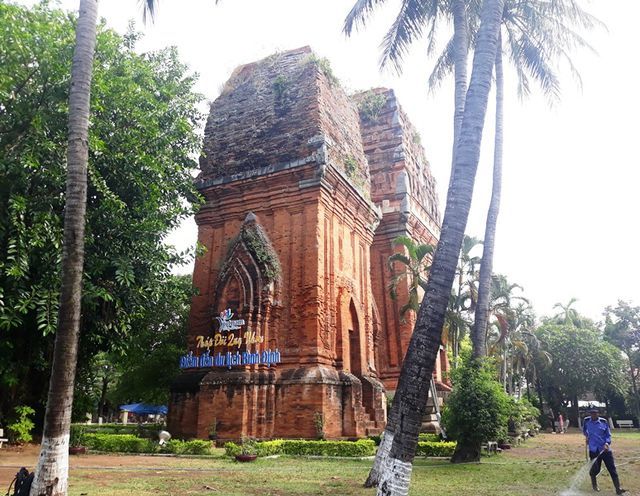 Promotional destination signs drilled into a Cham tower
The signboards which were hung on the Twin and Banh It towers to indicate the destination's names and promote Binh Dinh tourism and were directly drilled into the towers.
Since May 5, the images of the signs have been widely shared on the internet, angering many because the towers were damaged. Many people said promoting the destination was fine but the local authorities were mistaken in marring the beauty of the complex and ruinning the old bricks.
"Scientists are trying to preserve the complex but some officials in Binh Dinh proposed such weird idea. I wonder if the leaders of the Department of Culture and Sports knew about this?" one visitor commented.
Ta Xuan Chanh, director of Binh Dinh Department of Culture and Sports, said on May 6 that they had removed the signboards. According to Chanh, the Twin and Banh It towers were managed by Binh Dinh Museum.
"The managers' idea was to have a signboard for tourists to take pictures with but it's clearly unsuitable to drill into the towers like that," he said.
Banh It tower site was built in the late 11th and early 12th century. It was recognised as a national heritage in 1982. It includes Main Tower, Nam (South) Tower, Cong (Gate) Tower, and Dong (East) Tower.
The twin tower site was built in the late 12th century and consists of two towers. The biggest tower is 20 metres high. In 1980, it was listed as a national heritage. Dtinews