Becamex Binh Duong players Nguyen Anh Duc and Le Tan Tai left for Singapore yesterday for health checks.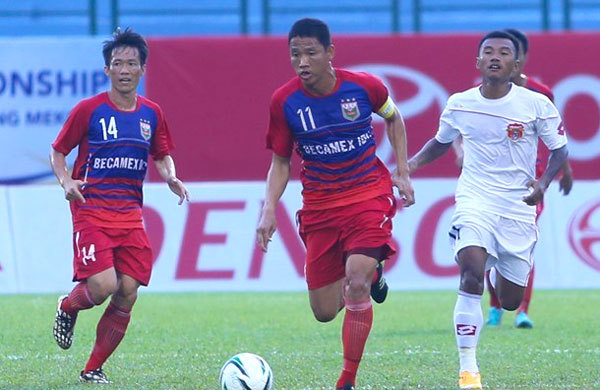 Striker Nguyen Anh Duc (right) and midfielder Le Tan Tai of Becamex Binh Duong have travelled to Singapore for medical tests. — Photo tinmoi.vn
Duc has suffered a left knee injury while Tai needs to have his cracked ribs checked.
"They are important players for Binh Duong," said coach Nguyen Thanh Son. "We want to give them a better chance to test with foreign experts in Singapore, although there are good doctors in Vietnam."
Duc picked up his injury during the recent King's Cup in Thailand. He has been playing in V.League matches with a bandaged knee.
Tai's ribs were fractured in the match against Nam Dinh two months ago. He kept playing until the end of the match and only learned about the problem when the pain did not subside later on. The injury has been recovering well.
The duo will miss the National Cup quarter-final match against Sai Gon FC on Thursday and the V.League clash versus Nam Dinh three days later.
Coach Son hopes to have the players back for the first leg of the AFC Cup ASEAN zonal final against Ha Noi FC on July 30 on home turf.
VNS