"Serpents' Tails", a solo exhibition by UuDam Tran Nguyen which depicts people struggling with by-products of an industry that is causing environmental imbalance and destruction, will be opened at Galerie Quynh in HCMC on April 19.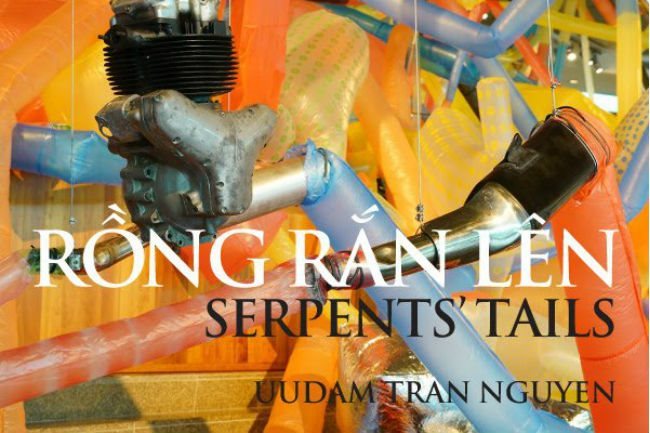 UuDam Tran Nguyen will hold the "Serpents' Tails" exhibition at Galerie Quynh in District 1 of HCMC from April 19 to June 1 - PHOTO: COURTESY OF GALERIE QUYNH
The artist will premiere in Vietnam his acclaimed installation Rong Ran Len (Serpents' Tails), which comprises a three-channel video, sculpture, photos, and an installation of motorbikes whose exhaust systems inflate and give flight to tubular serpents sewn together from disposable plastic bags.
The artwork has been exhibited at renowned art venues around the world such as Esplanade Theater in Singapore, Yokohama Museum of Art in Japan, and Queensland Art Gallery in Australia.
Serpents' Tails spans over four floors and up to the roof of Galerie Quynh, dealing with the overwhelming problem faced by modernizing countries like Vietnam. In the spaces filled with sculptural props and objects belonging to the vast project, visitors can see the spectacle of human beings' ambition of taking down the environment to build their own living spaces.
The exhibition will run until June 1. There will be a talk with the artist on May 11, starting at 4 p.m.
UuDam Tran Nguyen was born in 1971. He earned a Master of Fine Arts degree from the School of Visual Arts in New York in 2005 and a bachelor degree from the University of California, Los Angeles in 2002. He also attended the University of Fine Arts in HCMC for three years prior to his studies in the U.S.
His various projects engage with geopolitics, the environment, and issues of security and collaboration. He has participated in prestigious exhibitions internationally such as So Far So Right at Kuandu Fine Art Museum in Taiwan, Sunshower at Mori Art Museum and The National Art Center in Japan, Aichi Triennale: A Rainbow Caravan at Aichi Art Center in Japan, and Asia Pacific Triennial 8 at the Gallery of Modern Art in Australia. SGT