Prince Souphanouvong (1909 –95) of Laos was not only a supporter of late President Ho Chi Minh but also had a close relationship with Vietnamese people, which is shown at an exhibition that opened on Friday in Hanoi.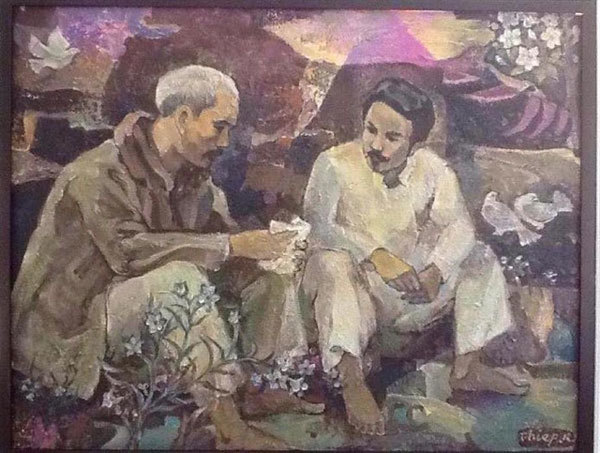 President Ho Chi Minh with Prince Souphanouvong, oil on canvas by Nguyen Trong Hiep, 2012.
Ho Chi Minh and Kaysone Phomvihane museums joined hands to organise the exhibition President Souphanouvong – A Close Friend of Vietnamese People to commemorate the 110th birthday anniversary of the man who was also President of Laos for 26 years.
The photos and documents on display reflect the life and career of Prince Souphanouvong, a man who studied in Hanoi, married a Vietnamese woman and had 10 children with Vietnamese names who all studied in Hanoi, too.
"President Souphanouvong was a great leader of Lao people, who devoted his life to the country's liberation and prosperity, he was a faithful and close friend of Vietnamese people," said Vu Manh Ha, director of the Ho Chi Minh Museum.
"Together with President Ho and President Kaysone Phomvihane, President Souphanouvong established a foundation for the special friendship between Vietnam and Laos."
The exhibition is divided into three parts, reviewing milestones in the life of Prince Souphanouvong and his relationship with Vietnam.
After 10 years studying in Hanoi, he went to a university in Paris. After graduation, he was appointed to work in Vietnam, where he designed irrigation systems such as Bai Thuong Dam in Thanh Hoa, Do Luong Dam in Nghe An and Phan Thiet Water Tower.
The exhibition also features his activities from 1945 - 1995, when he supported the revolution in Vietnam. He made many trips to Vietnam to meet President Ho Chi Minh, during which they talked, planted trees, went fishing and had simple meals in the north of Vietnam.
The third part of the exhibition reflects the special friendship between Vietnam and Laos from past to present.
Apart from photos, documents and objects, the exhibition also features the oil painting President Hồ Chí Minh with Prince Souphanouvong by Nguyen Trong Hiep.
Hiep said he found inspiration from photos taken during Prince Souphanouvong's visits to Vietnam.
The exhibition will run until the end of August at the Ho Chi Minh Museum, 19 Ngoc Ha Street, Hanoi.
VNS