Television blockbuster Về Nhà Đi Con (Come Home, My Dear) scooped up three gongs at the VTV Awards 2019 on Saturday.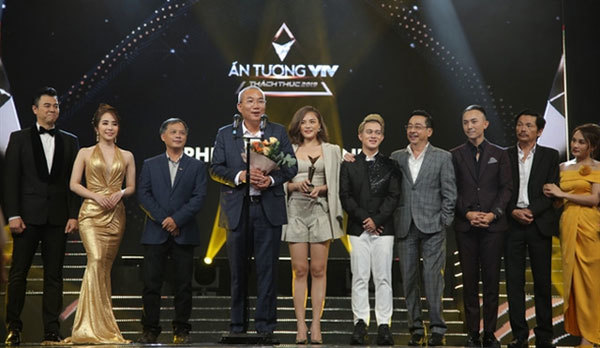 Director Nguyễn Danh Dũng and the film crew of Về Nhà Đi Con (Come Home, My Dear) are presented at the awarding ceremony of VTV Awards 2019. Photo courtesy of VTV
As well as Impressive TV Series, Bảo Thanh and People's Artist Trung Anh also won Impressive Actress and Impressive Actor awards, respectively, for their roles in the drama on Việt Nam Television (VTV).
It surrounds the life of a widower and his three daughters. Inspired by family issues, the 85-episode series depicted troubles anyone may face in life, with the characters expressing family love and tolerance that touched viewers' hearts.
Director Nguyễn Danh Dũng said he felt deeply moved and that the success belongs to all the film crew.
Previously, the film crew also received a certificate of merit from the Ministry of Culture, Sports and Tourism for causing a positive influence on society with the show.
The results were announced after a vote based on audiences' opinion and the jury board including prestigious journalists, directors and critics.
The awards ceremony, which was broadcast live on VTV1, was designed as an entertainment programme with the performance of many famous artists. Actors and actresses performed some official sound tracks of the series nominated for awards.
The event was themed 'Challenge' because there is no success if people don't overcome a challenge, according to VTV Director General Trần Bình Minh.
"We always face challenges during 49 years establishing and developing VTV as the national television provider, with a big and prestigious brand name in Asia Pacific and the world," he said.
"In the future, the challenge will be greater as digital communications have been developing dynamically. We also consider challenges as motivations to grow."

The 10 categories of VTV Awards 2019:
- Impressive Host of a Show: Thành Trung
- Impressive Culture-Society-Science Programme: Ký ức vui vẻ (Happy Memoir)
- Impressive News: News about Trump-Kim Summit
- Impressive Actor: People's Artist Trung Anh
- Impressive Actress: Bảo Thanh
- Impressive Documentary: A Way Home
- Impressive Singer: Đông Nhi
- Impressive TV Series: Về Nhà Đi Con (Come Home, My Dear)
- Figure of the Year: PhD Nguyễn Thanh Liêm;
- Programme of the Year: Giai Điệu Tự Hào: Những Người Con Của Biển (Proud Melody: Children of the Sea).
 VNS