Vietnamese actor and scriptwriter Le Bình, who made his fame with the role of a Southern farmer in the 1997 TV series Đất Phương Nam (The Southern Land), died on Wednesday morning at the age of 66.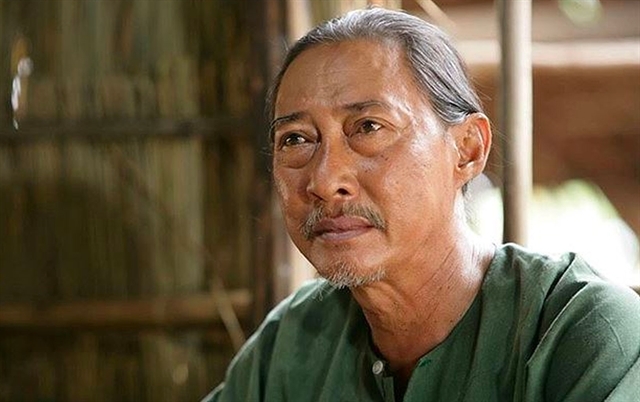 Vietnamese actor and scriptwriter Lê Bình died on Wednesday at the age of 66. Photo yeah1music.net
The artist breathed his last breath after a year-long fight with lung cancer.
After being diagnosed with the disease at the beginning of 2018, the artist had treatments at a hospital without telling even his children or co-workers. However, his condition continued to deteriorate. The cancer cells spread to his marrow and stomach, paralysing his lower body and preventing him from eating and drinking.
Bình, whose real name was Lê Thanh Sơn, was born and raised in HCM City. Despite training to be a painter specialising in propaganda paintings, Bình worked as a stage actor before finally becoming a movie actor. During his 30-year career, his roles in different plays won him three gold medals and three silver medals at national performing arts festivals.
Bình also showed his writing ability by producing several stage scripts, which have been staged at major theatres in HCM City such as IDECAF, 5B and Phú Nhuận. They have also been presented at performing arts festivals.
The artist also made acquaintance with the seventh art – cinema – with roles in more than 60 big-screen movies and TV series, including international award-winning film Mùa Len Trâu (The Buffalo Boy).
Alongside the TV series Đất Phương Nam, other high-rating series featuring Bình included Cô Gái Xấu Xí, which is the Vietnamese version of the original Colombian series I am Betty, the Ugly One, Vịt Kêu Đồng (Duck Keepers) and Cổ Tích Việt Nam (Việt Nam's Fairytales).
His funeral took place yesterday and was attended by several popular Vietnamese actors and actress. On Saturday, his body will be cremated. According to the actor's wishes, his ashes will be scattered over Vũng Tàu beach, according to his daughter. VNS