Vietnamese fighter Bui Yen Ly has taken Thailand by storm winning the World Muay Thai Championships.
 Vietnam's Bui Yen Ly enters semis of Muaythai tournament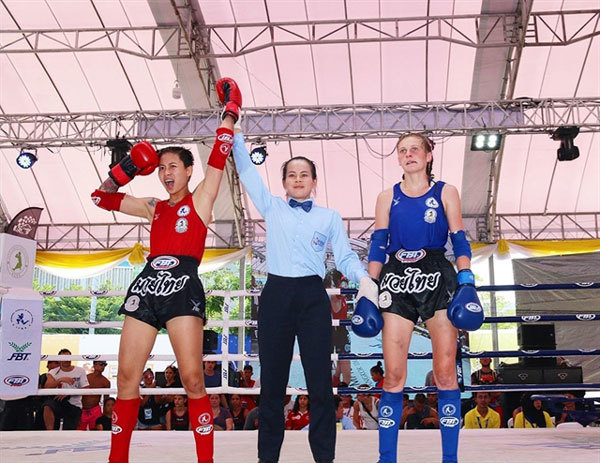 Bui Yen Ly (left) is announced the winner of the World Muay Thai Championships's women's 51kg category. Photo courtesy Bui Yen Ly
And if that wasn't enough, the 23-year-old from Bac Giang Province was also crowned sportswoman of the year title by the International Federation of Muay Thai Amateur.
In Sunday's final in Bangkok, she beat Russian Ekaterina Gurina by 30 points to 27.
It was a tournament to remember for Vietnam, as her teammate Huynh Ha Huu Hieu won the 45kg category to collect her first big win.
But for Ly this was the fifth time she has won the top prize.
"Fighters in this tournament are all strong," Ly said.
"They have good physique and taller than me. I had to reduce my weight which also affected my ability too."
"I have to prepare really carefully for every match and think about every move. I also made suitable tactic for different rivals who also did the same thing with me, to make sure the best result."
Ly keeps racking up the medals. She won world titles in 2012, 2013, 2014, 2017 before adding this year's victory to her collection.
She also picked up silvers in 2015 and 2018.
This year's win was particularly tough, as Ly had to make sure she was at the right weight to compete.
"My biggest challenge in this tournament was not powerful rivals but my meals. There is nothing worse than fasting to maintain our weight," said Ly who has to reduce from 58kg to 51kg for competition.
"In muay, we had weigh-in sessions before every match so eating and drinking is limited to ensure our weight.
"We need to eat to have energy for fighting but we cannot eat too much. After a winning match, the first thing to think about is fasting for the next one," she added.
The Bac Giang-born athlete beat Gabriela Kuzawinska of Poland 29-28 in the first match and Yumiko Kawano of Canada 30-25 in the second one. In the semi-final, Ly beat Monika Chocklikova of Slovakia 30-27 for a final berth.
Her coach Duong Ngoc Hai said: "Ly's win over Gurina in all three sets showed her performance is at a higher level than anyone else. Her fifth world gold also proves she has remained at her best for many years."
But for Ly, the victory celebrations will have to be short as she is fighting again in a matter of months.
"I will practice for the national championship in August," said Ly who is reigning champion of both competitions.
"Then I will have a long training period in Thailand to prepare for the Southeast Asian Games in November.
"I have no difficulties in the domestic event but the SEA Games is different. Winning at regional level is a must for me, I have to try my best for that."
In the SEA Games, Ly triumphed in 2013. In the next two editions, her 51kg category was not organised. This year, Ly will have chance to shine again.
"Many thanks to my coaches and teammates, family and friends, and fans who have supported me for my success," she said.
"I hope that they would be on my side for more titles in the future." VNS
Thanh Ha