The Viet Nam International Music Competition for Violin and Chamber Music will be held from August 3 to 11, the country's first international competition for violin and chamber music.
 Vietnam to host Int'l Music Competition for Violin and Chamber Music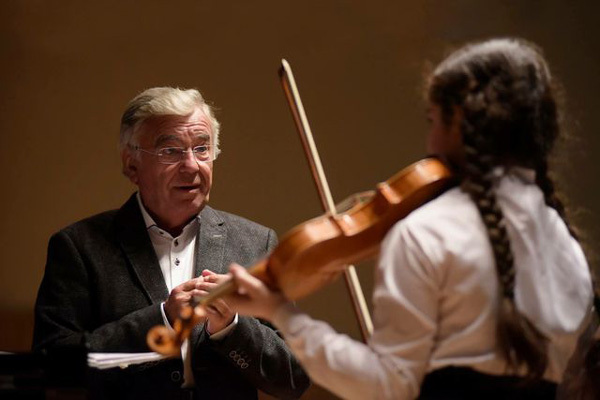 Russian violinist and People's Artist Viktor Tretyakov will be a chairman of the jury panel at the violin category. Photo laodong.vn
The competition will connect well-known artists from around the world with Vietnamese artists who are active abroad as well as in the country, according to artist Bui Cong Duy, deputy-director of Viet Nam National Academy of Music (VNAM), the competition's organiser.
"The competition will play an important role in the process of integrating into the world of Vietnamese classical music," Duy said at the press conference held recently in Hanoi.
"The competition will attract many talented contestants from all over the world helping young Vietnamese musicians have the opportunity to have more motivation and experience in their career."
A total 64 contestants from 19 countries will take part in the competition, including 29 violinists and 11 chamber groups. Five Vietnamese violinists and seven troupes will compete.
Many contestants have attended prestigious competitions such as the Queen Elizabeth International Competition 2019 in Brussels, the Tchaikovsky International Competition 2019 in Moscow and other major competitions.
Many of them are from renowned music institutes such as the Tchaikovsky Conservatory, the Julliard School, the Royal London Conservatory, the Beijing Central Conservatory, the Belgian Royal Conservatory and the Cologne Conservatory.
The competition's judging board of 16 includes Russian violinist and People's Artist Viktor Tretyakov. He won the first prize at the Tchaikovsky Music Competition in 1966 and many other noble awards such as Global Artist by UNESCO.
In the final round, the violinists will be accompanied by the Sun Symphony Orchestra. A concert by the orchestra and jurors Bui Cong Duy, Max Levinson and Chika Murata will open the competition.
A gala concert will feature all the jurors at VNAM's Grand Hall in August 6. Total prize money for the event amounts to US$50,000.
VNS