Artisan Pham Thi Tang in the north-central province of Thanh Hóa's Ngọc Lặc District is known locally as the "soul keeper" of ethnic Muong culture.
She has indeed been a major influence in restoring, preserving, and promoting the Pon Poong, or Choi Hoa, Festival, which has been recognised as a national intangible cultural heritage of the Muong.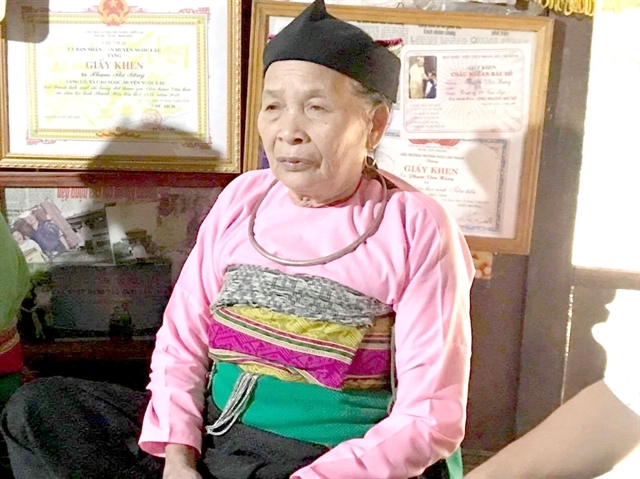 Artisan Pham Thi Tang
Born and bred in a family with a tradition of becoming shamans, Tang grew up in a space filled with Muong dance and song.
Her parents and grandparents taught her how to sculpt and trim the local tree, called Chạng Pạng, to make a cay bong -- an artificial tree decorated with "flowers" made from wood and colourful pieces of cloth and a symbol of spiritual life for the Muong.
She was also taught rituals on preserving worshipping beliefs as well as rituals for making a cay bong.
Tang still treasures one old cay bong made hundreds of years ago.
Through her passion for learning and exploring the ancestors' traditions, she gradually picked up reams of knowledge about her Muong ethnic minority and became responsible for retaining its culture.
The Pon Poong Festival, she said, originated a long, long time ago.
"'Pon' in the Muong language means play and dance while 'Pôông' means flowers, so the name means dancing beside the flower tree," she explained.
The festival is held annually on the day of the full moon in lunar January, March and July, in the hope of a bumper crop and a happy life. It is also a time to pray for human peace and love between men and women.
A ritual is conducted under the flower tree next to an ancient stilt-house. It starts when the sound of gongs, drums and flutes fill the air.
Tang and a group dressed in traditional Muong costumes dance and sing around the tree. The music and singing are so appealing they attract others.
She then acts as a shaman and also a narrator, reciting legends about the birth of heaven and earth and, especially, the creation of Muong villages.
The gods are also told about the year's crop and the villagers' celebrations to thank them for the good weather that made the harvest a success.
At the age of 75, Tang still remembers all of the details of the Pon Poong Festival, with its 48 unique games and characters, of which she acts as the main player.
Her stories have helped recreate and recount the cultural lives of the Muong since their early days, depicting rice cultivation, land division, house construction, brocade embroidery, wild animal hunting, fishing, folk games, wine making, and religious rituals.
The stories are linked together in a way that makes them part of a long history, so are told all night long by the side of the flower tree.
There were times in the past, however, especially before 1990, when the festival was neglected due to the encroachment of modern culture.
People focused on making money and not so interested in traditional festivals. The Pon Poong Festival gradually fell into decline as the younger generation wasn't interested in inheriting and promoting it.
Only after 1990 did authorities in Thanh Hoa Province launch a programme on the preservation of local festivals, including folk games of ethnic communities.
And the Pon Poong Festival was included in the programme.
Over the years, Tang has enthusiastically and patiently passed on the dances and songs of the festival to the younger generations of the Muong by organising classes from village to village.
She is now holding additional classes in other districts around the province and spreading her love of traditional culture to as many as possible.
The number of people taking her classes has reached more than a hundred, including many children of pre-school and primary school age.
Tang and others from her village also gave folk art performances at many events held outside of the province, as a way of promoting their cultural identity.
One of her students, Le thi Sinh, 58, from Vin Con Village, is the third generation of her family to learn about the Pon Poong Festival from Tang. She is now trying to teach her children and grandchildren about it.
Sinh's interest in the festival began when she was a child, after seeing Tang and other women in the village dancing passionately by the flower tree.
"I wanted to be one of them, so when I heard about Tang classes I was keen to learn more," Sinh remembered. "Tang carefully taught me about every dance and song. She also took me to traditional dance contests and events in other areas."
Pham Van Dat, vice chairman of the People's Committee of Ngoc Lac District, agreed that Tang was both the main character and the holder of the intangible cultural values of the Pon Poong Festival.
"Despite her age, Tang remains active in teaching the young," Dat said. "Without people like her, the traditional cultural values of the ancestors would be at risk of disappearing."
"Hopefully, with her continual dedication and effort in preserving and teaching the unique culture of the Muong, Tang will encourage many young people to follow in her footsteps and preserve the 'soul' of the ethnic minority community," Dat said.
In November 2015, Tang was recognised as an Excellent Artisan for her outstanding contributions to preserving and promoting the country's cultural heritage.
And in 2016, the Pon Poong Festival of the Muong was recognised as a national intangible cultural heritage.
VNS

A long-term art project offering folk music albums and performances has been launched as part of HCM City's efforts to introduce Vietnamese traditional arts and culture to young people.