Vietnamese-American singer Quang Le will stage a solo performance at the outdoor Trong Dong Music Stage in HCM City this weekend.
Overseas Vietnamese singer Huong Lan marks half-century in singing career
Vietnam's pop stars spend big money on live shows
Does every child dream of being a star?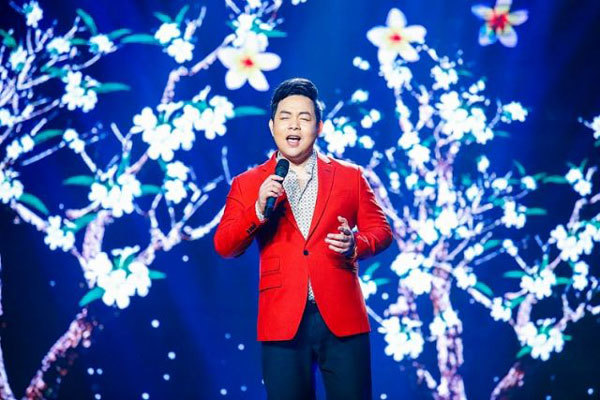 Vietnamese-American male singer Quang Le will stage a solo performance in HCM City in Friday at a special show for students and migrant labourers. — Photo courtesy of the organiser
Le will appear with veteran singer Ngoc Son and young pop star Phuong My Chi, and young singers Quang Nhat, Thuy Huyen and Ly Thu Thao of HCM City.
Around 800 people are expected to attend the Hạ Sài Gòn (Summer in Sai Gon) show, which will charge only VND180,000 (US$7.7) per ticket.
"This time my show will serve students and migrants who love music but have less money to enjoy it performed live," said Le, adding that his concert will be full of sound and light effects.
Le's previous solo performances were offered at VND1 million ($43) each ticket.
Le will sing 30 pop and folk songs that shot him to fame by famous composers such as Pham The My, Hoang Thi Tho, Bac Son and Lam Phuong.
Featured songs will include Tà Áo Cưới (Wedding Dress), Còn Thương Rau Đắng Mọc Sau Hè (Love for Bitter Vegetables behind the House) and Thương Về Miền Trung (Love for the Central Region).
Le will also perform vong co (nostalgia) songs, a genre of traditional music used in cai luong (reformed opera), together with guest singers Son and Hong Loan.
Born in Sai Gon in 1979, Le and his family moved from Vietnam to live in the state of Missouri in the US in 1990, but his "love for singing in the homeland remains. In 2010, I decided to return HCM City to develop my music," he said in an interview with local media.
He began his professional career by singing Vietnamese folk songs for Thuy Nga Paris By Night, a music show produced by Thuy Nga Productions in Paris
He later performed pop music and quickly became a star.
He has performed in many concerts and music festivals in France, Canada and the US, and worked with Vietnamese-American pop stars Nhu Quynh and Mai Thien Van.
In 2017, he began to challenge himself as a music producer. He has worked with Vietnamese music producers and entertainment agencies and performed on many albums and videos.
His show Hạ Sài Gòn will begin at 8pm on May 24 at Trong Dong Music Stage, 12B Cach Mang Thang Tam Street, District 1. Tickets are available at the box office.
VNS