Grammy award-winning guitarist Bill Frisell will perform in Vietnam for the first time at Soul Live Project Complex in District 3, HCMC on May 26.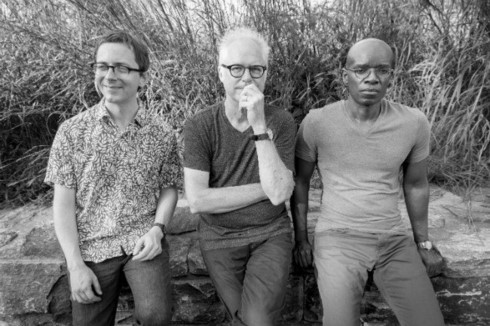 "Bill Frisell: Summer on Guitar" concert will feature (L to R) Thomas Morgan on bass, Bill Frisell on guitar, and Rudy Royston on drums - Photo: Courtesy of the organizer
Under the banner of Soul Live Project Series: Jazz Through Time, the "Bill Frisell: Summer on Guitar" concert will bring the wonderful and creative sounds of contemporary jazz closer to the Vietnamese audience.
The audience can experience a musical space of jazz full of improvisation and romance. They just need to close their eyes and let their mind be opened while listening to Bill Frisell's improvisation in an interesting conversation of three instruments on stage.
With the skillful guitar techniques of Frisell, the double bass sound of Thomas Morgan and the drum beats from Rudy Royston, romantic and nostalgic summer vibes will fill the auditorium of "Bill Frisell: Summer on Guitar", a jazz territory of complete freedom for the mind and the heart.
"I'm very excited to come to Vietnam. Music is such a mysterious, magical, wonderful thing. Music has the most extraordinary power to connect and bring people together," Frisell said.
He mentions two other artists who are his musical friends for nearly 30 years. "I was very excited to have Thomas and Rudy meet and for us all to play together as a trio. We've been doing it for a few years now and it still feels brand new. Every time we play something surprising and wonderful happens. They both seem to know how to read my mind. They know what I'm going to play before I play it. It is a total joy playing music with them. I know this trip will be something special for Thomas and Rudy and for the audience. Something new. I feel so lucky that people are interested and willing to listen to what we are doing. An adventure. I'm excited to taste the food too."
Speaking about Bill Frisell's upcoming Vietnam visit, Cuong Vu, artistic director of Soul Live Project Series: Jazz Through Time, said: "I met him in a show in Europe. We became friends and had many opportunities to perform together afterwards. Bill is very established, very unique, he invented his own way of addressing and interfacing with jazz. It is going to be a very special occasion, a rare concert for Vietnamese audience. I hope the Vietnamese people come out and be open to Bill Frisell's music".
The concert will begin at 8 p.m. Tickets are from VND360,000 to VND600,000. For detail information and booking online, visit https://dreamspass.vn/slp-billfrisell/.
Having studied at the prestigious Berklee College of Music and having won a Grammy Award for "Best Contemporary Jazz Album" for his album Unspeakable, Frisell is widely known as one of the most versatile players in jazz history.
He has released more than 90 albums as a leader or co-leader for a wide variety of labels. Whether playing avant-jazz, Americana, pop or composing film scores, Frisell's focus on timbre clarity and elegance shines through.
Frisell is an artist of many tastes as his music includes characteristics of rock, country, and bluegrass, among other styles. He is among the most recorded guitarists of his generation who seeks to erase boundaries between jazz and country, blues and folk, and improvisational vanguard music.
He was described by the New York Times as "one of the most distinctive and original improvising guitarists of our time" and by the Wall Street Journal as "the most innovative and influential jazz guitarist of the past 25 years".
Saigon Times