The owner of the famous H'mong King Palace in Ha Giang Province, Vuong Duy Bao, has asked local authorities to urgently adopt measures to preserve the site which is facing serious deterioration.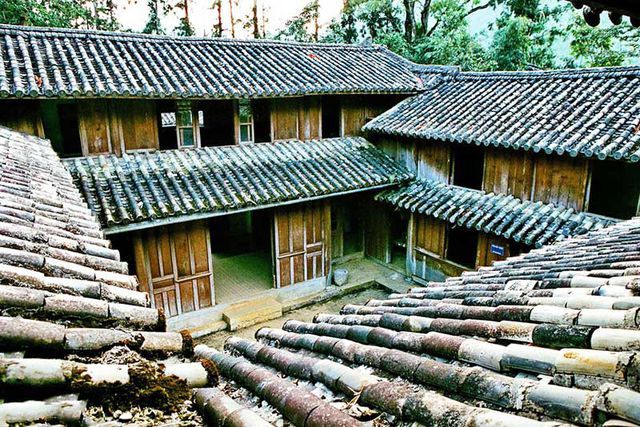 H'Mong King Palace in Ha Giang Province
In a meeting held on June 13 between the Vuong family and leaders of the provincial Department of Culture, Sports and Tourism, Bao said that the palace was a national heritage site so they would co-operate with the government in the preservation work.
However, the palace has shown signs of deterioration since 2007 but the government has not carried out the restoration work properly, Bao said.
"Now some parts of the walls and roofs have nearly broken and may collapse at any time, he added. "We will not take responsibility for any accidents that may happen to visitors if the site is continued to be operated in this condition."
The man who is the grandson of the H'Mong King Vuong Chinh Duc also called on local authorities to rapidly work out a set of instructions defining the responsibilities of the government and the Vuong family in preserving and managing at the site.
The Vuong family on June 5 announced that they would close the H'Mong King Palace from June 15 because the provincial Department of Culture, Sports and Tourism and the Dong Van District People's Committee had failed to follow the government's instructions on the preservation and management of the historical site.
Following the announcement from the Vuong family, the Ministry of Culture, Sports and Tourism asked local authorities in Ha Giang Province to co-operate with the family to preserve and manage the site following the Law on Cultural Heritage.
Speaking at the meeting, vice director of Ha Giang Provincial Department of Culture, Sports and Tourism, Lam Tien Manh said they would consider the opinion of the Vuong family and co-operate with them to soon build a set of regulations on the management of the palace.
Lying some 130 kilometres north of Ha Giang Town, the century-old H'Mong King Palace is still the largest construction in the area and a unique special architecture style.
According to a tour guide who is also a woman member of the King's family at the palace, Vuong Chinh Duc (1865 - 1947), known as the king of the H'mong or Meo ethnic minority group in the area, built the palace which cost 150,000 Indochina silver coins equivalent to VND150 billion (USD 6.61 million). Duc earned his fortune from growing and trading opium.
The palace is built from stone, fir wood and terracotta tiling in a combined Chinese, French and H'mong traditional architectural style. Covering a total area of 1,120 square metres, the palace was used as a residence and fortress during the Vuong Dynasty. Dtinews