The Goethe Institut in Hanoi will hold a theater performance of "Woyzeck", an excerpt from a play by German doctor and poet Georg Buchner.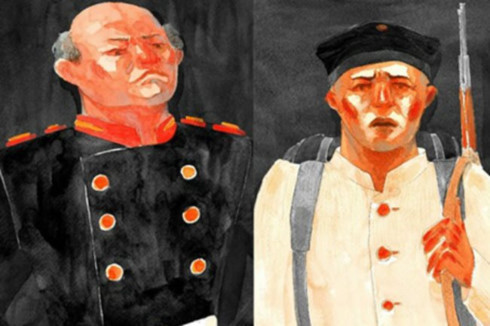 A painting features some characters in "Woyzeck," a stage play by Georg Buchner that will be performed at the Goethe Institut on May 18 - Photo: Courtesy of Goethe Institut
The May 18 show is directed by Nguyen Si Tien and presented for the first time in a public performance by actors of the Youth Theater.
After the event, the organizer will consider whether this work of literature should be further developed into a complete play.
"Woyzeck" was first performed in Munich in 1913. Since then, it has been translated into numerous languages and reinterpreted many times.

It was loosely based on the true story of Johann Christian Woyzeck, a wigmaker who later became a soldier. In 1821, Woyzeck, in a fit of jealousy, murdered Christiane Woost, a widow with whom he had been living, and was later publicly beheaded.
"Woyzeck" is one of the most played and influential dramas of German literature, which has inspired many artists to create their own works.
The free show will begin at 3 p.m.
Saigon Times