An exhibition on how clothes are made is being jointly organized as part of the Fashion Revolution Week by the Vietnamese Women's Museum, the British Council, and the Center for Assistance and Development of Movie Talents in Hanoi.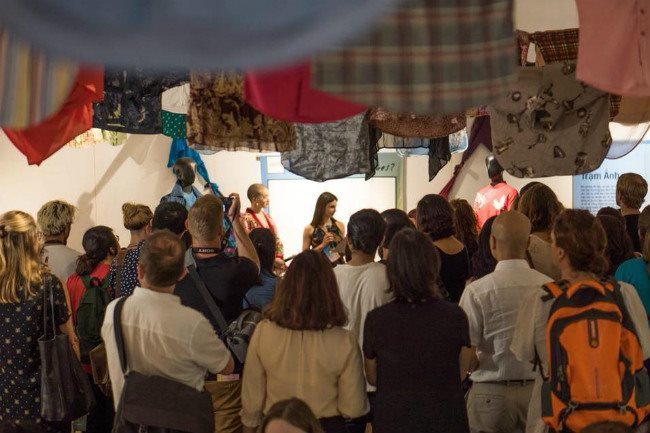 The April 22 opening ceremony of the "Who Made My Clothes?" exhibition attracts many foreigners - PHOTO: COURTESY OF ORGANIZER
The "Who Made My Clothes?" interactive exhibition honors local makers and designers who are revolutionizing the fashion industry in Vietnam.
The clothes we are wearing went on a long journey before they hit shop shelves, passing through the hands of cotton farmers, spinners, weavers, dyers, sewers and others.
Approximately 75 million people are working to make clothes, of which 80% are women aged between 18 and 35.
The majority of people who make clothes for the global market live in poverty, unable to afford life's necessities. Many are subject to exploitation including verbal and physical abuse, unsafe and dirty working conditions, and little pay.
The organizers believe transparency is the first step to transform the industry, and it starts with one simple question: "Who Made My Clothes?"
A number of other events are also being held during the Fashion Revolution Week, which lasts until April 28 at the Vietnamese Women's Museum.
A Clothed Life Drawing workshop was held on April 23 by Hanoi Life Drawing Society, with support from Fashion Revolution Vietnam, London College for Design & Fashion in Hanoi and the Vietnamese Women's Museum.
Besides, students from London College of Design & Fashion designed a collection of white shirts which incorporate four traditional tailoring techniques.
These original and innovative pieces were modeled by the students themselves at the workshop.
Critically acclaimed documentary "The True Cost" will be screened at the Vietnamese Women's Museum on April 26.
This is a story about clothes, the people who make them, and the impact the industry is having on the world.
The price of clothing has been decreasing for decades, while the human and environmental costs have grown dramatically.
"The True Cost" is a groundbreaking documentary that pulls back the curtain on this untold story.
The British Council has commissioned a series of seven short films profiling the innovative stories of seven practitioners across the world, including fashion designers, artists, architects and entrepreneurs.
The films have been created in the spirit of the grassroots movement, using content produced by the practitioners, directed by Kate Cox and produced by The Smalls.
These short films are screened on rotation during the Fashion Revolution Week.
There will also be two dyeing workshops on April 27 and 28.
Residuals from textile manufacturing and dyeing processes of mass-produced clothing are of the most toxic industrial products that filter into the oceans.
By supporting local and artisanal products dyed with natural dyes, the workshops aim to support the notion that the fashion industry does not have to cost the planet.
These workshops, led by artisan Sam Thi Tinh, are an introduction to the natural dye kerria lacca (pink) and fibraurea tinctoria (yellow) using the traditional shibori technique. sgt