The capital city is home to thousands of ancient structures with huge historical and cultural value; however, nearly half of them are degraded or even facing imminent destruction because of ageing,
harsh weather and social changes, experts and residents have warned.
Wooden pillars have been destroyed by termites, tiles have come loose, roofs are broken, and walls are crumbling at many of Hanoi's ancient relics. The situation not only threatens to erase some of the city's unique history but also poses risks to people who live nearby or seek out the sites for a visit.
The ruins of ancient Hoa Phong Tower on the shore of Hoan Kiem Lake
Dien Phuc Pagoda: A 500-year-old pagoda in Hanoi
Mia Pagoda: The ancient place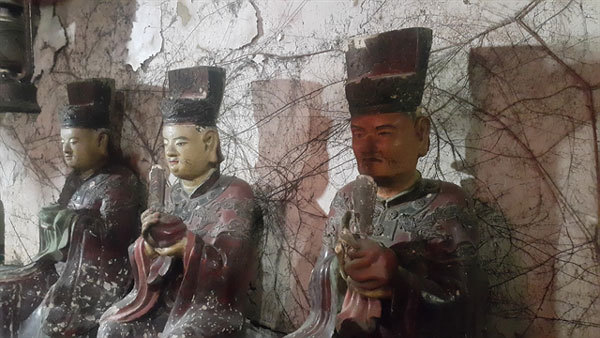 Damaged ancient statues at Bao An Pagoda in Hanoi's Quoc Oai District. The pagoda, built during the 17th century, is one of the thousands of degraded ancient buildings in the capital city.
Visitors who recently stopped by Vinh Phe, a 400-year-old temple in Ba Vi District, said they felt a sense of sadness when they saw its state.
The main structure was unsteady and its five main halls were seriously damaged. So many roof tiles were shattered that the visitors could look up and see the sky. With many of the temple's wooden pillars rotted through, the structure looked likely to collapse at any moment.
People in the area had tried to protect the temple by replacing damaged pillars, but they were not sure how long their haphazard work would hold.
In order to reduce the danger, communal authorities removed religious items from the halls to discourage worshippers.
Tran Viet Xo, deputy head of Vinh Phe Ward where the temple is located, said that for the past five or six years, local households had contributed to buy wood pillars to reinforce the temple, especially during the rainy season when the risk of collapse was heightened.
Xo said residents wanted to protect the temple but could do no more until they got a licence from city authorities because it is listed as a national heritage site. Xo also said the locality could not afford the repairs on its own.
Than Quy Temple in Phu Xuyen District's Minh Tan Commune is in a similar state.
In 2012, the roof of the 1,000-year-old temple collapsed during a storm.
Now, the worship hall lies destroyed and deserted. The front yard floods every time there is heavy rain and weeds cover the grounds.
Worrying the rest of the structure could collapse, residents have not visited or used the temple for ceremonies for the past seven years. Villagers have expressed regret at the degradation of the once beautiful site.
Although officials from the district and the Ha Noi Cultural authorities are aware of the temple's state, licensing issues and a lack of funding have prevented restoration work, according to a commune official who asked to remain anonymous.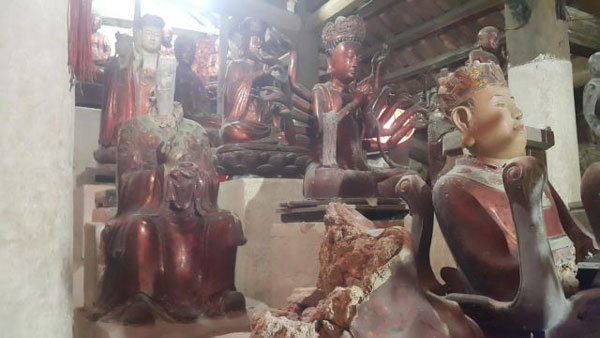 Ancient statues at Bao An Pagoda in Hanoi's Quoc Oai District in urgent need of restoration.

Another historical site that has fallen into disrepair is Bao An Pagoda in Quoc Oai District's Dong Quang Commune.
The pagoda, built during the 17th century and located in a densely populated area, is home to 49 earthen statues. Thanks to its unique cultural value, it has been honoured as a national historical relic since 1990.
But today, the walls of the main hall are cracked by the roots of nearby trees. The floor has become damp and mouldy after repeated flooding.
Buddhist monk Thich Dam Trong Nghia, the pagoda abbot, said that the site had been in a sorry state for the last decade. After numerous request from local people, the city administration finally decided to invest in urgent restoration last year.
However, Nghia said repairs did not begin until April of this year.
Nguyen Vu Han, head of Quoc Oai District's cultural department, said many historical sites in the district were also falling apart.
"Even though they are recognised as national heritage sites, about 10 relics in the district are suffering from the same circumstances as Bao An Pagoda," Han said. "Although local people want them to be restored and the district has also tried hard to help, there have been many barriers preventing their renovation."
Quoc Oai District has more than 220 recognised relics, of which two are listed as special national heritages and 29 national heritages.
The pagodas of Thay, Lam and Can Thuong, as well as the temples of So, Can, Ngoc Than and Phu My, are all famous buildings from the Le and Ly dynasties.
Some of the antiquities and statues that date back to thousands of years are preserved at the sites, according to Han.
Lack of funds
What is happening to national heritages in Phu Xuyen and Quoc Oai districts is only a small part of the challenges facing Hanoi's ancient cultural sites.
Despite efforts from the Government and city authorities, preservation is still a difficult task. In the context of rapid development, especially after the đổi mới (renewal) policy was introduced in 1986, Hà Nội has witnessed the decline of its historic buildings and the dynamic spaces that surround them, experts have said.
Nguyen Viet Chuc, director of the Thang Long Cultural Research Institute, has spent many years researching Hanoi culture. Chuc said thousands of ancient buildings in the capital city were seriously damaged and at risk of collapsing but restoration needed time and was dependent on funding.
"For many years, investment in repairing relics was very limited, far lower than the amount required," Chuc said. "Therefore, they have continued to degrade. As their conditions worsen over time, the cost rises even more, leading authorities to hesitate to approve projects."
Hanoi has a total of 5,922 recognised cultural and historical relics including a world cultural heritage site, a world documentary heritage site and 16 special national heritage sites.
More than 2,000 are damaged with nearly 800 in an extreme state of decay.
The huge number of relics in need of repair and the lack of funding has made it difficult for the city to find a lasting solution.
The city has decentralised the management of relics, leaving the task to districts and communes. The city directly manages just 10 relic sites.
As a result, the city has invested mainly in maintaining the most prominent sites including those involved in the revolutionary resistance to foreign invaders. It has provided some support to preserving national relics under the management of districts, but not enough to repair them all.
From 2012 to mid-2017, city authorities granted restoration funds to more than 200 pagodas and temples.
Districts have invested in repairing their historical sites, but there are simply too many to fund all the repairs within existing budgets.
Last year, the city provided districts and communes with emergency funds to fix 50 of the 800 seriously damaged buildings, according to Han.
On average, restoring a relic costs about VND10 billion (US$430,000), making the price to restore all 2,000 damaged sites astronomical.
Low public awareness
In addition to ageing and weather conditions, the sites are suffering due to a lack of awareness among the public.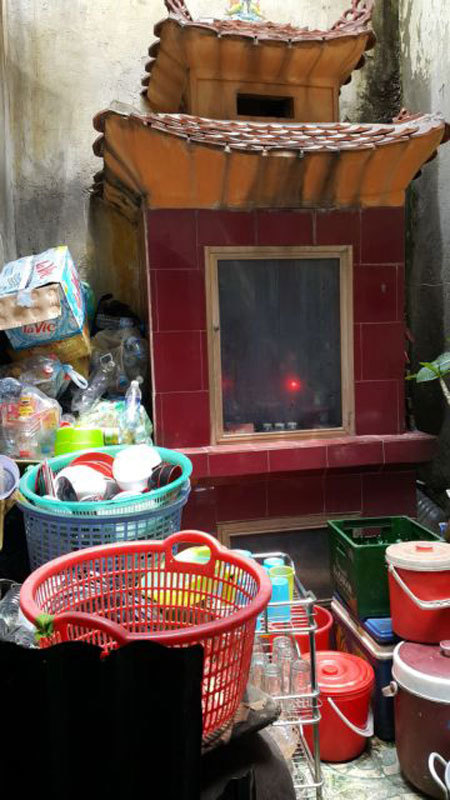 Part of Ha Vi Temple that has been turned into a store by local people. VNA/VNS Photos Dinh Thuan
Many experts say the city's population does not have a full understanding of the importance of protecting and preserving Hanoi's heritage. The rapidly expanding population and urbanisation boom are increasing challenges for relic sites. Land encroachment and unlawful occupation of historical buildings have become more common since the 1960s due in part to weak local management.
These violations were especially common in the 1960s amid the flow of migrants who moved to the city centre to avoid floods and storms.
Ancient pagodas were often built on safe, high land so migrants moved in seeking shelter. Many also believed the sites would help them have a fortunate life.
Solutions
Every year, Hanoi invests some of its budget on restoring its relics, but the funds are insufficient to tackle the widespread problem.
A few years ago, city authorities introduced a policy called xã hội hóa (socialisation) that promotes the participation and contribution of different businesses, organisations and individuals.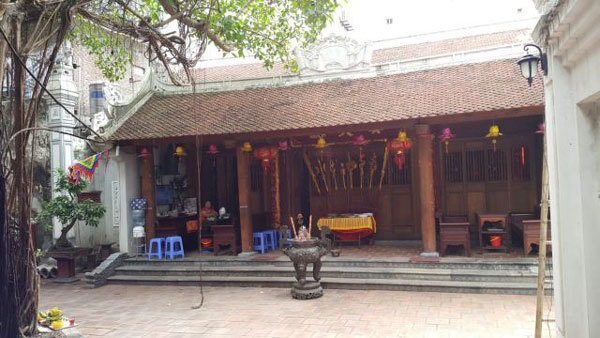 Dong Thanh Temple in Hoan Kiem District after being restored. A policy called xa hoi hoa (socialisation) has secured support from organisations and individuals to repair many of the damaged ancient buildings in the city.
According to the city's cultural department, almost all of the residents of areas with relic sites have taken an interest in the "socialisation" policy.
Support and contributions have been provided in the form of cash, materials and labour.
The department reported the policy had helped secure more than VND1,200 billion in 2012, with the total since increasing to nearly VND1,500 billion.
Professor Truong Quoc Binh, a member of the National Cultural Heritage Council, said Hanoi should increase its own investment in restoration in addition to mobilising resources from other organisations and individuals.
The expert urged the city to build a contingent management force with adequate knowledge, practical experience and co-ordination capacity to rally all of the involved sectors. Binh also said any restoration effort must preserve the original style of the ancient buildings.
Dinh Thuan
VNS