Known as the land of traditional crafts, Hanoi has the highest number of craft villages in Vietnam: 1,350, nearly one-third of the total number.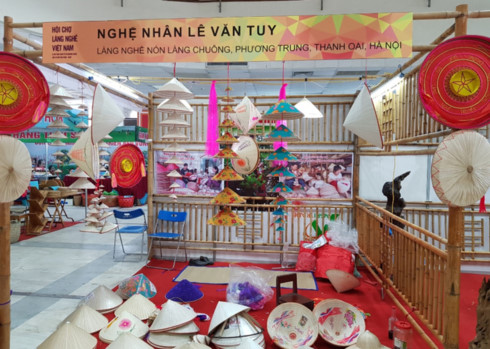 Products of Chuong Conical Hat Village
Hanoi craftsmen are involved in 47 crafts out of 52 traditional crafts of Vietnam.  
Associate Professor  Dr. Do Thi Hao, Deputy Chairwoman of the Vietnam Folk Arts Association, said  "Hanoi boasts the most traditional craft villages and most talented artisans in Vietnam. It's reasonable to say that Hanoi is the biggest meeting point for domestic and foreign craft villages, because of Hanoi's (formerly known as Thang Long)standing as the capital of Vietnam. Hanoi has great potential for the development of handicraft."
Craft villages that have long been famous nationwide include the Ngu Xa bronze casting village, Dinh Cong jewelry village, Phu Vinh rattan and bamboo village, Thach Xa bamboo dragonfly village, Chuong conical hat village, and Chang Son fan village have long been famous nationwide.
Handicraft items made in Hanoi are diverse and  always meet a high standard of quality. The products of Van Phuc silk village, Bat Trang pottery village, and Me Tri young sticky rice village have been recognized as national trademarks.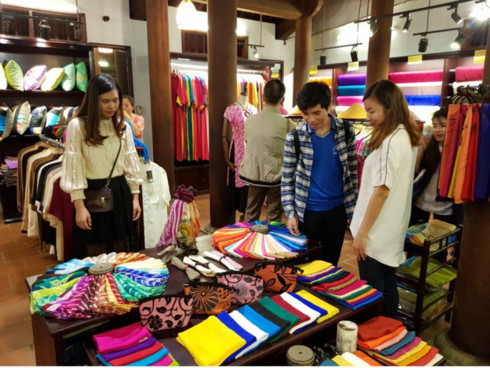 Van Phuc silk products
Dam Tien Thang, Deputy Director of the Hanoi Department of Industry and Trade, said "Hanoi craft villages' production value is estimated at  22 trillion Vietnamese dong, equivalent to 1 billion USD, and their export turnover  at 200 million USD". 
"Hanoi has paid much attention to the development and preservation of craft villages. There have been programs to support the transfer of technology as well as technological upgrades and environmental protection. The technical infrastructure of craft villages has been improved, with the aim of transforming them into coveted destinations", said Mr Thang. 
The Hanoi municipal People's Committee has approved a  craft village development plan by 2020 with a vision to 2030, which has named a list of projects to be prioritized for investment.
The list includes 17 projects to develop craft villages and tourism, 17 traditional craft villages in need of long-term preservation, and 7 typical traditional craft villages to be preserved to promote cultural heritage values. Under the plan, Hanoi will maintain 1,500 craft villages, creating stable jobs for about 1 million rural workers.
Hanoi has been chosen to pilot a project called "Quintessence of the Vietnamese craft village" in Bat Trang pottery village.
Ha Thi Vinh, Deputy Chairwoman of the Vietnam Craft Village Association and Chairwoman of the Hanoi Handicraft and Craft Villages Association, said "A center showcasing products made by Hanoi's most typical craft villages has been under construction for one year and will be put into operation by the end of this year". 
"On display will be the signature items of craft villages in Hanoi and the products made by the artisans representing outstanding craft villages in Vietnam. Between 15 and 20 typical craft villages of Vietnam will showcase their products at the center. Once the pilot model is successful, we will expand to other villages in Hanoi", said Ms Vinh. 
Apart from handicraft products, Hanoi's craft villages have many special festivals set against a backdrop of stunning landscapes, paving the way for  tourism development. VOV5