The book street in Nguyen Van Binh Street in downtown HCM City is still open for local and international visitors despite of a 30 percent drop in the number of visitors due to coronavirus fears.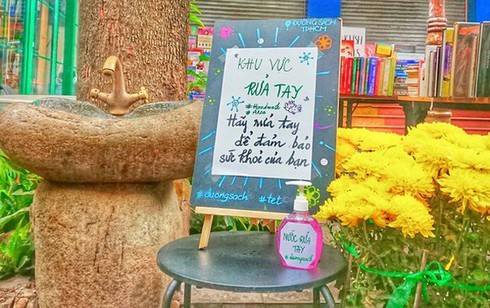 Visitors can use hand gel in the book street in Ho Chi Minh City downtown area (Photo: SGGP)

Book lovers and visitors travel to the book street because the street managing board sprays the street two times a day and gives miniature bottles of antibacterial hand sanitizer gratis to visitors.
Additionally, the street managing board has regularly updated information of the pandemic to staff as well as reminded them of wearing face masks, to disinfect booths and washing hands according to the Ministry of Health's instruction.
Free hand gel is put on a table in the street.
In response to the pandemic, Kim Dong Publishing House is displaying 6-book series " De co mot co the khoe manh" (To have a healthy body) while First News' booth is giving away face masks to visitors gratis.
Book Street Director Le Hoang said the street is still open to serve book lovers yet there is no exchanges or meetings to introduce new books.
All large public gatherings will be canceled till March as one of drastic steps in response to the new coronavirus outbreak that originated from China and has spread to at least 27 territories outside mainland China, said Director Hoang.
Though there has been a decrease in customers, Director Hoang revealed that parents have taken their children to the street for 3 days lately. SGGP

A group of Korean singers yesterday shot a short film featuring HCM City and its culture as part of the 4th anniversary of HCM City Book Street, which is on Nguyen Van Binh Street in District 1.
Painter Phan Nguyen has portrayed coach Park, his assistant Lee Young-Jin, goalkeeper Dang Van Lam and footballers Do Hung Dung,Doan Van Hau, Nguyen Quang Hai and Luong Xuan Truong.