Vietnamese boxer Le Van Hien knocked out Wu Rongguo in just 15 seconds during their World Boxing Association Asia Championship on Saturday in HCM City.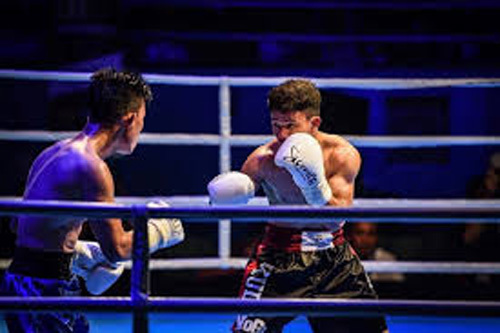 Le Van Hien of Vietnam (right) knocks out Chinese Wu Rongguo after 15 seconds at the WBA Asia Championship on May 18. — Photo doisongphapluat.com
Hien stood in for WBC Asia champion Tran Van Thao who suffered a leg injury a day before the fight and will need two months to recover.
Chinese Wu is world No 110 in the super flyweight class and has a record of 10/6. He was considered the favourite before the bout.
However, Hien floored him within seconds to the surprise of his coaches, supporters and himself.
As Hien was being crowned the winner, Wu was still on the canvas being treated by doctors.
The 22-year-old said he could not have done it as he was lower than Wu in terms of world ranking, experience, physique and preparation.
"I had only eight hours to prepare for the fight and I have not trained regularly in a year. I am also shocked by the result," said Hien, who wants to make career in business not boxing.
Earlier, Truong Dinh Hoang grabbed a knock-out win in his debut at the tournament.
The Southeast Asian Games champion defeated Thai Arthit Bunphloeng in the super middleweight category in the first round.
While it was Hoang's first professional match, Bunphloeng has been fighting professionally for years with 12 bouts of which he has won three, drawn one and lost eight.
In other fights, Vietnamese athletes Trinh The Long, Vo Hong Dat, Nguyen Van Hai and Vo Quang Duc Duy beat their rivals from Indonesia and Thailand.
VNS