Hisashi Kitamura of Japan triumphed in the men's 70km category at the VN Jungle Marathon at Pu Luong Nature Reserve in Thanh Hoa over the weekend, while the women's 70km race saw Veronika Vadovicova from Slovakia take first place.
Nearly 1,000 people to run in Vietnam Jungle Marathon 2019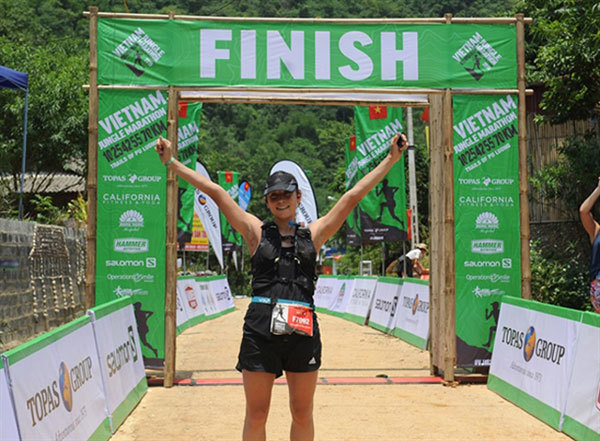 Veronika Vadovicova from Slovakia triumphs in the women's 70km category, the longest distance at the Viet Nam Jungle Marathon. Photo baothanhhoa.vn
Kitamura finished in a total time of 8:28.49. He beat Nguyen Tien Hung, winner of the Viet Nam Mountain Marathon 100k, and Nguyen Duc Quang, who came to the finish line together to finish second and third with a time of 8:58.34.
On the women's side Veronika Vadovicova finished in 8:35.51. She beat Vanja Cnops from Belgium, winner of the Viet Nam Trail Marathon, who finished in 10:41:45 for second place.
In the men's 55km race, Do Nhon Trong from Vietnam took first place with a time of 7:31.28 while Tiger Spearman of the United Kingdom and Vietnamese runner Tran The Anh came in second and third.
In the women's 55km field, Constance Louasse from France came first in 9:45:05. She beat Annika Johann from Germany and Dang Luu Phuong Anh from Vietnam.
At the finish line, Louasse said: "I am so happy to arrive and win this year. It was very hot and I tried my best to go fast to the finish line. The marking was really really excellent like previous races, The water checkpoints, food, profiles and everything were so nice."
Founded in 2017 by Topas, the third edition of VJM attracted almost 1,000 runners, tripling the number of participants in its first edition. The event had 53 per cent Vietnamese participation this year alongside runners from 46 other nations.
It was a day full of suspense as the champions battled it out for the win, and also a day to celebrate for less experienced runners to completed the challenging course.
Race Director David Lloyd of Topas said: "We saw an extremely competitive race with champions from both overseas and Vietnam going head to head on perhaps Vietnam's most difficult ultra race course. Alongside great racing, we are proud to have raised over US$13,000 for local projects, including Operation Smile's mission to bring people from the local area to Hanoi for facial reconstructive surgery."
Unlike Sa Pa and Moc Chau where Topas has organised other trail races, Pu Luong is off the beaten path for tourists and does not offer any large-scale accommodations.
To deal with this issue, from the first edition Topas has worked with the small village at the finish line, Ban Hang, and helped 30 families open their homes as homestays for the weekend. This year the village had more than 300 people from all over the world come to stay.
VNS