Head of Publications Department Nguyen Nguyen said it is necessary to do something so that internet users not only spend time to surf on Facebook and buy goods online but also pay attention to reading culture.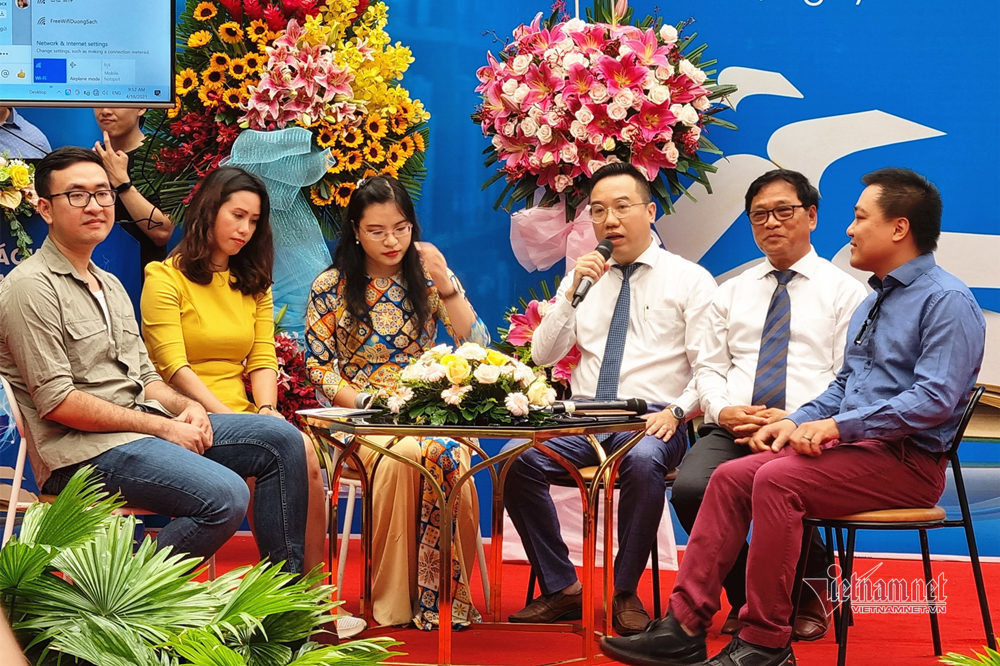 Head of Publications Department Nguyen Nguyen (third from right) at the seminar
A seminar on reading culture amid digital transformation trends was the first activity within the framework of the 8th Vietnam Book Day on HCM City's Book Street.
The speakers participating in the seminar were Nguyen Nguyen, Director of the Publications Department (Ministry of Culture, Sports and Tourism); Le Hoang, Deputy Director of Vietnam Association of Publishers; Diem Phuong from the HCMC General Publishing House; Hoang Thach, co-founder of Voiz FM; and Dinh Bao, CEO and Founder JoiKid.
In Vietnam, digital transformation began 10 years ago when publishers began digitizing their data stores and some operations, such as accountancy and sales units.
They are now in the second stage of digital transformation, using technologies in management and administration of all activities, and AI in book editing.
They are about to enter the third phase – shifting to digital publishing houses.
According to Nguyen, there are great advantages for publishers to go digital. He cited a report as showing that more than 70 million out of 145 mobile phone subscribers in the country as of 2020 used data on internet, higher than the average level of 50 percent in the world and 44 percent in developing countries.
Internet users should pay more attention to reading culture and use the internet to access knowledge, rather than use it just to access Facebook, he said.
Nguyen believes that the capability of Vietnamese publishers is quite good.
Regarding copyright protection, Nguyen said this is a common challenge for the publishing industry all over the world. The top US publishers have recently joined forces to combat piracy.
What is happening in the world's publishing industry shows that digital transformation doesn't mean 'killing' printed books. On the contrary, the two areas create interactions and help each other develop.
Nguyen believes that solutions to help a reading culture include changing people's perceptions; setting up institutions for copyright protection; and investing in technology and creating a new-generation workforce for the publishing industry.
At the seminar, Hoang Thanh from Voiz FM introduced an app that helps people listen to books. Voiz FM staff has applied AI to audiobooks. The AI voice is recorded from real voices and is so perfect that 70 percent of people attending a survey could not tell if was a real voice or an AI voice. 
Gia Bao

So far, 32 countries have agreed to participate in copyright transactions at Book365.vn, according to Nguyen Nguyen, director of the Publishing, Printing and Publishing Department under the Ministry of Information and Communication.

An exhibition of books and calligraphy works by Zen master Thich Nhat Hanh in HCM City has attracted visitors with its soulful, meditation-rich space.