An exhibit of 30 paintings, mostly oil, by Vietnamese couple living in the US Nguyen Viet Nang and Bui Van Anh were on display recently in Hanoi.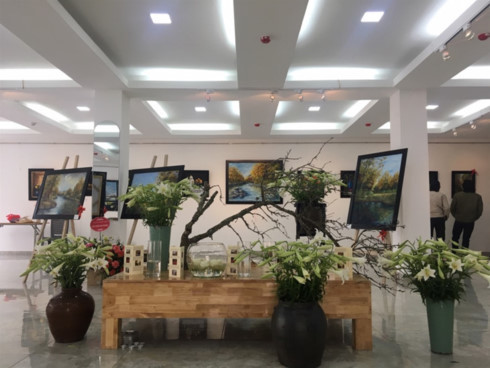 The paintings on display at the Exhibition Hall in the Fine Art University
The exhibit, titled "Love will keep us alive" celebrated 30 years the couple has been in love and showed the couple's love for Washington DC, their second home. 
"I'm really impressed by the exhibit. The paintings are so beautiful. The exhibit shows the experience and personality of both artists. I like many paintings here, so it's hard to pick a favorite. But I especially like the painting of the hometown of Anh that her husband painted. I think it has a special story," said Pam DeVolder from the US.
"The exhibit shows the two artists' love for Vietnam, their homeland, even though they're currently living far away. The painting that I like the most is the one named "Chuc Son afternoon", which features a peaceful village in Vietnam. The other paintings are beautiful scenes from Washington DC, where they are living now. There are also a lot of really beautiful still-life paintings depicting lemons and cherries, for example. The colors are bright and full of life," said Le Kim Dung from Hanoi.
Pam DeVolder and Le Kim Dung were only two of many visitors to the exhibition hall in the Fine Art University, 42 Yet Kieu Street, where the paintings were on display.
All 30 paintings were arranged like a biographical film describing the couple's life in the US and their nostalgia for their homeland which was the cradle of their love story.
Van Anh said, "Through the 30 paintings, we celebrate our 30 years together. We've been together for 30 years, so there are a lot of difficulties that we have to overcome and sometimes I thought I could not keep going. But finally we are still together. Actually we chose a different name at first, but one of my friends who knew our story said no, it couldn't be that name - it had to be a name about love, because without love, we could not be together."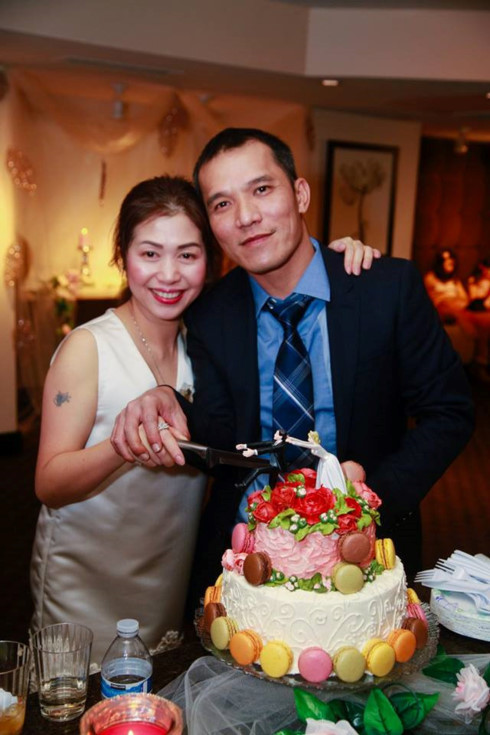 Artists Nguyen Viet Nang and Bui Van Anh (Source: Van Anh's official FB)
A friend who eye-witnessed Van Anh and Viet Nang's love named the exhibit "Love will keep us alive". The story started when Van Anh came to Washington DC to visit a childhood friend in 2000 unaware that she would not see her young daughter and husband for another decade.
In Hanoi, Viet Nang was in dire straits. He was unable to support himself. So to earn a living and support her family, Van Anh had to take the advantage of all the opportunities that DC offered.
After years of little hope, Viet Nang's health changed for the better. Van Anh's faith had finally paid off as in 2010, after years far apart, the couple and their daughter finally reunited in Washington DC. Viet Nang fell in love with DC immediately and started sketching the nearby vistas, many of which later went on display at the exhibit.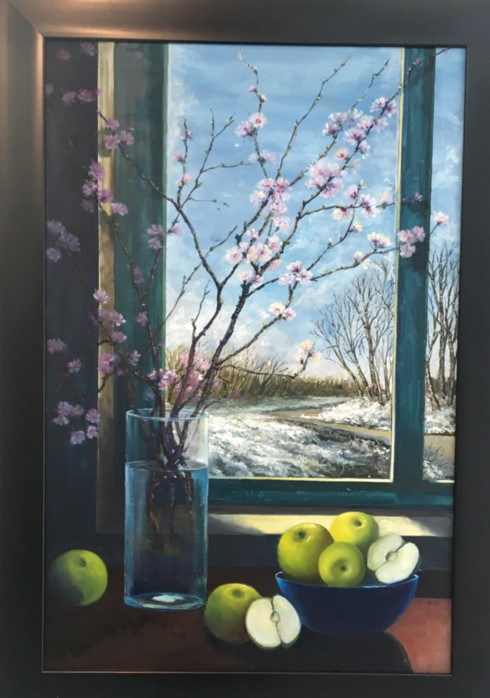 The painting "The Breath of spring" was painted by Viet Nang in 2018 ahead of the Vietnamese Lunar New Year (Photo: Viet Anh)
"Before I came to the US in 2010, my wife and I had endured 8 years of staying far from each other. 8 years of ups and downs, but with so much love, we've made it through them all. For me, love starts with the simplest things, which can be represented in painting. I painted the road on which I drove my wife to work every morning.
When it was 5am and cold outside, we sat in the car, talked and laughed with each other, and the long drive seemed to shorten, and the road become something so romantic. I also painted the parks, the scenery around my house here in the US. They're so familiar and make me feel like I'm in my second hometown," Nang said.
Most of the couple's paintings are of the neighborhood they live in and the surrounding area, so whoever has lived in Washington DC will recognize the paintings right away. Besides, the two artists also did some paintings depicting Vietnam as an outlet for them to relieve their feelings of nostalgia for their homeland.
"love will keep us alive" exhibit hinh 3 "Some of my paintings were born of the time I was staying away from my family because I often felt lonely here. My favorite painting is "Waiting for spring". I started doing that one because I didn't have any way to celebrate Tet with my family in Vietnam for 18 years. When doing that one, I thought about the Tet, the time that we were together, and how happy we were to be together," said Van Anh.
"The painting that I like the most is the one with an apple and a branch of peach blossom over there. It was painted in 2018 when the Vietnamese Lunar New Year was coming. I felt more homesick at that time because in the US, there wasn't much to remind me of Tet. Luckily I was gifted a branch of peach blossom. I put it in a vase and started painting right away and named it "The Breath of spring". Painting helped reduce my homesickness very much," Viet Nang added.
Besides her current job as a teacher, Van Anh paints and teaches painting during her free time. Nang is now a full-time painter while still taking part time jobs to support the family. Even if life is not easy, the couple tries their best to achieve balance, and art has become an indispensable part of their lives.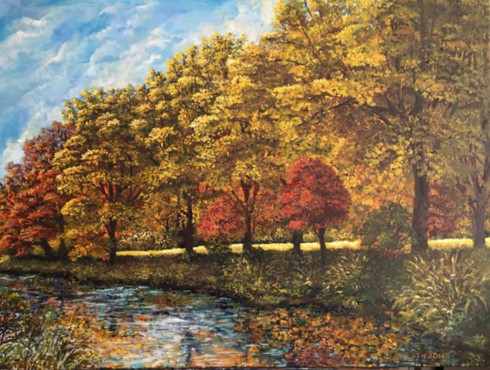 "love will keep us alive" exhibit hinh 4 "I have to work 8 hours per day and the travel time alone is around 2 hours per day. And I have to take care of my family too, so I don't have much time for painting. So sometimes, I paint during the weekend, and sometimes I stay up until 4am to do the paintings," said Van Anh.
"There are some paintings we did together. There are paintings that I started and my wife finished, and vice versa. I try to arrange our schedule to have at least 2 hours for painting in the morning when my wife goes to work and my children go to school. When my wife gets off from work at 4pm, she takes care of the children while I go out for some part time jobs until 10pm. She paints at night or on the weekend. We both try hard to balance our hobby and with our work schedule," said Viet Nang.
One third of the paintings were sold, which is a huge encouragement for Van Anh and Viet Nang to continue with their future projects. 5% of the proceeds will be donated for a house building project in Quang Tri province by Hanoi Youth Community Services. This is a way Anh and Nang can contribute a bit to the community, and spread the love to more and more people.
VOV5