Plans to knock down a 134-year-old church in the northern province of Nam Dinh have been postponed.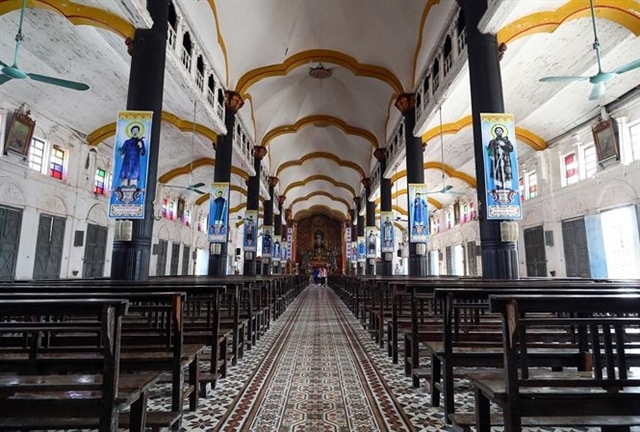 The interior decoration of Bùi Chu Church, Nam Định Province. — Photo tienphong.vn
The announcement was made on the Bùi Chu Diocese's website on Friday and signed by Priest Giuse Nguyễn Đức Giang.
As head of the construction board of Bùi Chu Church, the priest wrote: After listening to concerned priests and people with good will for the church, we would like to announce we will postpone plans to pull down [for rebuilding] the church.
Earlier this month, priests announced that the church will be pulled down to build a new one to provide a safer and more spacious area for the local Christian community.
A few days ago, 20 architects signed a petition sent to the Prime Minister, Culture Minister and Nam Định's authorities asking them to cancel the plan and wait for the National Heritage Council to judge the situation comprehensively.
The culture ministry's Culture Heritage Department has sent documents to agencies in Nam Định Province to ask for their renovation and protection solutions for the church.
A delegation of officials from the culture ministry visited the site, and met locals and leaders on May 7.
They confirmed there were many cracks and damage at the entrance, arches and surrounding walls, while the tower on the left was inclined.
The church should be renovated to secure safety, they concluded.
Art critic Nguyễn Đức Bình from the culture ministry said the news was the first success for the heritage preservers community.
"Agencies can now work together to renovate the old church," he said.
Bùi Chu Church, located in Xuân Ngọc Commune, Xuân Trường District, Nam Định Province, was built in the late 19th century by Spanish Bishop Wenceslao Onate Thuận.
The church was inaugurated in 1885 and renovated in 1974 and 2000. — VNS