In the world of Vietnamese literature, ethnic minority poets occupy a special place. The Voice of Vietnam will introduce four Cham poets whose works in both Cham and Vietnamese have added richness to Vietnamese poetry.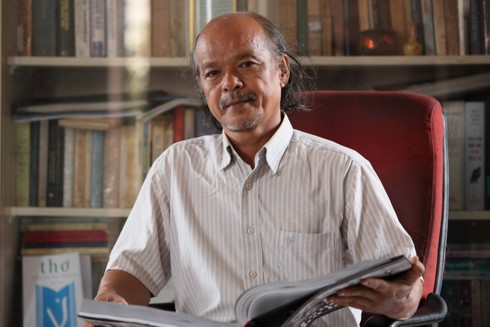 Cham culture researcher and poet Inrasara
Born in 1957 in the Cham village of Cakleng in Ninh Thuan province, Inrasara began writing at the age of 15, but didn't have a poem published until he was 40. His popular poems and novels are now considered the foundation of modern Cham literature. Inrasara has published 20 collections of poems and several essays on Cham culture.
He told VOV "My work focuses on researching, collecting, and translating examples of Cham literature and language. I also write bilingual Cham-Vietnamese poems that draw on what I have learned from ancient Cham poetry, including poetic styles, themes, and forms. I'm the chief contributor to Tagalau magazine – an annual publication of Cham fiction and research, with 21 issues to date. We really hope that we can continue releasing two issues annually."
Another Cham poet, Tra Vigia, also born in 1957, earned fame for poems that explore the hidden depths of people's souls. Tra Vigia had his first poem published in Panrang, a journal of the Cham community in Phan Rang City, when he was only 15. He has since earned praise for his poems in both Cham and Vietnamese.
Born in 1975, poet Jalau Anek has become known for his modern poems about the younger Cham generation. His works warn that many Cham cultural values are on the verge of disappearing.
The ancient tower of the past
The beautiful language of the Cham lyrical poetry Ariya
The beautiful dances created long ago
The old songs that you and I used to sing
Now all have become strangers.
Cham poet Ysa Umo
50-year-old Ysa Umo, a Cham Muslim, lives in Ho Chi Minh City. His poem entitled "Visiting the motherland's sea and islands", and written in calligraphy in both Cham and Vietnamese, won the consolation prize at the 2016 Vietnam Poetry Day festival. The poem was written following a 2014 trip to the Truong Sa (Spratly) and Hoang Sa (Paracel) archipelagos.
"When I arrived at Sinh Ton island, I was moved to witness the hardship ensured by soldiers defending the national maritime sovereignty to ensure that we enjoy peace on the mainland. I wrote this poem after that unforgettable trip," recalled Ysa Umo.
Phu Van Han, Deputy Head of Ho Chi Minh City's Literature and Arts Association of Ethnic Minority Groups, told VOV "A member of our association, Ysa Umo has written many works featuring modern Cham life and has contributed tirelessly to preserving the Cham language. His winning poem successfully depicts the feelings of a Cham ethnic during a visit to our beloved Truong Sa archipelago."
The contributions of these poets have greatly enriched Vietnamese literature.
VOV5