"GAO" (Rice), an emotional puppetry performance composed and performed by Mat Tran Ensemble, will be premiered in HCMC late this month after its participation in the Pesta Boneka International Puppet Festival in Indonesia.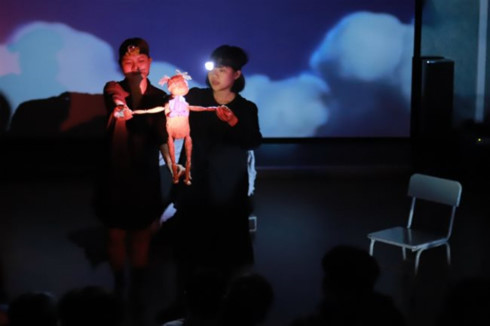 Puppetry performance "Rice" is inspired by the great famine in Vietnam in 1945 - Photo: Courtesy of organizer
The performance will take place at The Factory Contemporary Arts Centre in District 2 on June 29, starting at 7 p.m.
"GAO" is the fourth full-length puppetry performance composed by Trang Linh, founder of Mat Tran Ensemble. It explores the nature of human under severe conditions, as it is inspired by the great famine in Vietnam in 1945.
"GAO" was originally developed from a short theatre piece commissioned by Drama of Works and premiered at Dixon Place, New York in a puppet festival called Punch: Kamikaze, in which the participating artists were invited to compose new works in response to the aftermath of World War Two.
What makes the performance special is that through puppetry, body movement, and live music, the audience is invited to immerse in another spacio-temporal dimensions, in which they would cross the boundaries of genre, form, context and ages.
Differing from the definition of puppetry conventionally understood in Vietnam, Mat Tran Ensemble's practice is influenced by and creatively transformed from many different puppetry traditions such as Bunraku, a traditional Japanese puppet theatre, or Wangya, Indonesian shadow puppetry, also mixing with other elements such as lighting, installation, and video projection.
To Mat Tran, puppetry is the art of storytelling through breathing and material, not caricature. The puppets are regarded as the extension of the puppeteers, but somehow, they can even make magic that is impossible for humans.
Prior to the performance, the audience can take part in a puppet-making and storytelling workshop with puppets made from cement packaging paper. The workshop is suitable for all ages and will be held from 2 to 5 p.m. the same day.
Tickets are VND300,000 per person for the workshop, VND450,000 per person for the performance and VND700,000 per person for a combo of both events.
Mat Tran, literally translated as Naked Eye, is a performing arts collective, founded with the hopes of instilling a new belief that arts is for everyone.
The ensemble's mission is to pursue a vision of inclusive arts by creating performances that can be enjoyed without the constraints of class, space or language.
All of their activities are designed to break down barriers, bring people together and generate conversations within the community.
Mat Tran and its artistic director, Linh Valerie Pham, are grant recipients of the Singapore International Foundation, Japan Foundation, Prince Claus Foundation, and The Young Feminist Fund. SGT