A ceremony was held in Dong Hoi city, Quang Binh, on April 24 to receive a certificate from UNESCO recognising Bai Choi singing as an Intangible Cultural Heritage of Humanity.
Central Region's folk singing thrives again
Da Nang to showcase bai choi to tourists, locals
Measures needed to preserve and promote traditional art form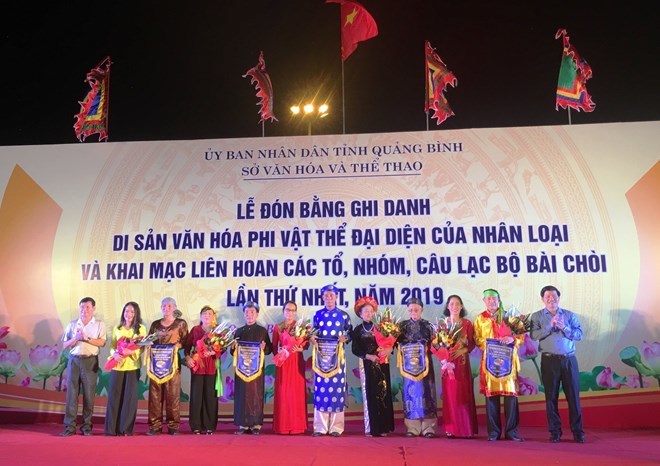 At the ceremony
To celebrate, the province held the 2019 Bai Choi singing festival, the first of its kind. The festival, bringing together groups and clubs in the province, aims to introduce the cultural values of the art form to local people, especially young generations.
Earlier, the recognition of Bai Choi singing was made during the 12th session of the UNESCO Inter-governmental Committee for the Safeguarding of the Intangible Cultural Heritage in Jeju, the Republic of Korea (RoK), on December 7, 2017.
The folk singing genre is popular in the central provinces of Quang Binh, Quang Tri, Thua Thien-Hue, Quang Nam, Quang Ngai, Binh Dinh, Phu Yen and Khanh Hoa, and Da Nang city.
Speaking at the event, Vice Chairman of the provincial People's Committee Tran Tien Dung said the ceremony aims to honour the values of Bai Choi singing and enhance patriotism, as well as people's responsibility in the conservation of cultural heritage.
He added that a series of programmes will be held to develop Bai Choi singing, including refresher courses, restoration of parts of the heritage on the edge of oblivion and introduction of the heritage in tourism activities.
Bai Choi is often seen at spring festivals and resembles a game, using playing cards and village huts.
The stage for Bai Choi performances encompasses nine cottages, each containing five or six "players". One of the cottages, the central house, contains a troupe of musicians and instruments. A deck of playing cards is split in half, with one stack distributed amongst the players and the other placed in the central house. The cards are stuck onto bamboo poles and erected outside the cottages.
The game singer delivers a flag to each cottage, all while singing Bai choi, and then draws a card from the central house. Whoever holds the card closest in value to the singer's card wins.
Bai Choi songs are about festivals, daily life and work, and are accompanied by musical instruments.
The game and songs were developed by Mandarin Dao Duy Tu (1572-1634) to help locals protect their crops.
According to the Inter-governmental Committee for the Safeguarding of the Intangible Cultural Heritage, Bai Choi is an important cultural activity in Vietnamese villages and communes, brining entertainment and art to the community.
Bai Choi songs are moral lessons, demonstrating patriotism, connectivity in the community and living experience.
The Ministry of Culture, Sports and Tourism recognised Bai Choi as national intangible cultural heritage during 2014-2016.
Apart from Bai Choi, the UNESCO Representative List of the Intangible Cultural Heritage of Humanity includes other 11 Vietnamese heritage – the traditional practice of "Tho Mau Tam Phu" (Worship of Mother Goddesses), tug-of-war game, which is also played in Cambodia, the RoK and the Philippines, Nghe Tinh province's Vi-Giam folk singing, Don ca tai tu (amateur singing in southern Vietnam), Hung King worship ritual, Xoan singing of Phu Tho province, Giong festival and Soc temples in Hanoi, Ca Tru (ceremonial singing), Bac Ninh province's Quan ho (love duet singing), the space of Gong culture in the Central Highlands, and Hue's royal court music.-VNA