Race walker Nguyen Thi Thanh Phuc won A gold medal and broke the national record in the women's 10km category at the National Athletics Championship yesterday.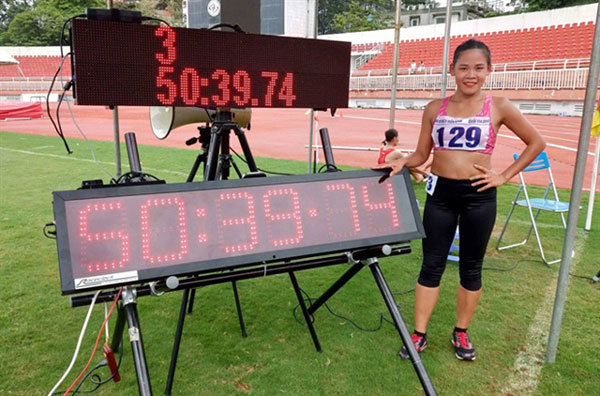 Race walker Nguyen Thi Thanh Phuc celebrates with her result at the National Athletics Championship yesterday. — Photo thanhnien.vn
Phuc took first place with a time of 50:39.74 at Thong Nhat Stadium in HCM City. She beat her own old record of 52.07.93 which has stood for 11 years.
Phuc, 29, has had two years away from the sport to give birth.
However, after only seven months of training, she proved the No 1 position in the country with the gold medal in the National Sports Games last year.
At the Southeast Asian (SEA) Games in 2011, 2013 and 2015, Phuc also bagged gold medals in the 20km event.
At the Asian Walk Race Championship in 2013, Phuc from Da Nang took a silver medal. She competed for Vietnam at the 2012 Summer Olympics.
Earlier, Phuc's younger brother, Nguyen Thanh Ngung also won gold in the men's 20km category.
Runner Nguyen Thi Huyen, who has also returned to competition after two years to give birth, reaffirmed her spot as a top regional runner in the women's 400m and 400m hurdle.
In the women's triple jump yesterday, Vu Thi Men of Nam Dinh took the title with 13.53m, followed by Vu Thi Ngoc Ha of Ha Nam jumped 13.36m and Nguyen Thi Huong of Hanoi with 13.17m.
Men's best result in this division is 14.15m which she set at the SEA Games in Malaysia two years ago.
In the hammer throw, Bui Luu Phuong Ngan of Vinh Long defeated Nguyen Thi Yen Linh of Tra Vinh and Le Thi Nguyen Thuy of Da Nang to triumph with 49.32m in the women's event.
On the men's side, Do Tan Truong of Da Nang won gold with a throw of 55.17m. Truong broke his own record of 55.11m which he set in a recent event in Thailand this year.
Meanwhile, Le Tu Chinh saw strolled to victory in the women's 200m. The HCM City's athlete won a gold medal after clocking a time of 23.79sec. Chinh's teammate Ha Thi Thu and Hoang Thi Ngoc of Quang Binh were the runners-up.
In the 200m for men, Binh Duong's Nguyen Van Chau took the gold medal with a time of 21.58sec. Nguyen Hung Cuong of Da Nang and Lanh Van Cuong of Police took silver and bronze medal.
In the women's high jump, Duong Thi Viet Anh of Bac Lieu won the gold medal after clearing the bar at 1.80m.
The Bac Lieu province-born athlete Anh competed in the London Olympics in 2012. Her previous personal best was 1.90m which she set at the SEA Game in Indonesia in 2011.
The annual event will finish today.
VNS