Saudi Arabia's Alkhudhayr Turki Mohammed will referee the 2022 World Cup qualifier between Indonesia and Vietnam on Tuesday.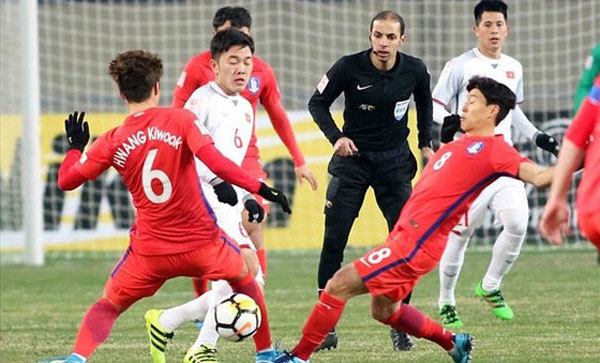 Alkhudhayr Turki Mohammed officiates over the Vietnam vs South Korea match at the Asian U23 Championships last January. Photo msn.com
Mohammed, 38, has been a FIFA referee since 2014. He has been dubbed the 'king of cards' after issuing 250 yellow and 16 red cards during his career, while awarding 36 penalties.
Mohammed is known among Vietnamese supporters after officiating several matches in Hanoi.
During the 2018 AFF Cup group stage game against Malaysia last December, he refused a penalty for the hosts after failing to punish Malaysian defender Sharul Saad for elbowing Vietnamese striker Nguyen Cong Phuong in the face.
In January, he also officiated over a match between Việt Nam and South Korea at the Asian U23 Championships.
There he awarded South Korea a penalty, which was saved by goalkeeper Bui Tien Dung, but also caused controversy.
Mohammed will be assisted by Muhammad Maki Al-Abakri and Khalaf Zaid Al Shammari, also from Saudi Arabia.
VNS