The Sap Still Runs, an exhibition that will immerse visitors into an art space full of poetic works created by two artists, Freddy Nadolny Poustochkine and Truong Cong Tung, is slated for opening at 7 p.m. on April 24 at San Art in HCMC.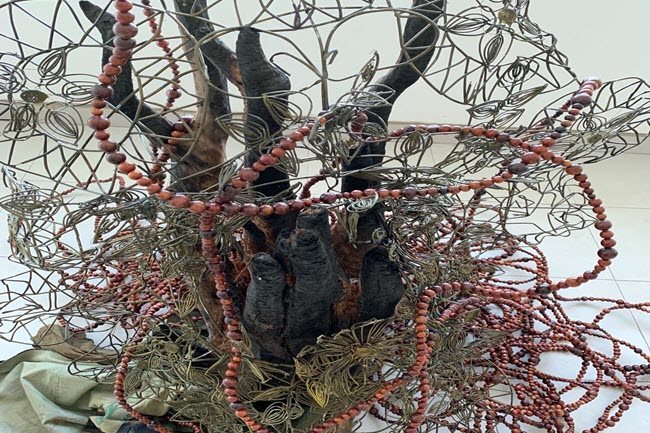 "Bui rung" (Forestry dust), a multimedia installation art work by artist Truong Cong Tung
The show, co-organized by San Art and the French Institute in Vietnam, will display many sketchbooks, videos and installation art works.
Freddy Nadolny Poustochkine, a comic book artist and an Art Labor Collective collaborator, will introduce a collection of gouache sketchbooks and video diaries that capture memories of the sprawling conurbations, sensuous landscapes, and anonymous faces that the artist had passed by over the years living in Saigon and the Central Highlands city of Buon Ma Thuot.
Poustochkine has long been nurturing this travelog diary during his previous stays in Vietnam and the most recent residency at Villa Saigon.
Meanwhile, the Central-Highlands-born artist Truong Cong Tung, in a metaphysical dream dialog with Freddy Nadolny Poustochkine, presents an uncanny set of installation artworks, ranging from a seared tree root, a string of wooden praying beads, a filmic segment of ghostly insects on the wing, to a piece of ethnographic writing on indigenous beliefs from the Central Highlands region.
The artists took their inspiration for The Sap Still Runs from a picture of a felled pine tree in the Cévennes of France, a situation Freddy Nadolny Poustochkine ran across and believed to be a vital resonance with the sight of devalued rubber trees being chopped down en masse in the Central Highlands.
As vertical forests transform into severed bodies on the ground, their sap, bearing the spirit, continue to spill and permeate the environment.
Interest visitors can visit San Art in Millenium Masteri Building in District 4 to enjoy the art display which will run till May 21. SGT